On Wednesday night, Spain reached their third consecutive major tournament final in four years after defeating an extremely competitive Portuguese squad. Given that you have probably read stupendous match summaries from Phil Ball, Andy Brassell and Roger Bennett, allow me to share with you seven random thoughts about the match, with an overarching theme: Spain are winning through guts at this point, and I am not sure of how long this can last. Actually, they only need one more match, if I am not wrong.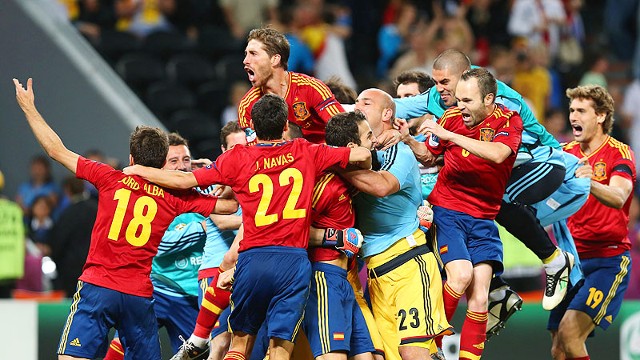 1) Everyone now knows how to defend Spain, or at least their current incarnation.
Throw a high line, include some winger to keep the full backs at bay – thus taking out all their width –, get your lines together and reduce spaces in midfield. It's obvious that the Spaniards' huge talent can find your goal at one specific time, but your life will be a lot quieter, and you can fancy your chances at the counter. The worrying thing for Spain is that Italy have already practised this once, and now get the chance to master the approach in the final, after watching Paulo Bento's impressive interpretation of the approach. For all his tinkering with the starting eleven, Del Bosque needs to add some width from the start, width as a part of the approach, and not as a second half alternative. Navas and Pedro showed it works wonders.
2) La Roja need fresh blood off the bench asap.
Most Spanish stars looked drained v Portugal. As early as minute 15, Iniesta gave up on chasing a lazy ball that went out of bounds. Five minutes later, David Silva suddenly decided to stop running in the middle of a play and thus lost the chance to meet a sweet pass from the aforementioned Iniesta… Plenty of instances showed that key Spanish players were in saving energy mode, which paraphrasing Del Bosque could be fine if Spain were playing against Zaragoza or Mallorca, but these are the dying stages of a top level international tournament. If Spain have a line-up challenge, is how to manage their embarrassment of riches in midfield. There's plenty of talent waiting for their chance off the bench, and physicality will be once again key in the final against the Italians.
3) Spain's offence is actually Spain's defence.
With nine clean sheets in knockout stages of tournaments and recurring below par offensive displays – Portugal shot more than Spain on Wednesday night, who would have thought – Spain's overhyped offensive game actually hides a very consistent defensive strategy, that starts with ball possession and plenty of low risk passing, and involves losing the ball far from their goal and a cohesive way of getting their lines together. Not only that, but the team rested with the ball and eventually got the Portuguese exhausted despite their two extra days of rest, just like we saw in extra time. All those 1-0 wins dating back from WC10 are not a coincidence. Spain are simply not that powerful upfront, but really consistent in preventing rivals from getting close to their goal.
4) Vicente del Bosque is quickly morphing from competent man manager into self-appointed master tactician.
This is obviously not good news. When Del Bosque took over from Aragonés, he focused on managing the egos on the dressing room as well as on preserving the fantastic internal atmosphere. His only tactical modifications were a second defensive midfielder – understandable for one-month tournaments to which most players arrive in lame physical condition – and some pure wingers to stretch out the pitch, both sensible decisions.
However, since this tournament started, Del Bosque has shown plenty of concerning signs that lead us to believe that he now feels an urging need to leave his tactical mark on the team, at times reaching stupefying levels of originality. His continuous tinkering with the starting eleven reached its climax – or maybe not, we still do have a final v Italy to play – against Portugal with the shocking inclusion of Alvaro Negredo as a starter. The Sevillista had played one minute during the whole tournament, and is hardly the type of player that excels with playmakers such as David Silva and Andrés Iniesta behind him. Negredo, a pure striker if there ever was one, needs service from the wings and preferably high crosses to shine, hardly what he would get from Spain's starting XI last evening. Why he was picked ahead of Torres, Llorente or Fabregas is really tough to understand.
After his experiment failed – out of place Negredo participated of one decent play in 55 minutes – Del Bosque resorted to a clear imitation of Barcelona's false nine formation, with Pedro, Fabregas and Navas up front. That opened things up for Spain considerably, especially in extra time, but Fabregas is no Messi neither a pure striker, and at least four times he couldn't beat the physically intimidating Portuguese centre-backs when Navas, Pedro or Alba tried to find him inside the box. The main flaw of this Barcelona copycat system is that in Guardiola's tactical design, Messi floats to either aim for the goal or find Pedro and Alexis (scorers by their own right), while the Spanish design has Fabregas as the main target of the crosses, rather than the creator of the offensive plays in the final third.
Spain could play a lot simpler and a lot more effectively. Back to basics, please, don Vicente.
5) Del Bosque has managed to keep the winning mentality of this group of players intact.
The growing array of teams that look able to disrupt the Spaniards' offensive flow is undeniable, but Del Bosque has tried to find new solutions always within their own style and identity, which is probably the single biggest reason why the team have kept on winning. In a calculated consequence of their so far a bit puzzling selection policy, Del Bosque has also fostered their internal competitiveness: anyone can play at any given time, therefore most players try to be ready – very clear in Spain's training sessions.
6) Sergio 'Crazy Horse' Ramos is already a legend, for both the right and the wrong reasons.
His 120 minutes were as perfect as you will ever see from a centre-back: positioning, defending, tackling, passing… even his fouls were perfectly timed. And then came his penalty kick. 'Our coach knows I'm a little bit crazy, so I guess he knew I'd try something risky'. After his recent Champions League miss, a safe shoot seemed in order. His choice was one of pure insanity, regardless of the result. Like a handful of players, he appears to thrive in situations in which the line between resounding success and abject failure is extremely fine. I still don't know whether to like him or detest him… Actually, right now I like him a lot.
7) CR7 failed to shine in the perfect scenario.
His team was the underdog, so he didn't have the usual amount of pressure. His teammates played an almost perfect match, finding him in several occasions and providing him with enough chances to score – in several set pieces or in open play, especially that last minute pass from Meireles, which he finished in an almost bureaucratic way. He faced several Barcelona players, indeed a source of extra motivation. He looks at the top of his form. How come he did not finish Spain off? How come? Unfair, unfair…
Final's preview to be published on Saturday, and I promise a non-reverse jinx match analysis. Stay tuned.
Before you start reading this Spain v Portugal preview, please make sure that you click here in order to be able to interpret this article in its whole context.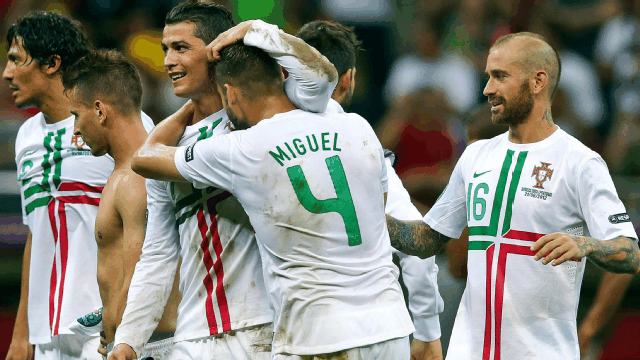 Well, have you clicked yet? Can we start?
If you're interested in this extremely challenging match-up for Spain, it's very likely that you've already read my colleague Tom's blog, listing a set of relevant motives as to why Portugal will defeat Spain on Wednesday. Not only do I agree with him, but I also want to elaborate on a few additional reasons that, from a Spain/Real Madrid supporter perspective, lead me to strongly believe that result of this match can't be anything other than a Portuguese victory.
1) CR7 has finally embraced his inner, evil self, with devastating consequences for his rivals.
During his final season with Manchester United and his first two years with Real Madrid, Ronaldo presented a confusing public persona. Well aware of the importance of political correctness and public relations, he struggled to balance his obvious natural tendency to behave like the evil character of a suspense movie – remember his trick to send Rooney off during the 2006 World Cup? – and the fact that he wanted to become an international icon. We all know that evil is not the most usual route to global stardom.
But something has changed this season. Ever since Ronaldo made those outrageous statements back in September 2011 – "People boo me because I'm good-looking, rich, and a great footballer. That's why they envy me" – we've seen a more authentic version of the Portuguese star. He's given up on political correctness, and he now screams at his team-mates shamelessly on the pitch; his goal celebrations display more arrogance than ever; he allows himself to make derogatory and inaccurate comments about arch-rival Leo Messi; and in general he seems totally content with being hated by 99.9% of his rivals' fan bases.
The problem for Spain? This change in attitude brought Cristiano his most accomplished season so far, both at the club level – he won La Liga, defeating Messi in the process – and with his national team. Portugal have never seen Ronaldo play at the level he showed against Netherlands and Czech Republic. Now that he's decided to accept himself the way he really is, he looks unstoppable.
2) The overhyped prevalence of Possession Football over Defence + Counter has shifted this season.
After four years in which first Spain and then Barcelona – yes, Aragones' Spain started this trend, for those with a weak memory – became the reference for how to win consistently through the monopoly of ball possession, this season the paradigm has changed. The previously unbeatable Barcelona have lost ground to their aggressive, more direct rivals both in Spain – where Jose Mourinho's Real Madrid won the title defeating the Catalans at their own pitch – and in Europe, with a similar victory for the determined Chelskis led by Didier Drogba.
It only makes sense that this noticeable modification of the footballing trends has its reflection on international football. Portugal, who have three Real Madrid players in their starting XI including the aforementioned CR7, look like the perfect candidates to put an end to Spain's four-year world domination. Their defensive discipline, midfield combativeness and lightning quick counter-attack sound like the perfect recipe to defeat Spain. If they had Drogba as their left back, this would be a no contest.
3) Spain have reached their 'over' phase, and it all should be downhill from here.
Every civilisation and cultural movement has a moment of splendour, its apex, in which everything seems to work perfectly. It happened with the Greeks, the Romans, Gothic architecture, rap music and even the financial markets. But, at some point, its main decision-makers get lost in their own arrogance and begin to betray the principles that took them there.
This is exactly what has happened with Spain and Vicente del Bosque. The Spaniards have been giving clear signs of this Rococo phase – if you allow me to use the Gothic architecture parallel – since 2012 started and David Villa got injured. Now ball possession is all that matters, as they at times forget about the opposition's goal, totally absorbed by three-metre passes that don't get them anywhere.
If we had already seen signs of this clear decline during the Euro 2012 classification phase, this final stage in Poland and the Ukraine has been paradigmatic, starting with the shocking 4-6-0 formation for which scoring seems like an annoying formality that shouldn't even be a part of the rules. Iniesta and Alba keep passing the ball to each other without moving one centimetre, as though they would get points for each correct pass completion, regardless of their position on the pitch.
These worrying symptoms clearly precede a terminal disease. Like many civilisations, the Spanish approach to football is decomposing fast, victim of the very skills that took it to the top of the world. On Wednesday evening, Del Bosque will become Spain's own Nero.
PS. Your views on this are highly valued. Use the comments section to share your opinion.