No other team presents such a huge gap between football potential and mental strength. That is why Russia are out, with wet pants, once again.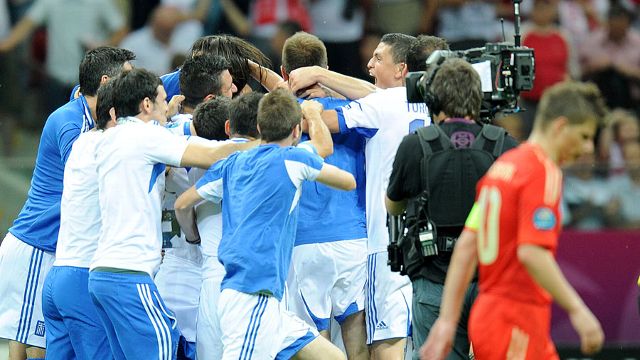 You can't help feeling sorry for Konstantin Zyryanov - the midfielder who overcame the most devastating personal tragedy ten years ago, when his wife committed suicide and killed their daughter by jumping from their eighth-floor flat.
He only became an international star at 29. Now almost 35, he has no hope of retaining his place in the national team that is going to be rebuilt ahead of the home World Cup in 2018. This was his last tournament. He never knew that facing Poland would become his final game in the red shirt. Zyryanov missed the fixture versus Greece with fever, and watched his team-mates crashing out, when the expectations were so high. But were they?
Zyryanov's most famous quote will help us to understand the psychological problems faced by Russian footballers for quite a long time now. After gloriously beating England in the Euro 2008 qualifiers, coming from behind thanks to a Roman Pavlyuchenko brace, the Zenit midfielder stood in front of a journalist who told him: "Everything is in your hands now".
Giggling quite awkwardly, Zyryanov promptly answered: "Yeah, but I hope we don't wet our pants in Israel. That would be so much like us if we do!" And they did! Russia lost 2-1 in Tel Aviv, and only qualified for the tournament thanks to that crazy Croatian night at Wembley, starring Scott Carson and "the wally with a brolly".
Russia arrived in Austria and Switzerland with no expectations whatsoever, and shocked the world with outstanding attacking play, beating Holland in the quarter-final that went down as one of the most impressive games in history.
That sums up Russia. Their potential is huge, but for some bizarre reason they are only capable of fulfilling it when nobody takes them seriously. Once the Russians are considered favourites, they tend to fall apart.
You don't have to think too hard to come up with recent examples of such tragedies. The defeat in Israel was only one of them. The unthinkable fiasco against Slovenia during the 2010 World Cup qualification playoffs wasn't that unthinkable for Russian fans and players.
Guus Hiddink's side played with confidence in the first leg in Moscow and took a 2-0 lead. Then they conceded a very late goal to Slovenian substitute Nejc Pecnik, and from that moment everybody somehow had a feeling nothing good would happen in the return leg in Maribor. Those fears became reality, as Marko Devic scored at the end of the first half, just like Giorgos Karagounis on Saturday. None of the stars on the field believed they could recover from that blow against clearly inferior, but equally clearly more motivated, opponents.
Less than a year later, Zenit, the club that provides the backbone of the national side, meekly succumbed to Auxerre in the Champions League qualifiers. The team that swept aside everything in front of them en-route to sensationally winning the UEFA Cup in 2008, never looked mentally capable of overcoming a very mediocre French outfit. They won 1-0 in St Petersburg and were "shocked" 2-0 in the return. Only nobody was really shocked. There was a scent of Slovenian déjà vu in the air.
Even in the friendlies ahead of Euro 2012 you could sense this psychological paradox. The very team that almost lost to Lithuania reserves went on and thrashed Italy 3-0 just a few days later. The problem of Dick Advocaat was obvious – his team got a very cruel draw. Yes, you read it right.
Group A, with Poland, Greece and Czech Republic was way too easy for Russia to progress from. They became the clearest favourites possible, they had no room for error. They just couldn't fail to reach the quarter-finals at the very least. That is exactly the reason they did eventually fail, and thrashing the hapless Czechs in the first game only made matters worse.
Of course, losing to Greece was unthinkable. That is exactly why many Russian fans expected it. To make the threat much more serious, the players expected it as well. The front-page headline of the biggest Russian sports newspaper Sport-Express quoted keeper Vyacheslav Malafeev saying: "The first goal will be very important". Just think about it for a second.
Russia were facing a weaker team, only needing a draw to qualify from the group. How on Earth can the first goal be so important? If Russia concede it, all they have to do is score one themselves. Why should it be such a big deal if you believe in yourselves? Can you possibly imagine Manuel Neuer, Iker Casillas, Gigi Buffon or even Shay Given saying something like that in similar circumstances?
But Malafeev thought the first goal would be very important. His team-mates thought it would be very important. That is the only reason it was so important. After conceding it, in the very last second of the first half, none of Russia's players really believed they could avoid the inevitable catastrophe. Just like in Maribor, just like in Auxerre, they were finished there and then.
They continued trying, knowing only too well all the shots would go wide. Sometimes agonizingly wide, like in the case of Alan Dzagoev's header, but wide nonetheless. No other team presents such a huge gap between football potential and mental strength. That is why Russia are out with wet pants once again. If only they were drawn in the Group of Death, they might as well have gone all the way to the final.

Conversations