Where were we on Saturday evening? Lisbon? Porto? This was a performance that transported us Greeks back to eight years ago, during happier times both on and off the pitch. The spirit that characterized that famous victory was well and truly alive and these players have written themselves – along with their Portuguese manager Fernando Santos – into folklore.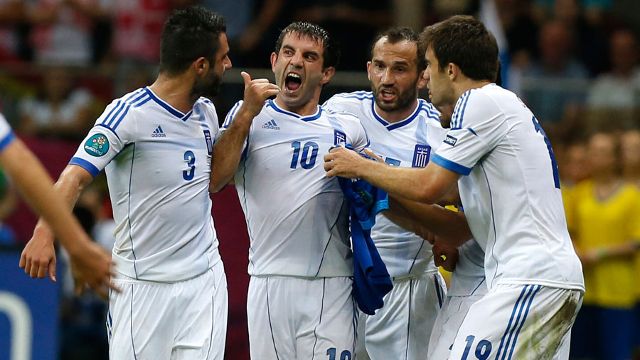 But this wasn't the Estadio da Luz or the Estadio do Dragao.
This was the Miracle of Warsaw.
It was a bail-out of epic proportions (had to get the financial pun out of the way early), a result that was nothing short of miraculous and one that will temporarily at least lift spirits in a country that needed some sort of tonic for its economic and socio-political ills.
In the face of every obstacle conceivable thrown at this team by officials who seemed more like undercover IMF agents rather than UEFA employees, desperate to impede an already limited side, this was a victory to savour. These underdogs were written off, apparently doomed after two sluggish performances against sides that were not of the pedigree of their final group opponents.
I've mentioned in this blog before that we Greeks only seem to produce our best with our backs to the wall. Ahead of this game I simply couldn't foresee anything other than a heavy defeat at the hands of the tournament's form player in Alan Dzagoev and his supporting cast of mobile, technically gifted teammates.
Just where did this performance come from? So reminiscent was it of Euro 2004 that for a fleeting moment I thought I saw Angelos Charisteas and Traianos Dellas on the pitch; alas it was a new generation of heroes imitating their predecessors, Georgios Samaras and Kyriakos Papadopoulos imperious.
For those who had suffered through Euro 2008 and South Africa 2010, this was a long time overdue, a genuinely deserved victory built on togetherness, organization and passion. Watching the substitutes celebrate on the bench when the goal went in, it became apparent just how much these 23 players and their coaching staff cared – it's not often we've been able to say that at major tournaments and it means a lot to fans.
There was no evidence of the ego and there was a sense that fan and player were in this together; perhaps I'm romanticizing a little but this was football close to its pure form in an era where it is sometimes difficult to identify with inflated wages and the self-importance of individuals who appear to live in bubbles.
But these Greek players weren't all sheltered from troubles at home, many playing at clubs who have been unable to pay them in recent times. I'm not for a minute suggesting they are suffering as their fellow citizens are but they'll certainly have at least a faint idea of what they are going through. Perhaps that counted for something and the talk of giving people something to cheer about wasn't just rhetoric.
Much as Russia were abysmal and clearly ran out of steam, either fatigued or overconfident – perhaps a little of both – following their thumping win over the Czechs, Greece had to earn this victory. Even when ahead luck deserted them, Giorgos Karagounis booked and now suspended after being denied what seemed a clear penalty, while the frame of the goal conspired to deny Georgios Tzavellas a famous goal.
In fact, this was hardly a performance to fit the anti-football stereotype that has followed this country around since Portugal. A first half of containment was ended with a goal that showed Greece's endeavour was only overshadowed by their defensive organization, Karagounis driving into the box with purpose and only one thing on his mind – this was an evening when a notoriously conservative side chanced its arm.
If there was one player who epitomized how this team was so suddenly transformed it was certainly Georgios Samaras, maligned for his inconsistency by Greek fans as much as he is by their Celtic equivalents. Finally he delivered the sort of talismanic performance of which he is capable, at times single-handedly holding off packs of Russian defenders, the focal point in attack and a crucial contributor in defence. All that was missing was a goal to cap off one of the finest individual displays at Euro 2012.
There were other memorable performances: Karagounis winding back the years, Kyriakos Papadopoulos and Sokratis Papastathopoulos towers of strength, Vasilis Torosidis dominating the right flank and Michalis Sifakis a figure of calm between the sticks. Fernando Santos meanwhile saw his tactical vision for this Greek team come to fruition: compact defensively, mobile in attack and quick to transition from defence to midfield and then the final third.
It's a surreal feeling. Are we really about to take on Germany in the quarter-finals of the European Championships? Wasn't this the team that meekly surrendered to the Czech Republic only days ago and was on the brink of an early exit?
No. This was the team that went through qualifying undefeated, that beat Croatia 2-0 at home and kept them scoreless on the road, that boasts one of world football's most miserly defences and is one of its most difficult to beat and dispirit.
We were just waiting for them to show up. It's only taken eight years...
PS. Commiserations to fellow blogger Michael Yokhin, who provided much banter over the past few days and who's latest entry is a fantastic read. Make sure you check out his blog here before you go.
It's only in the aftermath of the first round of group games at Euro 2012 that you can truly appreciate the value of the Greece's point against Poland. I write this entry just a couple of hours before England take on France to kick off their campaign, so I wonder if either of those sides will be on the brink of elimination after just 90 minutes, just as the Netherlands and Portugal seem to be.
Needlessly to say, these teams have at their disposal a talent pool that is of a different football universe to Greece (but seeing as how we apparently invented the Universe and everything in it, I guess it doesn't really matter all that much...).
Yet despite boasting two of the world's biggest celestial football bodies in their respective starting line-ups in the form of Robin Van Persie and Cristiano Ronaldo, both are in a far more precarious position than Fernando Santos' side at this early stage of the tournament.
Granted, the opposition they faced was of a higher calibre than that of Poland, though you can't discount the impact of a home crowd who's support Franciszek Smuda's capitalized on during a blistering opening 45 minutes. Greece had one mission: to survive, which they did thanks to a combination of poor finishing, inspired coaching and retrospectively, a refereeing error that helped more than hindered them.
So while the Dutch and the Portuguese squads face departures that would not be well received back in their homelands after just two games, the Greeks are perhaps slight favourites to pip the Czechs and Poland to second spot. To further put the achievement into context, Greece have suffered defeat in their first match at every major tournament in which they've competed, with the exception of Euro 2004. Meekly surrendering three points to Sweden in 2008 and then allowing the Korea Republic to take advantage of their infighting in 2010 were deflating occasions for fans after much anticipation in the build-up.
Despite the potential ramifications of Giorgos Karagounis' penalty miss, the situation could be far worse considering the opening 45 minutes of the Poland game was frighteningly reminiscent of our start to the previous Euro and World Cup.
It's an almost awkward feeling heading into the second game against the Czech Republic, seeing as how their plight is more like that of previous Greek teams. Momentum is undoubtedly with Santos and his players but there are interesting dilemmas for the Portuguese manager on the eve of kick-off.
The first is whether he seizes the initiative against a team who's confidence will be in tatters following their mauling at the hands of a slick Russia. I personally saw the game against the Czechs as the most winnable given Greece's recent slow starts at finals and the fact that Poland would come out fired up in the opener. However, if Dick Advocaat's men rip through the hosts – and they very well could – that would render their final match virtually meaningless and it's unlikely the Dutch tactician would risk his best players on the eve of the knockout stages.
A weakened Russia are a beatable Russia, with this team still just a shadow of the Arshavin-inspired machine that reached the semi-finals of Euro 2008. Santos might just be willing to settle for a point in this game whilst banking on Poland to lose their second match. It might seem overly pragmatic to rely on other results for your own progress but considering how injuries and suspension have deprived Greece of key personnel, regroup and regather wouldn't be a bad mentality against the Czechs.
While Santos won't play for a draw, he'll certainly reprise his defence first, attack second approach and look to hurt Tomas Rosicky and friends on the counter-attack in the same fashion that Russia did. If Greece are to keep things tight at the back then they'll need to seriously consider the make up of their defence and midfield with Sokratis Papastathopoulos suspended and Avraam Papadopoulos out of the tournament through an injury he picked up in the first half against the Poles.
Those are two starting centre-backs who were at the heart of Greece's miserly defence during qualifying. Kyriakos Papadopoulos and Kostas Katsouranis were the makeshift pairing during the second half of the opening fixture and did a superb job shackling the dangerous Robert Lewandowski, so it would seem the problem has been solved for Santos; Papadopoulos' youthful exuberance gave Greece an increased mobility and aggression at the back, while Katsouranis relocation from midfield to defence improved both departments and saw him turn in his best performance for the national team in years.
However, an eventful Greek campaign took another twist with the news that Georgios Fotakis suffered a thigh injury at training.
It's amazing to think that before the tournament began, the PAOK man would have been considered nothing more than a fringe player who might come off the bench. Yet his potential absence could change the entire dynamic of Santos' side; Fotakis could potentially have taken Katsouranis' place in midfield with the latter allowed to remain in defence. Instead, his injury may necessitate a gamble on the inexperienced Grigoris Makos of AEK – who before the start of Euro 2012 was beneath even Fotakis in the midfield pecking order – or on Stelios Malezas, the squad's fifth-choice centre-back if you consider Katsouranis a potential defender.
Whatever the scenario, it seemingly is a case of the lesser of evils when you consider Katsouranis moving back into the centre of the park to accommodate for Malezas would deprive both departments.
Jose Holebas' poor performance at left-back could bring further change at the back, with the rather more steady Georgios Tzavellas only beaten to a starting spot because his club form this season wasn't as impressive as that of the Olympiacos man. With the Theodor Gebre Selassie set to be marauding down the right flank for the Czechs, can another chance be afforded to Holebas? It might seem harsh to axe the German-born Greek after just one match but these are the sort of snap decisions that can turn things around in tournament football.
Equally important changes will also need to be made in attack, where Sotiris Ninis flattered to deceive after being handed a start. Theofanis Gekas too was ineffective, while their replacements Kostas Fortounis and Dimitris Salpingidis exerted considerable influence on the match, the latter scoring the equalizer and winning a penalty. Will Georgios Samaras be replaced by Fortounis after a typically frustrating display against Poland to make way for teenager Fortounis, or will he be given a central berth with Gekas the man to make way?
Even goalkeeper Kostas Chalkias' position is not safe after his rash decision to rush out presented Lewandowski with an open net and served as a reminder of his error-prone ways.
A squad that has based its modern success on stability will instead need a bit of ingenuity on the part of its manager if it is to progress further in this tournament. And while there are considerable problems Santos needs to solve against the Czech Republic, the reward will be greater than that offered to Greece after the second game at previous finals, which makes this a rather more satisfying dilemma for manager, player and fan alike.