And then there were four. Portugal, Spain, Italy and Germany into the quarter-finals of Euro 2012 and who could really begrudge any of them a place? They've been the best teams at the tournament and are fully deserving of their berths. Greece, predictably, were dispatched by a slick German outfit and joined Czech Republic on their way out, followed by France and England.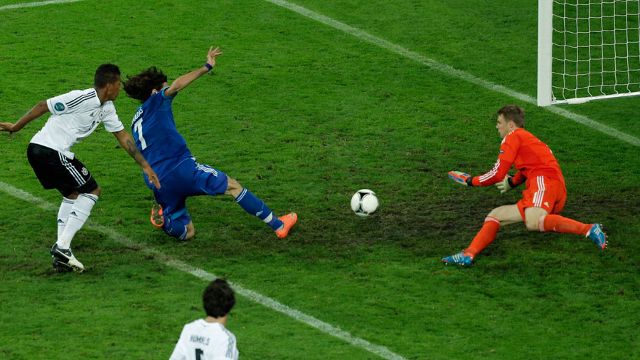 Unlike our last two exits from major tournaments, there must be a real sense of pride, optimism and satisfaction in every Greek fan and citizen. Over the last couple of weeks, football seemed to transcend social boundaries and really touch people who so desperately needed a tonic for their ills. Its finest moment was the remarkable 1-0 win over Russia, a mini-miracle that lifted spirits temporarily in a country afflicted by financial crisis.
This was a tournament where, crucially, Greece walked away with their reputation enhanced. It's a stark contrast to the vitriol directed at the national team when it went for archaic catenaccio at Euro 2008, picking up no points and giving eager critics plenty of ammunition. Negative was the operative word back then.
Spirit is what seems to define this team in the eyes of neutrals now.
Whilst it is not a positive that Greece's first-half performances were consistently poor, the second-half fight-backs were remarkable and inspiring. Even against Germany, a team who were of a different pedigree and class, there was for a fleeting moment the suggestion of a miracle. Fernando Santos' side couldn't have spent more than few cumulative minutes in Die Mannschaft's half.
But somehow they managed to equalise, to rally, to show endeavour in the face of far superior opposition and what seemed certain defeat. For a few minutes, Georgios Samaras' goal allowed us to dream and gave us the glorious image of an ashen-faced Angela Merkel alongside a delirious Greek contingent.
Deservedly sent home and thoroughly outplayed? Sure. But this was a performance and a campaign to be utterly proud of. Four goals shipped in a quarter-final is nothing to envy but taking the fight to a German team that could well knock a great Spanish side off their perch certainly is. Scoring two goals against them is certainly an achievement not to be dismissed.
Seeing this Greek side described as "sorry" in a headline for the ESPN match report doesn't rankle as much as it could. After all, we have been given plenty of moments over which the replay buttons on YouTube videos will be exhausted in years to come. To watch nations of the ilk of England and France imitate the style that brought Greece their stunning success in Portugal eight years ago only to then see certain members of their press criticise the approach Santos' men took against Germany is thick with irony. Quite frankly I pay no attention to it.
To see this Greece team also take a more cavalier approach was refreshing. They can hardly be accused of being ultra-defensive or relying on set-pieces, instead exhibiting a willingness to commit bodies forward, even when faced with a number of hurdles. From red cards and suspensions, to disallowed goals and injuries, the football Gods have conspired against this team time and time again.
Diego Maradona quipped before the Germany match that if 300 Spartans could defend Thermopylae then 11 Greeks could hold out against Joachim Low's side. Incorrect though he was, such a comparison fits well with this particular squad of players, who permanently had their backs to the wall but refused to give in.
The Moment: Georgios Samaras' goal against Germany. We won the battle and lost the war but the mix of disbelief and ecstasy that greeted the equaliser will linger long in my memory.
The Goal: As above. Of all of the goals Greece scored it was the classiest, most well-constructed. From showing desire to win the ball off a team that rarely loses it to Giorgos Fotakis' delightful release of Dimitris Salpingidis down the line to his world-class assist and the determination of Samaras to apply the finish, this was a goal that had everything and encapsulated Greece's outstanding campaign.
The Player: Dimitris Salpingidis. Consistently this team's biggest threat and deserving of a big contract this summer, it wouldn't be a surprise to see him plying his trade in England when the season kicks off again. He scored two goals, including the crucial equaliser against Poland. He also won a penalty in that game and helped change the mentality of this squad for the remainder of the tournament. Oozed class. Special mentions to Kyriakos Papadopoulos and Samaras.
The Manager: Santos passed his first true international test with flying colours. He wasn't perfect in his tactical approach but was outstanding in his willingness to constantly correct himself and turn games around at half-time. Not afraid to give young players a chance and encouraged flowing, attacking football relative to the resources at his disposal.
The Departed: Kostas Chalkias and Nikos Lyberopoulos have ended their association with the national team. They emotionally bade farewell to the team after the Germany game, where Santos apparently said nothing. Lyberopoulos in particular is a legend who has made crucial contributions throughout his international career. He was given 20 minutes against the Germans in a nice gesture by his manager.
The Future: Bright. Kyriakos Papadopoulos, Sokratis Papastathopoulos, Michalis Sifakis, Vasilis Torosidis, Georgios Samaras, Kostas Fortounis and Sotiris Ninis will lead their country to Brazil. Other young talents could join them over the next few months under a manager who has proved himself astute and progressive.
So this will likely be my last blog entry for these championships and I must say it has been a pleasure. A big thanks to anyone who stumbled across this page. I sincerely hope you were entertained or informed in some way. Feel free to drop me a line at chris.paraskevas@gmail.com, at my Twitter page @Cparaskevas or at Football Hellas (www.footballhellas.com).
Bring on Brazil!
So I'm a little early in terms of the Greece-Germany match but given the various political and socio-economic layers that are being heaped upon this clash in the build-up, I'm assuming my loyal groupies and casual passers-by in ESPN Soccernet-land are curious to know what a Greek thinks of it all.
Not really? You're saying I don't have groupies? You don't actually care what I think? Too bad, because I'm going to tell you anyway...
Well firstly, I'm not strictly speaking Greek, having been born and raised in Australia and spent my whole life in this country. So that sort of lessens my credentials when it comes to answering the "What are Greeks feeling about the upcoming game?" question. After all, it's not as if I'm the one who's starving and waiting in line at understaffed hospitals that are being forced to steal their equipment – that is a tragedy that only the people who live and breathe it can understand but I imagine it is a truly horrible experience.
If I had to provide an answer though, it would be along the lines of either two responses, the first being: Well, the citizens of Greece would obviously relish the opportunity to inflict misery on the austerity-imposing, hypocritical Germans (just to clarify, these aren't my words but the words of a theoretical, completely imaginary Greek) in any arena, and football will most certainly do. The second response would be: They've probably been dealt more than their fair share of misery and pain and would really just like to celebrate it all by escaping the harsh reality of their daily life by celebrating the occasion – regardless of the outcome – for 90 minutes or so.
You'll probably see plenty of sound and video-bites of Greek and German fans expressing all sorts of sentiments over the next couple of days, as the media feasts on what is a match that is fast transcending the boundaries of sport.
For my part, I'd like to add another lens through which to view this game, admittedly not as far-reaching or universal as politics or economics but nonetheless, this is football we're talking about.
The death of Alketas Panagoulias would have been the focus of pre-match talk had it not been for the current crisis engulfing Greece and it's a shame that news of his passing has largely been brushed aside. Even Greek media outlets seem to have been guilty of this to a degree but I'd like to pay a little tribute to the former Greece manager to go along with my piece for Football Hellas.
Panagoulias was the first man to get Greece to a major tournament, doing so when he guided his team to Euro 1980, where they put in three excellent performances (I urge you read UEFA.com's archives about the matches). He then returned for a second spell in charge of the Ethniki and led them to their first ever World Cup in 1994, where they unfortunately put in three abysmal performances, something that has tainted his otherwise amazing legacy.
Tributes to Panagoulias from former players have painted the picture of a father figure who had incredible motivational qualities; a master of man-management who brought the best out of his players by inspiring belief and confidence in them. The Greek players will wear black armbands to honour the former Olympiacos and US national team manager in their quarter-final against Germany and UEFA should sensibly allow for a minute's silence before the match, as has been requested by the Hellenic Football Federation.
Despite the prominence of political undertones around the game, I hope a few people spare a thought for this pioneer of Greek football.
Now, in terms of trash talking between the two squads, Joachim Low and his players have exercised an almost radioactive level of diplomacy as they seek to avoid providing further motivation for potentially fired-up Greek players.
So instead, German tabloid Bild has picked up the slack with one of its authors, Franz Josef Wagner, in fine form ahead of the game.
Initially Herr Wagner decided to limit his back-handed remarks to the national team, whom he labelled as "rubbish". His latest piece of literary brilliance had him writing a letter to the Greek people explaining why his heart is beating for Greece, before describing them in the following terms:
"My heart beats... for the Greeks. For the Greeks with the empty wallets, who don't have enough money to drink a glass of wine, who don't have money for a packet of cigarettes, who don't have money to go to the dentist or pay their rent. And the truth is that it's difficult to beat those who have nothing to lose - because all they [the Greeks] have now are a few barren mountains, some old olive trees and stray cats."
Oh, and did I mention Angela Merkel is attending the match?
What do I personally think about all of this?
I don't put too much stock in it given the players probably don't either (most of the Greek players have either played, are playing in, or were born in Germany, and certainly aren't living in poverty themselves) and I've got plenty of German friends. But even I'll admit that my interest has elevated beyond usual levels of obsession – I've been doing nothing but watching Helakis videos all week – thanks to the various other elements at play off the pitch.
But if I had to choose between winning to spite the Germans and winning to honour Mr. Panagoulias, I'd most certainly choose the latter...