OK, so I wanted Engerland to beat Italy in their quarter-final match, but not for the reason you would think.  I am not afraid of facing Italy – it's not going to be a walk in the park, mind you - but I have many, many English friends, and I just like to twist the knife a little bit.  My Twitter quote said something like, "I hope England wins...  so we can batter 'em on Thursday."  Sigh!  'Twas not to be.  But, at least I don't have to endure some muppet singing "Two World Wars" at me on Thursday now.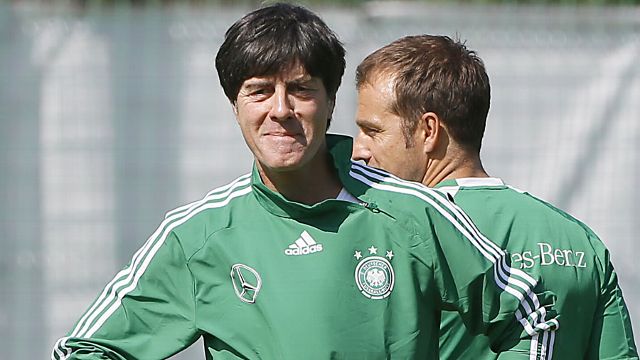 With the Azzurri's endurance of 120 minutes-plus-penalties over the Three Lions, an old/new foe rears its head.  And Deutschland have a shot at making up for that agonizing 2006 World Cup semi-final loss.  I use the slash between old and new for a reason:  While yes, this is the Italy that have beaten us in all competitive matches, this is also not the Italy you're used to seeing. Gone is the (yawn!  watching paint dry...) Catenaccio style, and in its place coach Cesar Prandelli has ushered in a - dare we say - new Italy that - dare we say - attacks.  Notably, 20 shots on target against an England squad whose best tournament players were all defensive.
But really, the question here is what is Taktik-Fuchs (as Jogi Low has been called here in Germany) gonna do about it?  WWJD? I've been lamenting about trying to delve in to his mind, and picking a Startelf that I might actually get right.  But, hell...  here goes anyway.
Germany:  Neuer - Boateng, Hummels, Badstuber, Lahm - Khedira, Schweinsteiger - Mueller, Ozil, Podolski - Klose.
Well, at least the back four plus Neuer are a given:  I'm almost guaranteed to have that part right.  Moving up to the holding midfield is where the problems begin.  There's been a lot of chatter of Toni Kroos starting ahead of Bastian Schweinsteiger, but I don't think it happens here.  Even though Bastian says he's not fully fit, and even though I named him one of the weakest players in the match against Greece (I stated sloppy passing as the reason, even though he completed 92%), he is the Tiger.  He doesn't wear the captain's armband, but he is the emotional leader of this team (as he is for Bayern Munich).  And with his ankle problems (evident?), and Sami Khedira's prominence in to a more offensive role, he will be called upon to rein in the cheeky Pirlo in front of our back line.  Bundestrainer Low says you can't man-mark Pirlo, but the England match proved that you also can not afford to leave him too much room to roam.
Reverting back to group stage, I feel Low will choose to use his trusted wings in Lukas Podolski and Thomas Mueller.  Schuerrle had his chance to impress against Greece in Poldi's slot, and while he wasn't horrible, he came up lacking.  The Reus / Mueller conundrum is a tricky one.  And, I definitely sat on the fence a few days about it.  But, the Italian defence is an organized one (unlike a direct Greek wall), and perhaps Mueller (who is better off the ball than Reus) would be a bit more patient in that regard.  Also noting that this pair of wingers are more likely not to get caught up in the moment of "Oh, crap!  I'm in a semi-final!" and track back to defend.
Gomez or Klose is the huge question here, and points could be made for either.  Obviously, I think Jogi will go with Klose.  (It says so a few paragraphs up.)  While Gomez would definitely have a height advantage- Deutschland averages three inches north of the Italians, which is fantastic for poaching goals- Klose is a better ball handler.  And Klose has the advantage of playing for Lazio in Serie A.  To people who say that Gomez needs to start every match, I say, he came off the bench in these ten qualifying matches a few times and did well.  Klose ended up qualifying with nine goals and Gomez with six.  (Gomez playing for Bayern Munich is an entirely different matter.)  In the end, it's kind of a push for me.  If one doesn't get on the board, the other will be subbed in.
Cesare Prandelli has his own decisions to make.  Unfortunately for him, the Azzurri had to slog it out in the hot, hot heat of Kiev against England; and have had two less days to get his players fit.   (To which I say, shoulda won your group, Cesare.)  Daniele De Rossi is suffering from sciatica, Antonio Cassano from fatigue, Christian Maggio is suspended, while Giorgio Chiellini and Ignazio Abate both have knocks (although both will feature).
Italy:  Buffon - Abate, Barzagli , Bonucci, Chiellini - Pirlo, De Rossi - Marchisio, Montolivo - Balotelli, Cassano
The diamond-midfield- with De Rossi playing ahead of Pirlo and Montolivio playing ahead of Marchisio- leaves Italy susceptible on their flanks.  And with defensive wingers Abate and Chiellini with the aforementioned knocks, die Mannschaft should have a ton of space to operate down those very flanks, and may be able to catch some Azzurri with their pants down.  But, the battle will be won in the central midfield.  If we are allowed to assert ourselves, we can wrangle control from Pirlo - Italy's answer to Bastian Schweinsteiger.
After watching the snoozefest (or laughfest, depending) that was the Spain / Portugal match, this promises to be a good one.  I mean, really...  It can't be any worse!  With neither coach ready to relinquish their philosophies or style of play, it's shaping up to be an open, entertaining game.
We won't know whether I picked right or wrong until after Germany's team meeting at 17:30.  Jogi Low has insisted he won't give his starting XI until then.  And, while I want to get it right, a small part of me wants to get it wrong, muse on it for a while...
...And then watch the magic happen.  Auf gehts, 'Schland!

Conversations