French reflect on miserable campaign
Now the dust has finally settled following France's limp exit from Euro 2012 at the hands of Spain, the French Football Federation and Laurent Blanc have some big decisions to make before deciding whether to part ways. Les Bleus are due to embark upon the 2014 World Cup campaign and more importantly begin planning for the 2016 European Championships which will be hosted on home soil and the FFF are in desperate need of someone committed to seeing through both projects.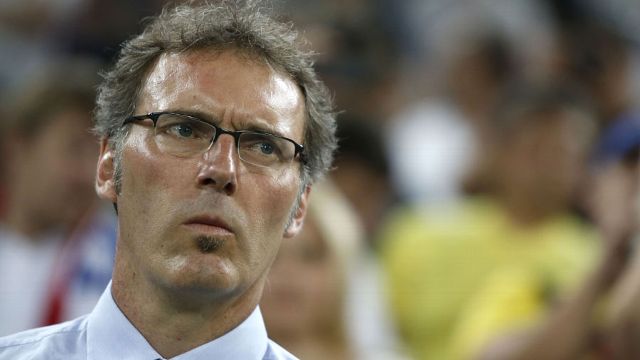 On the evidence of this summer's showing the French are not quite over 2010's South African debacle. A painful exit from the tournament has been exacerbated by the renewed tension between the squad and the French media following Samir Nasri's altercation with a member of the press which Blanc and the FFF have deemed "intolerable." This now puts les Bleus back in a similar situation to 2010 when a period of soul-searching began with a number of bans being imposed on players involved in the mutiny directed against manager Raymond Domenech. A similar purge could be necessary this time around but for different reasons.
This summer's Euros was a major chance for France to prove that they had overcome their previous problems and had once again become a force to be reckoned with on the international stage. Instead, the team exited the tournament with a whimper and a number of players failed to perform and live up to their reputations. The campaign started well enough, a creditable draw against England was followed by an impressive 2-0 victory over co-hosts Ukraine but it was after the 2-0 defeat to Sweden in final Group D match that cracks began to emerge. Blanc admitting to the press that there had been some discussions after Olivier Giroud spoke out about the side's unhappiness following the result prompted speculation over a lack of unity.
Those reports are fairly close to the mark. One of the hardest things Blanc has had to do since taking the reins has been to keep the considerably large number of egos in the French setup happy and it is obvious that this time that has not been possible. Nasri had been at odds with the media since the start of the tournament and 2010 ringleader Patrice Evra is still part of the squad, frustrated at losing his place in the side mid-tournament to Gael Clichy. As well as a number of other survivors from South Africa there are certain members of the team deemed to be prima-donnas, players with ideas above their stations and now may be the time to eradicate these elements as once again they corroded France's hopes of achieving anything.
There is experience in the current squad which is what promising players such as Yann M'Vila, Olivier Giroud, Hatem Ben Arfa and Jérémy Ménez need to help them develop into international stars. However, I question the attitudes of some of the players in these positions of experience because I don't feel I saw anything from them during the tournament to suggest that they are prepared to take responsibility for the side and to lead by example when the team find themselves in trouble.
Nobody sought to take charge of the team when they found themselves floundering against Sweden and there is only so much that captain Hugo Lloris can do from his isolated position at the back. The same can be said of the Spanish match where the more experienced elements of a defensively-minded side were barely recognisable.
You could be fooled in thinking that France had no strength in depth but actually looking at Blanc's squad in Poland and Ukraine, he had more variety than most coaches have had the fortune to pick from and he had an abundance of attacking players at his disposal when he needed to change the side's approach. In addition to a misfiring Karim Benzema he had Giroud on the bench as well as Ménez, Ben Arfa and Valbuena who can all play in attacking roles so to suggest that Blanc had run out of options against Sweden and Spain is untrue. Instead I think it is fair to say that Blanc never really had a plan B. Benzema preferred to play a more withdrawn role and with a lack of a target man up top ahead of him it starved Franck Ribéry, Malouda, Nasri and Ménez of the ball at times and as a result France's potent attacking threat never materialised apart from a fleeting appearance against Ukraine.
The future is bright for les Bleus, there are plenty of talented prospects coming through who will be ready in time for Brazil in 2014 and France two years later, so maybe the time has come to hand over to new generation. Players such as Mapou Yanga Mbiwa should eclipse Philippe Mexès ahead of the World Cup, same for M'Vila with Alou Diarra and Ménez with Malouda. Then next on the list would be dealing with the players that have a less than savoury attitude and replacing them with hungry young talent who have a grounded sense of their own importance. Evra could make way for Bordeaux's talented left-back Benoit Benoît Trémoulinas whilst I would be surprised to see Nasri in a French shirt again for a long time. Losing an element like the Manchester City midfielder will also make it easier to accommodate a talent like Benzema who just does not seem comfortable leading the line at international level.
The FFF should take a leaf out of Germany's book and lead the charge in a re-birth of the way footballers are brought through and developed ahead of 2016. 2014 will be an excellent field test for some of the next generation but les Bleus need to get it right by the time the Euros come to France where they will be expected to perform well. Only a complete overhaul of the current international setup will allow the team to fully profit from a fantastic generation of young talent.
Is Laurent Blanc the right man to lead France? Only time will tell. The former Bordeaux manager is currently in talks with his superiors following the competition and the fallout is likely to have casualties. Whether he is actually one of them right now is debatable, but given the growing tension between himself and President Noël Le Graët and the rumoured interest from overseas sides it appears unlikely he will be there for both the World Cup and the Euros.
In that case, the FFF will need to find a successor and make sure it is someone who is not only committed to the development of the current pool of considerable talent but is also prepared to take charge of the side all the way until after 2016. With few options currently on the domestic scene, it is hard to see and obvious successor. Making a foreign appointment would be foolish and detrimental to the side's chances given the lack of success that other nations have had with coaches from abroad.
For now, France seem to have the right man for the job but need to conduct a review of the characters within the squad and be ruthless when deciding certain international fates. Watching les Bleus this summer has been like watching paint dry at times and if this is to be avoided, the younger and more vibrant generation now need to be given a chance to shine before they are choked out by members of an inefficient old guard who have spent too long being fawned over without delivering anything of substance.

Conversations