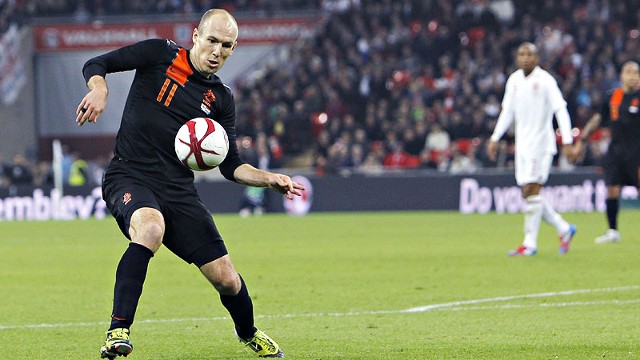 Unfortunately, due to long spells on the sidelines, Arjen Robben has at times been one of the most underrated players in European football. Having been extremely influential in Chelsea's early success before succeeding (in the beginning) at Real Madrid, Robben was seemingly the forgotten man by the time he arrived at the Allianz Arena in 2009. However, since guiding both FC Bayern and Netherlands to major finals in 2010, he is now earning the plaudits he deserves on a regular basis.
Robben has been so good that the 28-year-old has made himself a template for the role of the inverted winger. Starting from the right flank for both club and country, Robben is granted freedom to venture inside and use his magical left foot to devastating effect, or continue on the outside to provide a cross for one of the strikers lingering in the middle. During his three years at FC Bayern, Robben has developed this role to suit his game and made himself a fearsome goal threat from the flanks.
It is not simply the act of cutting inside and shooting that makes him such a difficult proposition for opposition defenders, it is the fact Robben can turn on either side and make the decision at pace. The wide man has his fair share of tricks at his disposal, but it is often the sheer speed with which he attacks the opposition that creates the opening.
Of course, creating shooting chances alone is not enough if they are not converted, and finishing prowess is another area in which Robben separates himself from the competition. On countless occasions in the past few seasons the Dutchman has proved himself to be a lethal finisher with his left foot from anywhere in and around the area. A golden opportunity wasted in the World Cup 2010 final will linger in the memory of Netherlands fans, but there is no doubt he will be looking to silence those critics this summer.
Unfortunately for his country, since his golden performances at the World Cup, Robben has only pulled on the Oranje jersey a handful of times and this is the problem he presents to his coaches and managers. When fit, he is outstanding and transforms a good side into a great side. Yet, fitness is never assured for a player who last managed 30 league games during the 2002-03 season at Ajax.
---
Expert's take: Supremely gifted wide operator but a player with the capacity to annoy as much as enthrall. For all his gifts, he has always been injury prone. -- Derek Rae
---
Stats That Matter:
• Scored game-winning goal against Uruguay in semifinals of 2010 FIFA World Cup.
• After his contributions with Bayern Munich in 2010, he was named Footballer of the Year In Germany, the only Dutch player to ever win the award.
• Won league title in four different European top-flight competitions (Eredivisie, Premier League, La Liga, Bundesliga) over a span of eight years.
• His teams have won 7 of 9 domestic cup finals across 6 different competitions.
• Has been sold to four clubs for a total of 82.3 million Euros.

Conversations