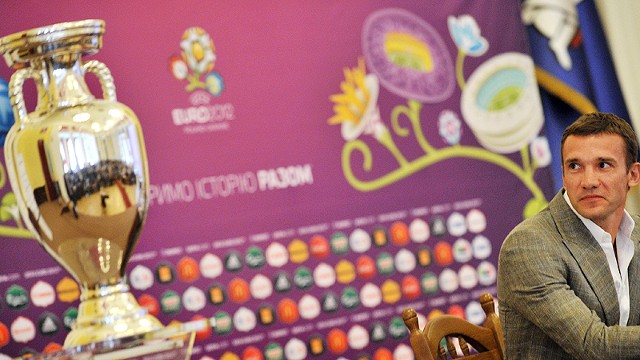 A week from now, Poland will take on Greece in Euro 2012's inaugural match and I'm already sleepless with excitement. Some of my favorite soccer-related memories are of watching the European Championships, and the 2004 tournament marks the point at which I transitioned from curious fan to hard-core soccer enthusiast. That summer, much to my mother's chagrin, instead of getting up early to find a job, I got up early to watch soccer with friends, coffee in hand, morning after morning. The Henrik Larsson storyline from 2004 is one that still sticks with me: he came out of international retirement, at the request of Sweden's Prime Minister, to breathe life into his team. It worked too. Sweden topped its group, and Larsson scored some incredible goals along the way.
But I'm not here to write about great moments in soccer history. I'm here to write about Euro 2012. I leave for Poland on the 5th, and over the next two weeks I'll report from Warsaw (where Poland plays Greece and Russia), Gdansk (where Spain plays Italy) and Wroclaw (where Poland plays its final group match against the Czechs). I won't be in the stands or in the press box, though. Enough writers and journalists will be in the stadiums already; you'll be able to read match reports and tactical reviews until your eyes cross. I promise. My beat is different. I'll be in the streets, in the Fan Zones, with the people.
According to UEFA, organized Fan Zones first featured in a major tournament during the 2006 World Cup, when German fans and traveling supporters packed the streets to drink beer and watch their boys on the big screens the tournament's organizers set up throughout the country.
Fan Zones have featured in every major tournament since, transforming the Euros and World Cups from single-purpose tournaments into cultural occasions more akin to a music festival than a typical international sporting event. (Picture Coachella, but imagine people with flags in their hair instead of flowers.) In Warsaw, tournament organizers expect more than 20,000 supporters to turn up in the Fan Zone on days when matches are being played in other cities. On days with live matches in Warsaw, that number could max out at 100,000. And if Polish fans can get this worked up during a youth match, I can't wait to see what they'll do when the National Team takes the field on June 8th.
In this blog, I won't concern myself with the experiences of the dignitaries and the VIPs sitting in the stands but rather with the travelers and regular folks who maybe can't afford a ticket but nevertheless want to have a good time and support their team. I'll write fan profiles and interview supporters. I'll talk about tournament infrastructure and Poland's preparedness. I'll write about how to enjoy the spectacle on a budget—something I should have down to a science after a couple of days in country—and whether or not it's worth it to travel to these major tournaments if you don't have a match ticket. I'll even attend some of the non-soccer activities when I can. I might even get out and sightsee or wander my way into some smaller towns.
UEFA and FIFA have worked hard over the last decade to make these tournaments more accessible to traveling supporters and enthusiastic neutral fans. I'm here to include you in the experience. On a more personal note, soccer and traveling are two of my deepest passions. In the past, I've written about soccer and travel separately, but this time—attending my first major tournament in a country I've never visited—I get to combine the two. It's not every day a dream comes true. No wonder I can't sleep.

Conversations