The cards are laid out on the table. Your hand is safe, it is tried and tested, and you know where you stand with it. But it is high stakes. What you have in front of you might not be enough to secure the pot. You look into the eyes of those around you and then turn your gaze back towards the dealer who asks: "Stick or twist?" What do you do?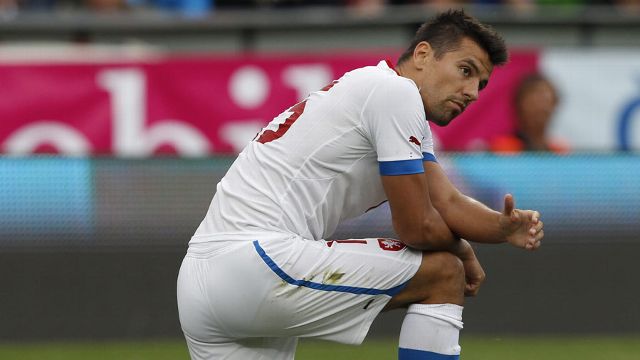 The gambling metaphor is one often used in a footballing context. Does the manager go with tried-and-tested personnel or does he take a risk, upset the status quo and make a change. This is the situation that Michal Bilek finds himself in heading into the Czechs' final Euro 2012 group game against co-hosts Poland.
In the two games thus far, all the Czech goals have come from midfield. Lone striker Milan Baros has cut an increasingly isolated figure at the helm of the 4-2-3-1 formation, failing to register a single shot in his 149 minutes on the pitch in Wroclaw. The statistic provides weight to the argument that he must be dropped if this Czech side are to prosper and stokes the already smouldering fire among the fans who wish to see somebody else play up front.
The problem is not necessarily Baros' fault; he is by no means an imposing force, nor is he a brilliant all-round striker who can offer as much in the link-up play as he can running towards goal. Milan Baros in 2012 is an adequate front-to-goal forward who can smartly work the channels and, when given a clear opportunity, is still a lethal finisher.
Much to the delight of the fans, Tomas Pekhart got 25 minutes to impress against Greece. Pekhart, 23, is a much more rounded forward, not as clinical, but far more of an aerial threat than Baros. Yet defending a one-goal lead, and without the guile of Rosicky, the Czech midfield slipped deeper and deeper and it was Pekhart's turn to be left out in the cold in the final third while play was bogged down in midfield. Just like Baros, Pekhart failed to muster a single shot. The other attacking option to see game time, David Lafata, is also in this club. Criticising Baros, which has become a favourite pastime of the Czech supporters, is clearly misguided as three recognised striker aren't wearing any shooting boots at all.
The goals are coming from midfield and, while it is really positive that the rest of the team can pick up the slack, they can be counted on only for so long. There will come a time, and you would expect it is against Poland, when the strikers will have to stand up and make themselves counted. Changes will needed to be made in order to allow that, but does Bilek alter things to try to bring Baros or Pekhart into the game more, or does he keep things as they are?
Baros is not the option going forwards, and he is unlikely to be first-choice for much longer, but the statistics don't lie. In this system it seems whoever is leading the line will be in for a frustrating evening. With the Czechs generally playing things along the floor when they get into the final third, you would expect the Galatasaray man to keep his place. But needing a result, Pekhart could be given the chance to impress from the get go if Bilek decides to tinker. With a victory securing a place in the last eight, maybe it is time for Bilek to gamble.
In the opening game Poland face 2004 winners Greece, but, rather obviously, the focus of this blog will be on the game that kicks off nearly three hours later and some 340km to the South-East as the Czech Republic start their tournament against Russia.
The starting XI looks to be fairly certain at the moment. Tomáš Rosický has been deemed fit enough to play the full ninety minutes which can only aid Czech changes. Elsewhere on the field Michal Kadlec appears to be utilised as a centre-back (unless there is a sudden change of heart by Michal Bílek) and the industry of Petr Jiráček seems to be preferred over the defensive stability that Tomáš Hübschman offers. The latter decision certainly adds more mobility to the midfield unit and creates a more well rounded attacking threat from the midfield with Jiráček having a knack of finding himself in the right place at the right and has grabbed himself seven goals for club(s) and country this season. The defensive choice makes sense too; Kadlec when utilised as a centre-back has appeared a solid and reliable option even though he is a left-back by trade. This also allows David Limberský the chance to start which will help the balance of the side for he and Theo Gebre Selassie are similar types of full-backs.
[edit, Roman Hubník was picked ahead of David Limberský]
Starting XI (4-2-3-1): Čech - Gebre Selassie, Sivok, Kadlec, Limberský - Plašil, Jiráček - Rezek, Rosický, Pilař  - Baroš
So, who is who?
Chances are that readers of this page will be aware of the big names, there should be no need for an introduction to the likes of Čech, Rosický and Baroš who have all had varying levels of success in the Premier League and alongside the quietly influential Jaroslav Plašil are survivors of the ill-fated 2004 squad that was considered the best in Europe that summer. But away from this group of players which we can thrown Leverkusen's Michal Kadlec into, the players may be totally unfamiliar to people out there and Euro 2012 may well be the first time they have seen them in action.
Petr Čech (Chelsea)
One of the best in goalkeepers in Europe, if not worldwide. At times the Chelsea goalkeeper can be unbeatable, as Barcelona and Bayern Munich found out to their detriment in the Champions League this season. Understandably a key figure for the Czech side.
Theo Gebre Selassie (Slovan Liberec)
An attack minded right-back who has been in scintillating form for Liberec throughout the season with whom he has scored five goals. Unlikely to remain in the Czech Republic beyond this summer, Gebre Selassie harbours a great amount of game intelligence, rarely caught out of position even after breaking forwards to join attacks.
Tomáš Sivok (Beşiktaş)
A confident centre-half who carries a distinct aerial threat in conjunction to his ability on the floor, Sivok is very good all round centre-back who impresses in all areas. His domestic future hangs in the balance as Beşiktaş look to cut costs.
Roman Hubník (Hertha Berlin)
The central defender has endured a torrid season with the Berlin club in a season which saw the side drop out of the Bundesliga. Solid and reliable, though a lack of pace raises issues about his longevity in the side. His tried and tested partnership with Sivok probably swung the balance in his favour as he was chose to start.
Michal Kadlec (Bayer Leverkusen)
An exceptional left-back who is as comfortable when pushed inside to the centre of defence. First choice for club and country, the versatile defender is probably the first defensive name on the team-sheet.  Just like his father Miroslav was, Kadlec is first-choice penalty taker and he rarely misses from the spot hence his status as the top scorer for this Czech side in qualification.
Jaroslav Plašil (Bordeaux)
Rosický and Čech may be the obvious stars of the team, but the Bordeaux captain is a very influential player in his own right. His ability at playing high up the pitch or in a more withdrawn position closer allows flexibility in the side and with Daniel Kolář failing to impress in warm-up matches he could be Rosický's replacement. Comfortable on the ball and good at retaining possession.
Petr Jiráček (VFl Wolfsburg)
Jiráček is the very definition of a late-bloomer: playing second tier football a few years ago he then endured a torrid start when he moved to Plzeň, but after settling down, the box-to-box midfielder grew in stature to become an integral part of Pavel Vrba's title winning side. His performances this season earned him a move to Germany where he has fitted in well though a rib injury has seen him fall slightly down the pecking order at Wolfsburg. The workhorse of the side, the metaphorical Duracell bunny in midfield.
Jan Rezek (Anorthosis Famagusta)
The scourge of Scotland alongside Dutch referee Kevin Blom after his antics at Hampden. The forward-come-winger had a strong goal-scoring record in qualification netting twice in five appearances from out wide. A bit one dimensional in cutting in to support the lone striker, but this is not too much of a problem if Gebre Selassie is given license to provide width on the right. Has a knack of working the channels well.
Tomáš Rosický (Arsenal)
An injury scare has been the talk of the build up to Euro 2012, but all reports are that the Arsenal midfield is more than fit enough to start against Russia and lead his country out through the tournament. A mercurial figure capable of opening up the best defences his form and fitness could well be the deciding factor for this side.
Václav Pilař (Viktoria Plzeň)
Tricky and skilful, the left-winger had a will-he, won't-he transfer saga over the winter and is will be joining Jiráček in Wolfsburg after the tournament. Offensively one to watch; capable of brilliance when drifting inside the Hradec Kralove youth product could very well be the man to take over the mantle from Tomáš Rosický in the years to come. But for the moment still seen as wide-man, not that he'll hug the touchline throughout the game.
Milan Baroš (Galatasaray)
Euro 2012 is expected to be the ex-Liverpool and Aston Villa striker's final hurrah on the international stage. Arguably not suited to the lone-striker role, Baroš' real strengths are as a penalty box striker and if the service is right, he could quite feasibly
Strength
If the two fullbacks can bring their domestic form and playing side to the national team, then the quality out wide has the ability to overrun their opponents. Rezek and Pilař darting inside opening up space for Limberský and Gebre Selassie to capitalise upon is a mouth watering, and dangerous prospect. Obviously problems to this approach such as defensive vulnerability committing so many men forwards, but if tweaks are made it should not be too much of a problem.
Weakness
Obvious as it is, the lack of goals is a worry. Michal Kadlec was top scorer in qualifying, his status as penalty taker explaining that one, which also underlines the lack of ability to grab goals from open play. Dropping Baroš or changing formation to one with two recognised strikers would help rectify this, but Bílek is content with the current system.