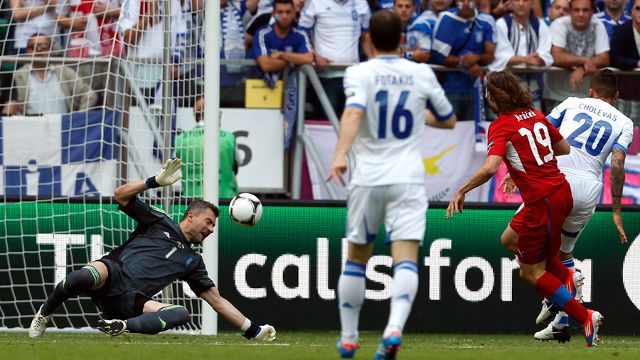 The Czechs went out of Euro 2012 simply because they could not contain one man, that man being Cristiano Ronaldo. The self-styled 'CR7' put in a performance that determined the game. The following morning there were no negative headlines about the team that reached the quarter-finals; instead the majority of journalists were in agreement that getting to the last eight was no mean feat, and defeat to a Ronaldo-inspired Portugal was no embarrassment.
Soon afterwards Milan Baros announced his international retirement, the news coming as no real shock with the striker looking a shadow of his 2004 self. Slightly more surprising was that Tomas Rosicky acknowledged he may no longer have a future at the international level, though any decision would be down to how his body shapes up. The evolution that this Czech side was going through before the Championship will continue to occur as the World Cup in Brazil comes slowly into focus.
Baros certainly won't be playing in a Czech jersey in 2014, though Rosicky may be. But this summer provides a great chance to continue to blood the next generation, to find a new system that will get the best out of the players in it and try to work out what to do without the Arsenal man. Thankfully, looking back at Euro 2012, the future actually looks quite positive.
The nucleus of this side are still international newcomers and can only get better as they become accustomed to life outside of the Gambrinus Liga. Petr Jiracek has been at German side Wolfsburg for six months, Vaclav Pilar is soon to join him, and Theo Gebre Selassie has just completed the formalities of his move to Werder Bremen. Three of the best players for the Czechs this summer have six months' experience in a 'major' European league combined.
Similarly, Rosicky's replacement against Portugal, the 21-year-old Vladimir Darida, has spent only half a season as first-choice in the Viktoria Plzen squad. The silky midfielder came into the Plzen midfield replacing Jiracek who had made his move to the Bundesliga. Darida showed in glimpses that he has the potential to become a big-name player; the occasion of the Euro quarter-final failed to faze him and he has since been the subject of a £5 million bid from a Russian outfit which was rejected by Plzen.
Waiting in the wings as well are a hugely talented crop of individuals looking to burst into the national team. The Under-21 squad contains players such as Chelsea's Tomas Kalas, who looks far more composed and talented beyond his years; Sparta Prague's Ladislav Krejci, who many wished to be brought to the Euro squad and who set the Gambrinus Liga alight for the majority of the season; and the man who could take over from Milan Baros, Jan Chramosta. And we should not forget the substitute bench that contained Tomas Necid, Tomas Pekhart and Marek Suchy: all could be in contention to be leading stars in 2014. The future certainly is not doom and gloom.
But that is the future. What did Euro 2012 show to the Czech Republic?
The most obvious thing is that versatility and self-belief are two integral factors that this side should take forwards. Jiracek by trade is a box-to-box midfielder, but he filled in out wide very well, while Vaclav Pilar is predominantly a winger but showcased his guile when drifting inside and getting in between the defensive lines. Pilar playing off the main striker might be an option going forwards, but it is really down to where Felix Magath sees him at his best. Jiracek, however, should be moved back inside at the earliest opportunity, though he had a fantastic tournament out wide.
Tomas Hubschman is still a vital player. Even at 30 and after losing his place to Jiracek, the Shakhtar midfielder is a cut above sitting just in front of defence. His presence vastly improved the shape of the side while providing a decent passing option to utilise while going forwards. After fearing his international career may be coming to an end, he has forced himself back into contention impeccably.
Tactically we did not learn anything that we didn't know going into the tournament. The side is heavily reliant on Tomas Rosicky, or at least the 4-2-3-1 system relies on 'little Mozart' to pull the strings in the final third. Many Czech supporters wish to move to a more orthodox 4-4-2, or to a formation that allows for two recognised strikers to play centrally. Whether this option is a valid one going forward remains to be seen, yet as a Plan B there is nothing wrong with this idea, and a Plan B is desperately needed. With the exception of a fleeting few minutes against Russia, the Czechs failed to venture away from their 4-2-3-1 formation and this was their biggest weakness. Addressing that will help the team continue their evolution; sticking with it, while it has garnered results, would cause stagnation. Standing still is the last thing this Czech side needs to do.

Conversations