To stick or to twist on Baros?
The cards are laid out on the table. Your hand is safe, it is tried and tested, and you know where you stand with it. But it is high stakes. What you have in front of you might not be enough to secure the pot. You look into the eyes of those around you and then turn your gaze back towards the dealer who asks: "Stick or twist?" What do you do?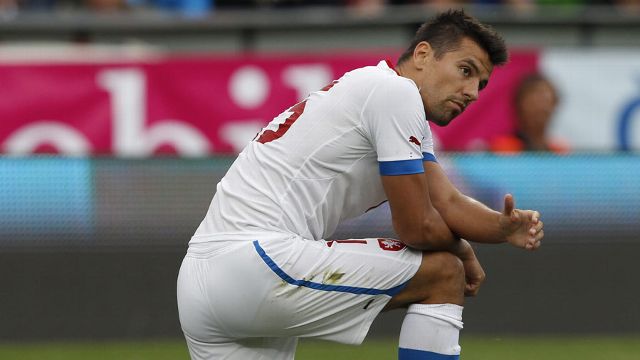 The gambling metaphor is one often used in a footballing context. Does the manager go with tried-and-tested personnel or does he take a risk, upset the status quo and make a change. This is the situation that Michal Bilek finds himself in heading into the Czechs' final Euro 2012 group game against co-hosts Poland.
In the two games thus far, all the Czech goals have come from midfield. Lone striker Milan Baros has cut an increasingly isolated figure at the helm of the 4-2-3-1 formation, failing to register a single shot in his 149 minutes on the pitch in Wroclaw. The statistic provides weight to the argument that he must be dropped if this Czech side are to prosper and stokes the already smouldering fire among the fans who wish to see somebody else play up front.
The problem is not necessarily Baros' fault; he is by no means an imposing force, nor is he a brilliant all-round striker who can offer as much in the link-up play as he can running towards goal. Milan Baros in 2012 is an adequate front-to-goal forward who can smartly work the channels and, when given a clear opportunity, is still a lethal finisher.
Much to the delight of the fans, Tomas Pekhart got 25 minutes to impress against Greece. Pekhart, 23, is a much more rounded forward, not as clinical, but far more of an aerial threat than Baros. Yet defending a one-goal lead, and without the guile of Rosicky, the Czech midfield slipped deeper and deeper and it was Pekhart's turn to be left out in the cold in the final third while play was bogged down in midfield. Just like Baros, Pekhart failed to muster a single shot. The other attacking option to see game time, David Lafata, is also in this club. Criticising Baros, which has become a favourite pastime of the Czech supporters, is clearly misguided as three recognised striker aren't wearing any shooting boots at all.
The goals are coming from midfield and, while it is really positive that the rest of the team can pick up the slack, they can be counted on only for so long. There will come a time, and you would expect it is against Poland, when the strikers will have to stand up and make themselves counted. Changes will needed to be made in order to allow that, but does Bilek alter things to try to bring Baros or Pekhart into the game more, or does he keep things as they are?
Baros is not the option going forwards, and he is unlikely to be first-choice for much longer, but the statistics don't lie. In this system it seems whoever is leading the line will be in for a frustrating evening. With the Czechs generally playing things along the floor when they get into the final third, you would expect the Galatasaray man to keep his place. But needing a result, Pekhart could be given the chance to impress from the get go if Bilek decides to tinker. With a victory securing a place in the last eight, maybe it is time for Bilek to gamble.

Conversations