Panama, no Klinsmann offer first real U.S. challenge
CHICAGO -- The biggest challenge for the U.S. men's national team in this Gold Cup has been, well, finding a challenge. The Americans have won all five of their games in the tournament, burying their opponents by a combined score of 19-4 with only Costa Rica providing any resistance. But now, with Sunday's final against Panama up next, some obstacles are finally starting to appear.

The first has to do with coach Jurgen Klinsmann. CONCACAF announced late Friday night that the U.S. manager would be suspended for Sunday's match after he was ejected by referee Walter Quesada in the final minutes of Wednesday's semifinal victory over Honduras. Klinsmann took exception to a pair of heavy challenges delivered to defender DaMarcus Beasley, directed some pointed remarks in Quesada's direction, then threw the ball into the ground. He apologized after the match, saying he had "over-boiled" his reaction, but the damage was done. In a news release, CONCACAF stated that "This decision was reached in accordance with Articles 18.4, 19.1, 19.2 and 20 of the FIFA Disciplinary Code" -- and, more crucially, that the suspension cannot be appealed.

It's not exactly clear the extent to which Klinsmann's suspension applies, including whether he is merely banned from the sideline or whether all forms of communication are prohibited once the game starts. (Neither CONCACAF nor the USSF responded to an email request asking for a clarification on this subject.) But at minimum, it now appears that U.S. assistant coach Martin Vasquez will be in charge of the team, at least on the sideline, along with fellow assistant Andreas Herzog.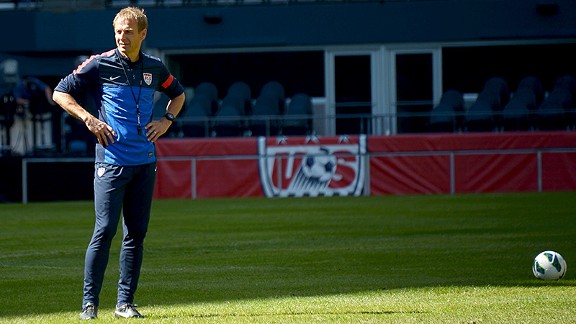 Joe Klamar/AFP/Getty ImagesJurgen Klinsmann's absence will test, but not cripple, the U.S. team in the Gold Cup final.

As challenges go, this one is relatively minor. Granted, Klinsmann's recent Midas touch with his substitutions will no doubt be missed, but the U.S. players had been living with the possibility of Klinsmann's suspension for two days and, before Friday's practice, the group appeared to have already digested it.

"Jurgen has obviously implemented how he wants the team to play," U.S. midfielder Stuart Holden said. "Whether he's on the sidelines or not, we all know what we need to do out there on Sunday, which is get the job done. And obviously he's a great motivator and a great guy in the locker room, and really getting guys going. At the same time, if he's not out there, we know that he'll be up in the stands still as animated as ever and really pulling for the team to win. We obviously have other coaches in Martin [Vasquez] and Andy [Herzog], and they're both very experienced, and they can lead the team if need be."

For that reason, the majority of the Americans' focus will be on containing Panama. Like most teams in this tournament, the Canaleros are missing a few A-list players, including defender Felipe Baloy. But enough first-stringers have come along for the ride to give the team a near perfect blend of youth and experience, with defender Roman Torres, midfielder Gabriel Gomez and striker Blas Perez all having more than 70 caps. That veteran leadership has allowed Panama to beat Mexico twice -- its only blemish was a meaningless 0-0 tie against Canada when qualification to the knockout rounds had already been assured.

Report: Klinsmann suspended by CONCACAF
Carlisle: Donovan's USMNT role, fit
McIntyre: For once, good defensive issues
PTI: Klinsmann's U.S. soccer legacy
Press Pass: Donovan's renaissance

Such factors point to a very different kind of game for the Americans, although that was also supposed to be the case in their two previous matches. Instead, the U.S. has had things almost entirely its own way, dominating possession and flooding numbers into the attack. To hear the U.S. players tell it, they plan to take a similar approach Sunday.

"We want to impose our play on them," defender Michael Parkhurst said. "We want the pace to be as high as possible, and, in order to do that, we have to push, push, push and put them under pressure from the beginning."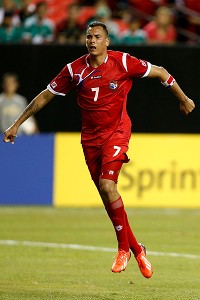 Mike Zarrilli/Getty ImagesThe experience of Panama striker Blas Perez will also challenge the U.S. on Sunday like it has yet to be at the Gold Cup so far

Thanks to the Americans' ability to own the ball, the U.S. offense has featured Parkhurst and Beasley piling forward at every opportunity. But it seems unlikely that this level of dominance will be repeated against Panama. Unlike El Salvador and Honduras, Panama has a more varied attack, with players such as Alberto Quintero and Gabriel Torres providing considerable support to Perez. For that reason, as well as Perez's ability to hold the ball up, the U.S. will need to be mindful of Panama's ability to strike quickly on the break.

Panama's size has also made it effective on set pieces in the Gold Cup, with Roman Torres netting the game winner in the semifinal against Mexico from a corner kick. This also plays right into the one weakness the U.S. has shown in this tournament, that of defending corners and free kicks.

In an odd twist, the progression of games in the knockout rounds now looks poised to mirror that of the group stage. The U.S. opened the tournament with two blowouts before knocking off Costa Rica 1-0 thanks to a late Brek Shea goal. Now a similar end seems in store after the U.S. cruised through its quarterfinal against El Salvador and the semi against Honduras.

But what likely will tip the balance of the game in the Americans' favor is that they have Landon Donovan. The U.S. striker has dominated this Gold Cup with his ability to turn a match, either with his goal scoring or his passing. And for all the concern about Panama's ability in transition, the U.S. has shown it can punish teams during such a phase, as well, especially when Donovan is at the controls.

"Each game has brought new challenges," Holden said. "Definitely one of our strengths is the speed of play at which we play at, and high-pressuring teams."

If the U.S. can bring those strengths to bear Sunday, it will hoist the Gold Cup for the fifth time.

Notes:

-- A report from German publication Kicker stated that Hertha Berlin defender John Anthony Brooks, a dual national who also has German citizenship, is poised to accept a call-up from the U.S. for the team's Aug. 14 friendly against Bosnia. Brooks spurned a call for the U-20 World Cup earlier this year but now appears ready to take his first tentative steps toward suiting up for the U.S. team. A U.S. Soccer spokesman stated that no requests for player releases have even been sent out yet, although a source close to Brooks confirmed that this one is set to take place. If Brooks does ultimately commit to the U.S., it would amount to a significant coup for the national team program given his 6-foot-4 frame and his comfort on the ball.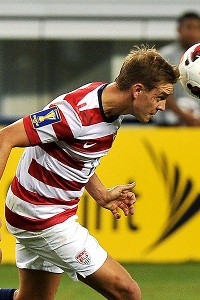 Nicholas Kamm/AFP/Getty ImagesDespite missing nearly two years due to a string of injuries, Stuart Holden's looked healthy and strong since returning to the U.S. midfield.

-- In his past two matches, Holden has gone the full 90 minutes, the first time he has accomplished that feat in more than two years, thanks to a slew of injuries. And the good news for U.S. fans is that the Bolton Wanderers midfielder said he's feeling no ill effects.

"I took a few knocks the other night -- one to the jaw, one to the ribs -- but that's aches and pains," he said. "You wake up the next day feeling a bit stiff, but the coaching staff and the training staff have been second to none, knowing what each player needs in terms of our regeneration, whether it's stretching and foam rolling, or if one needs to do treadmill, everyone has got a pretty good routine and knows what their body needs. I'm no different than that, and I've found a good balance, I think, on this trip of not being able to miss a training session and having myself fully ready and available for every game."

-- For all of these players, the end of the Gold Cup on Sunday doesn't signify a period of rest. For some, it means heading back to MLS for the latter half of the season, but, for players such as Parkhurst, the season is just beginning as he'll depart Monday to join up with his Augsburg teammates. Since arriving at the Bundesliga side in December, Parkhurst has found playing time hard to come by, and he anticipates a similar challenge this season.

"I want to get into the lineup as quickly as possible, but the captain [Paul Verhaegh] is also a right-back right now, so my future is up in the air a little bit there. But the plan as of now is to go there and fight for a spot and then hope I can break in."

-- With the U.S. in the midst of a team-record 10-game winning streak, another record is on the verge of being equaled Sunday. If the Americans prevail, it will mark the 10th consecutive home win, tying the mark set from June 15, 2008, through July 11, 2009.