USMNT Hot List: Julian Green's star getting brighter
While the hot list is a weekly feature here, when it comes to tracking the progress of American players as it relates to the World Cup-bound U.S. men's national team, it's important to remember that rarely does one game change much.

That's not to say Yanks fans can't get excited when 18-year-old American Julian Green steps on the field for reigning European titlist Bayern Munich in a UEFA Champions League match (see below), or that they're wrong for taking an emotional roller-coaster ride when Brek Shea finally plays his first minutes of the English Premier League season for Stoke City -- as he did Saturday -- only to appear to be in over his rooster-coiffed head.

But it's wise not to rush to judgment in either case. For Green, last week's cameo for Bayern was the Tampa native's first professional appearance at the senior level. That it came in the world's top club competition is not insignificant, but don't forget that Freddy Adu also played in the Champions League as a teenager (Green became the second-youngest Yank to appear in the tournament, after Adu), as did Jonathan Spector. Yet neither has played a minute for the U.S. at a World Cup, and probably never will.

In any case, Green, a member of Germany's under-19 team, can't even represent the U.S. in Brazil without petitioning FIFA for a one-time switch of allegiance to his birth nation. As for Shea, the 23-year-old could see more EPL action in the coming weeks despite his shaky outing, as fellow midfielder Marko Arnautovic expected to miss a few more weeks with a hamstring injury. And if not, a confidence-building loan in early 2014 remains possible for Shea, even likely.

So the important thing is to not get ahead of ourselves here.

Players like Green and Shea never make or break their national team careers over one seven-day stretch. For them, what happens over the coming weeks and months is what really counts.

Of course, the same is true for entrenched U.S. starters, guys Jozy Altidore, Michael Bradley and Jermaine Jones, all of whom are listed below. But the direction each is trending can reveal clues about what the immediate future holds -- even if things can and probably will change again next week.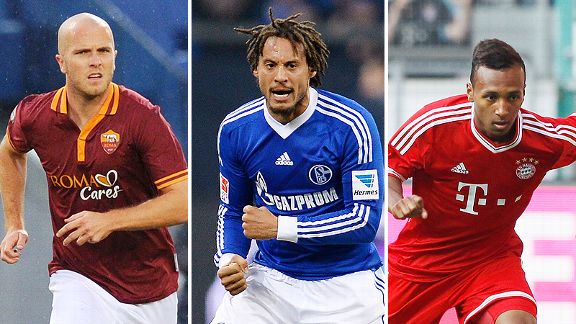 Getty ImagesMichael Bradley (l), Jermaine Jones (c) and Julian Green (r) all helped their causes over the past week.
Warming up

Julian Green, F, Bayern Munich (Germany)

Why he's here: The German-American striker made his senior-team debut for Bayern in a 3-1 win at CSKA Moscow on Wednesday.

What this means: Green remains a huge long shot to make the World Cup squad, but that could change quickly if he receives more playing time and scores a few goals between now and May. Even then, he'd still have to accept the invite, and word is that Bayern would prefer Green not play for the U.S. due to the regular intercontinental travel involved.

Michael Bradley, M, Roma (Italy)

Why he's here: Bradley earned his first Serie A start in almost a month on Sunday, going the distance in still-undefeated Roma's 1-1 tie at Atalanta.

What this means: Roma coach Rudi Garcia clearly values the imposing 26-year-old American, who has appeared in all but one of the games he's been available for this season. Bradley's strong finish to Sunday's match should keep him in the mix for a starting spot for one of Europe's best teams -- particularly when the Giallorossi play away from home.

Jermaine Jones, M, Schalke (Germany)

Why he's here: Normally a No. 6 with his club, Jones played a more advanced midfield role in Schalke's 3-0 win over Stuttgart on Saturday, in which he scored this cracking second-half goal.

What this means: Jones will always be known as a defensive player first, but the German-American's offense is underrated: The 31-year-old is a good passer over distance and, as the video above clearly shows, he can hit a wicked long-range shot. If Jones can contribute to the Yanks' attack in Brazil, it would be a huge bonus for Jurgen Klinsmann's men.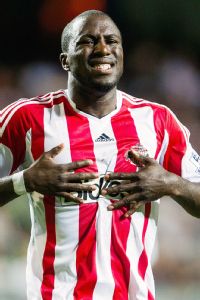 Victor Fraile/Getty Images
Cooling down

Jozy Altidore, F, Sunderland (England)

Why he's here: Altidore was an unused substitute in the Black Cats' scoreless draw at Aston Villa on Saturday.

What this means: With six months to go until the World Cup, there's no need to panic. Still, Altidore's situation at second-last Sunderland is now officially a concern. Yes, it was an away game, and manager Gus Poyet was trying to preserve the point. But a visit from powerful Chelsea is up next, and Scotsman Steven Fletcher is Poyet's clear favorite up top, so Altidore -- who still hasn't scored in league play this season -- could find himself rooted to the bench once again.