Ever-ambitious, Cherundolo hopes to help the U.S. in Brazil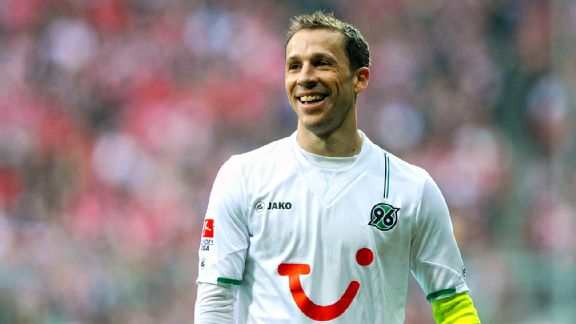 Christof Stache/AFP/Getty ImagesAfter battling chronic knee injuries, Steve Cherundolo is close to returning and hopes to help both his club team Hannover and his national team, the United States.
HANNOVER, Germany -- In January 1999, a young lad from the University of Portland arrived in Germany hoping to live out his dream as a professional footballer. The American headed to the region of Lower Saxony and found an opportunity in the area's capital of Hannover.

Franz Gerber, a former FC Bayern pro, had just taken the reins of then-third division side Hannover 96, the city's local club, when he stumbled on talented right-footer Steven Cherundolo. Hannover hadn't played in the German first division in 10 years but was ambitiously aiming for a return. But similarly to Cherundolo's objectives, Hannover wouldn't reach their goal until several years later. Cherundolo wouldn't make his first Bundesliga appearance until 2002.

Years later and now a fixture for both Hannover and the U.S. national team when healthy, Cherundolo appreciates his formative early years. It's clear that much of his success comes from his almost dual identity as a American-trained, German-crafted football player.

"Upon arriving in Germany, I was one of the few players who was taught how to play with a back line of four," Cherundolo says as he sits in one of the boxes in Hannover's stadium, one of the venues completely overhauled for the 2006 World Cup. "At that time in Germany, the majority if not all the teams played out of a 3-5-2. This background was certainly an advantage for me during this transition to German football."

Cherundolo's rise in German football

Unlike the many well-seasoned footballers from Eastern Europe, which flooded the two upper tiers of the Bundesliga, Cherundolo knew as an unknown American prospect he had to work hard for his career. He was lucky to arrive at the right place at the right time.

At the turn of the century, German football was slowly going downhill and despite a 2001 Champions League trophy for Bayern Munich, the Bundesliga had long since peaked. A year later, Cherundolo would finally make his Bundesliga debut for 96, being turned into a right back under the club's young coach, Ralf Rangnick.

"There has definitely been a lot of changes," Cherundolo says. "Without silly money being thrown around like in Premier League or in Spain, the Bundesliga has at the same time developed a plethora of young, good German players and increased the quality of football being played."

The need for Germany to overhaul their approach to football was evident when the national team failed to make it past the quarter-final stage in the 1994 and 1998 World Cups.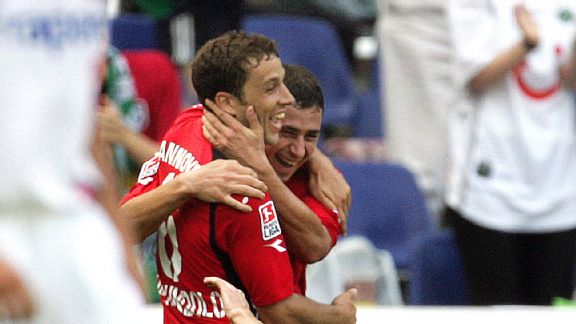 Jamie Sabau/Getty ImagesSteve Cherundolo during his early days at Hannover.
In the early 2000s, the Bundesliga was filled with mediocre foreigners, and fans inside the old stadiums were fed up with the mercenaries from abroad, and innovators like Rangnick were still laughed at mildly. With Germany's bid for the World Cup successful, new youth schemes were started, new stadiums were built and old stadiums were completely overhauled.

German football slowly began to change.

The German Football Association (DFB) continued the progress, making youth academies mandatory for clubs and developing new strategies around homegrown talent.

"The key factor was the DFB and sanctions forcing clubs to develop and expand their youth programs, coupled with financially strapped clubs forced to use homegrown players at the highest level," Cherundolo says.

Over the years, a lot of people have wondered why Cherundolo didn't start his career in North America in Major League Soccer. Cherundolo doesn't answer the question directly, instead focusing on his long-held ambition to play in Europe.

"I always wanted to move to Europe to play soccer," he said in reflecting on his 14-year run in Germany. "I was fortunate enough to grow up with very good coaching, most of them coming from England. My [college] teammates and I were introduced to the European game with videos and magazines and eventually a trip to England to see and experience it all firsthand.

"At that moment, I was hooked and knew that was something I wanted and needed to achieve."

Cherundolo's biggest test yet -- returning from chronic injury

In 2013, the once-young lad is now a battle-tested veteran at 34 and has become a Hannover legend. Cherundolo is the longest serving player in the Bundesliga and has not given up hope on being in the U.S. squad for his fourth consecutive World Cup.

But Cherundolo faces his biggest challenge yet as he is on the verge of making his Bundesliga comeback following several knee surgeries in 2013. It's been a struggle for fitness for the normally durable defender.

"There were times when my knee wasn't getting any better," Cherundolo says. "Neither the doctors or I had any idea ... about the future"

However, instead of turning away from football, Cherundolo has fought hard to come back. He has one last "great goal" in football and that's to win the ticket to Brazil, his fourth consecutive World Cup.

"That's obviously a goal of mine. If Jurgen [Klinsmann] thinks that I can make the team better, then nothing would make me happier than joining the team. It's an honor to play for your country," he says. "And something that I enjoy on a personal and professional level."

Cherundolo knows that it will be a race against time.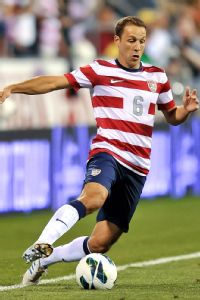 Jamie Sabau/Getty Images
"This business and this game moves quickly and one is only as good as his last game. I believe my last game for the U.S. team was a long time ago [in October 2012 versus Guatemala], which obviously makes things more difficult. The team has evolved without me and it is now up to me to work hard and make sure I find my place back in the team."

For the Hannover and U.S. right back, however, club has to come before country. Cherundolo will have to regain full health and become a constant on the Hannover team again. He is looking forward to it.

"I don't think there are too many jobs that are better. I love what I do. I love being a part of this team and I also have a responsibility to the team. I was made captain again this season," he says.

Without Cherundolo, Hannover have been struggling to kick-start their campaign. Ranked 13th in the Bundesliga, it will take a huge effort for Hannover to return to the Europa League, where they played two quite successful runs in the past two seasons, but failed to qualify this year.

Hannover hopes that Cherundolo's return will revitalize the team's efforts as he is an important leader for the club on and off the pitch.

Cherundolo's future: Does MLS finally await?

During the Klinsmann era, the U.S. has seen an influx of talents from the Bundesliga. Over the past few years, Cherundolo's experience has helped him bridge bonds between the U.S. and German-American players on the team.

Out of seven German-Americans who are currently on the roster, Cherundolo points to Jermaine Jones as having the biggest impact.

"He has so much experience at the highest level and is very important for the U.S. team. On top of that he fits in as a person really well with the group," Cherundolo says about the Schalke player, who is renowned for his physical performances.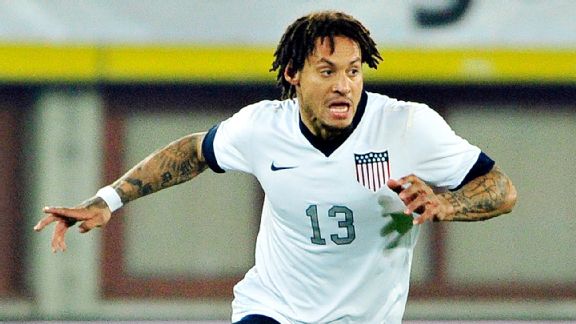 AP Photo/Hans PunzAccording to Cherundolo, Jermaine Jones has had the biggest impact of the German-Americans who have joined the U.S.
"The U.S. team has always taken pride on being a very difficult team to beat. We have traditionally been a very hard-working and physical team, who is dangerous on the counterattack. Jermaine shares these traits, which is why I believe he fits in so well."

It is because of the U.S.'s unique blend of talent that Cherundolo believes his national team has a real chance of being a dark horse in the World Cup next year.

"I think, we are a team that definitely relies a bit on some draw luck," Cherundolo says. "Apart from the favourites Brazil, Germany, the Netherlands and Belgium -- they are looking really strong, and the odd team from South America, at every World Cup there is always one surprise team: whether it's an African team, an Asian team or a North American team -- maybe us!

"We will just have to wait and see."

Cherundolo knows that his involvement in the U.S.'s 2014 plans will depend on how well he recovers from his various knee ailments. However, Brazil isn't the only thing he has his eyes set on for next year.

The Hannover captain's contract ends at the end of the season and for the first time in over a decade, Cherundolo may play full-time in the U.S. The desire to return home has finally sunk in.

"It's always been something that I am interested in," he says about a future MLS move. "We spent our whole careers away from home. It's something that definitely interests me."

Cherundolo has spent more than 14 years, over 40 percent of his life, in Germany. He likely identifies himself as partially German and the Rockford, Ill., native admits that he spent a lot of his time trying to assimilate to his second home.

"It was important to me on a personal level to learn the language and integrate myself into the culture as soon as possible. In doing this I was trying to avoid making my European experience only about the football, there is so much more to see and learn outside of the football business," Cherundolo says.

Lower-Saxony, where Cherundolo calls home, is a picturesque state spreading from the North Sea to the first Central German Uplands. On New Year's Eve three years ago, Cherundolo married his girlfriend, Mandy Rosier. In 2013, Mandy gave birth to daughter Liv in August 2013.

"I've settled into [Hannover] nicely," Cherundolo says. "I have a German wife, and a baby girl. People have accepted me as one of their own, which is important."

When his career is done, Cherundolo insists that he could still split his time between the German city and his offseason home in San Diego.

"Hannover is a place I could see my future in. But I've learned in this business you don't make anything permanent, so it's a place we will also along with San Diego call home. Ideally, we will spend time in both places," he insists.

It's not exactly easy to close a chapter that has played such an integral role in his life.