Three Things: West Brom vs. Chelsea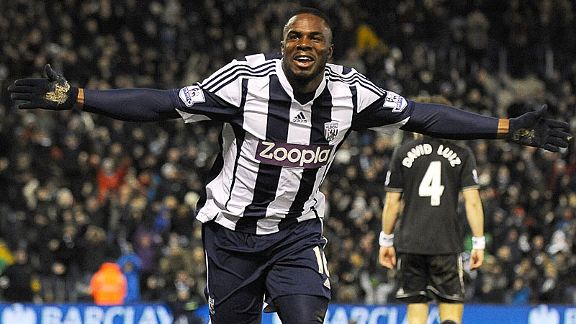 GettyImagesVictor Anichebe celebrates his late leveller for West Brom against Chelsea.
WEST BROMWICH, England -- Three observations from Chelsea's disappointing 1-1 away draw against West Brom.


1. WILL FFP COST CHELSEA THE TITLE?

Perhaps, with his fondness for an entertaining theory, Jose Mourinho will blame financial fair play if Chelsea are not crowned champions in May.

The Portuguese revealed UEFA's regulations for sound fiscal management were a reason Roman Abramovich did not pay the 60 million euros or so required to sign Edinson Cavani or Radamel Falcao. Instead, he recruited the rather cheaper Samuel Eto'o, providing a rare occasion when "cheap" and "Eto'o" are found in the same sentence. It has meant Chelsea's challenge has been spearheaded by the wingers, not the front men, and features healthy contributions from goal-scoring defenders. Yet as two points slipped from their grasp, it was tempting to wonder if a top-class forward would have killed off West Bromwich Albion.

This is an unusual title race, contested by two teams who have had too few goals from the strikers -- Chelsea and Arsenal, valiant as Olivier Giroud's efforts have been -- and two, in Manchester City and Liverpool, whose attackers have scored at a record-breaking rate. It would heighten the achievement for Mourinho if his side do emerge on top.

Still more improbably, Chelsea could win the league with their specialist centre-forwards barely finding the net outside Stamford Bridge. Fernando Torres' goals at Southampton and Hull in the first fortnight of 2014 remain the only times a striker has struck on the road in their title challenge. There is no place like home for Eto'o, who has not scored anywhere else.

At The Hawthorns, he adopted the roles of provider, looking to set up Branislav Ivanovic, and foil. At times, his task was to be a decoy runner, freeing up space for the emerging forces. With 21 minutes left, the Cameroonian's unselfishness extended to allowing Torres an outing as he was substituted. At that stage it seemed as though Chelsea were cruising to victory. Albion's subsequent comeback rendered it more costly that Eto'o was ineffective and that only Willian of Chelsea's attack-minded players really flourished.



2. IVANOVIC IS A RARE RIGHT-BACK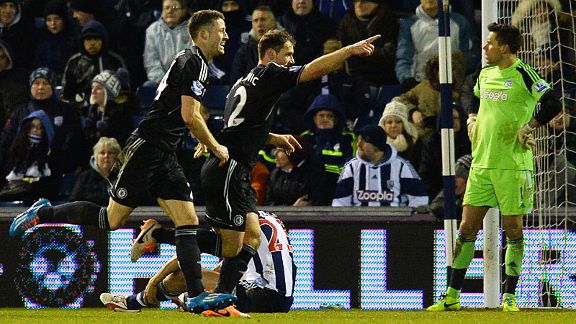 AllsportBranislav Ivanovic's continued his impressive season with a first half goal vs. West Brom.
Seamus Coleman might just be the best right-back in the Premier League this season. Pablo Zabaleta, who was the outstanding player in the position last season, would also garner a few votes. Yet if the question was changed to find the most influential right-back, then Branislav Ivanovic could come out on top.

He is starting to have a considerable impact on the title race. His thumped winner at Manchester City may yet prove the crucial goal. An assist for the first of Eden Hazard's hat trick against Newcastle was useful, and an opener at The Hawthorns illustrated that this is a defender with finely honed attacking instincts. It was a predatory piece of play. Ivanovic contrived to free himself at a corner to apply the finishing touch after Willian's corner drew a typically flamboyant flick from David Luiz at the near post.

It was his third goal of the season. The first, against Aston Villa in August, was a winner. Subtract Ivanovic's goals and Chelsea would have five points fewer and be in third place. As his eight-goal haul last season included the moment that determined the destination of the Europa League trophy, the Serb is carrying on making crucial contributions. Physically strong, utterly reliable and capable of delivering when it matters, he seems a quintessential Mourinho player.


3. MEL'S CHANGES WORK -- BUT HIS STARTERS DON'T

It is becoming a recurring theme. For the third successive game, a West Bromwich Albion substitute scored. It was Victor Anichebe against Liverpool, Thievy Bifouma at Crystal Palace and then Anichebe again to frustrate Chelsea. Factor in some influential changes against Everton and Pepe Mel is fast developing a reputation as a manager who can alter a game.

The other side of the equation, however, is that too often Albion have to finish strongly because their initial efforts are not impressive enough. That, in turn, is a consequence of Mel's ongoing, and often unsuccessful, attempts to find his best combination of players. On this occasion, demoting Youssouf Mulumbu to the bench was a bizarre move and Albion's enforcer was missed as Chelsea dominated in midfield.

The draw means Mel's results have been consistent: He has lost away and drawn at home. Each was a creditable result against top-six opposition, the two Merseyside clubs and Chelsea, but the broader picture is that his five games at the helm have produced only three points. Albion, the club with the fewest wins in the division this season, need to find a winning formula. And for that, Mel has to make catalytic moves before kickoff, rather than when Albion are already trailing.