Three Things: Chelsea vs. West Ham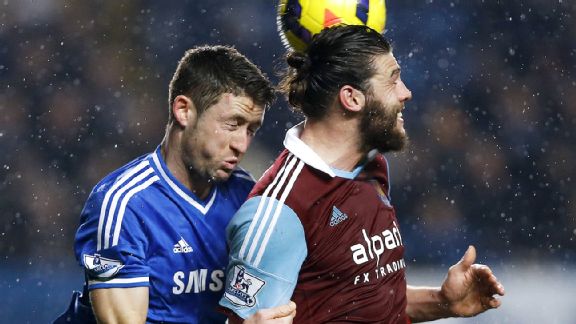 AP Photo/Kirsty WigglesworthDespite having numerous shot attempts, Chelsea couldn't find a way past a determined West Ham side.
LONDON -- Three things from Chelsea's disappointing 0-0 draw against visiting West Ham.

1. It may not have been a mind game

Chelsea couldn't kill West Ham off, but Jose Mourinho inevitably summed it up.

"Frustrating," he said. "You saw the match. The kind of match that is easy to comment if you have an opinion and easy for us to have the same opinion. Not a big story."

That may be the case for this game, but it isn't necessarily for the title race. As far as that goes, this may be quite a revealing story.

Sure, the match was not one that was difficult to read. Chelsea had 39 shot attempts, West Ham United had 10 men inside their area, and both ended up with the same number of goals: zero.

It happens. The deeper question, however, is what it means for Chelsea's title credentials. For the past few weeks, Mourinho has been consistently saying that his team cannot win the league, that the best it can hope for in his first season back is merely to compete. Of course, it felt like nothing more than a typical mind game and expectation management -- and it is hugely difficult to think that, in private, a pathological winner like the Portuguese actually believes that.

For the first time in quite a while, though, it seemed like he had a point. Because, for the first time in six league games, Chelsea didn't end up with three points.

That was despite the fact that, for so long, it had the sense of one of those "title" games, the sort of match that managers like Mourinho and Alex Ferguson have always specialised in, where their teams inevitably force that late winner.

Instead, Adrian made a series of fine late saves, and it felt like two defining dropped points -- especially at such a crucial juncture of the season when Arsenal could only draw at Southampton and Manchester City won so handsomely away at Tottenham Hotspur.

It is worth noting that the result will seem even more resounding for Chelsea because it is so conspicuous. This is only the second time they have dropped points at home this season, and that from a manager who has always forged such a formidable record in games his sides should win.

But it may be just a temporary blip from a team that has been on such a tremendous run. For his part, Mourinho did repeatedly roll the dice in this match. He first went three at the back and then went to two up front. Despite 72 percent possession and all those shots, however, it couldn't lead to that one crucial chance. That in itself may reflect one remaining issue with this team.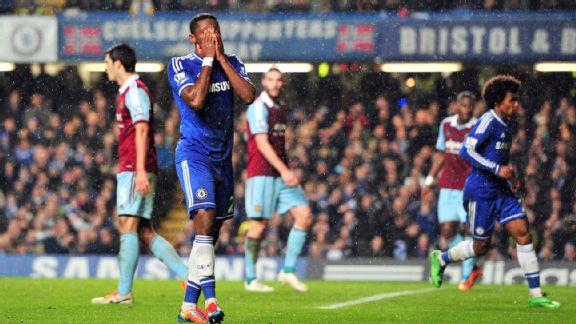 GLYN KIRK/AFP/Getty ImagesChelsea's striker woes continued as they couldn't find a way to score despite having 39 shots attempted.
2. Not enough forward thinking

At the end of Mourinho's news conference, in which he castigated West Ham for "19th-century football" and complained about their complete reluctance to play, he let out a final sigh about what he could have done to alter the final score: "The only thing I could use was a Black and Decker to destroy the world ..."

That, perhaps, or a premium forward.

Mourinho said on Friday that he had heard all the arguments about the need for Chelsea to sign a 30-goal-a-season striker but that it was something they would do in the summer; the time was not "right" now.

It may lead to the wrong result for his team in this title race.

More than any other recent match, this appeared to perfectly illustrate why Chelsea could do with such a forward. It was a rare recent game where, for once, someone like Eden Hazard or Willian -- or indeed Juan Mata -- couldn't produce that piece of game-changing match.

The Belgian, it must be said, did produce a number of penetrating runs that could have forced the key goal. Adrian was equal to many of them, but at such points Chelsea could have done with a proper opportunistic -- a Samuel Eto'o in his prime, maybe.

The Stamford Bridge side has opted against a striker to save for Financial Fair Play, but it may end up costing them this challenge.

3. Allardyce enjoys last laugh

It wasn't the most engaging approach, but it did lead to an entertaining exchange. First of all, Mourinho praised West Ham in the most begrudging way -- if also temporarily forgetting some of his teams' defensive displays of the past.

"It's very difficult to play a football match where only one team wants to play. Very difficult," Mourinho said. "A match is about two teams playing. This match was only one team playing and another team not.

"I told Big Sam, and I repeat my words, that they need points. Because they need points, to come here and not play and do it the way they did ... is it acceptable? Maybe yes. Maybe yes.

"I cannot be too critical because if I was in this position, I don't know if I would do the same. Maybe. So I don't want to criticise that. But at the same time, this is not Premier League. This is not the best league in the world. This is football from the 19th century."

Rather, it was defending from 2012-13 from Sam Allardyce's side. West Ham finally looked like the kind of structured, stern defence that was always so safe last season. The confidence derived from it may go a long way to keeping them up this season after what has been a torrid time.

Following this game, Allardyce compared it -- in terms of achievement, and relative to where they are in the table -- to the 3-0 win at Tottenham Hotspur.

He also started laughing uproariously when Mourinho's comments were put to him.

"He can't take it, can he? He can't take it because we've out-tacticed him, out-witted him. He just can't cope," Allardyce said. "He can tell me all he wants. I don't give a s---, to be honest. I love to see Chelsea players moaning at the referee, trying to intimidate him, Jose jumping up and down in his technical area. It's great to see."

No disputing who enjoyed the last laugh here. As for the end of the season, that remains to be seen.