Three Things: Bayer Leverkusen vs. Man United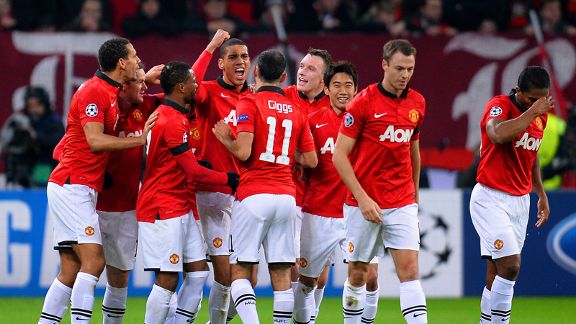 GettyImagesManchester United players celebrate Chris Smalling's goal against Leverkusen.
LEVERKUSEN, Germany -- Three thoughts from Man United's comfortable 5-0 rout of Bayer Leverkusen…

1) No home comforts for Leverkusen
For 14 matches on home soil stretching back to a defeat vs. Bayern Munich on Mar. 16, Leverkusen had been proudly unbeaten at home. In the Champions League, they had won eight successive group stage matches at the BayArena. These factors make United's victory over the Bundesliga's second-place team comfortably the most impressive win of David Moyes' United career to date. Satisfyingly, it came under the bespectacled glare of Sir Alex Ferguson, who watched from the stands.

The manner in which the three points was achieved was the most encouraging. United fans who made the Group A trips to Shakhtar Donetsk and Real Sociedad endured some conservative, wholly pragmatic football from Moyes' side. In fairness to the Scot, his predecessor's mantra was always to win at home and draw away in Europe, although a rip-roaring away day is always a winner with the supporters and a more adventurous display in the Rhineland will have further warmed the travelling faithful to Moyes.

- Payne: Giggs and Rooney inspire United

United's approach actually bore similarities to that which has made Leverkusen such a domestic success. Manager Sami Hyypia has continued the good work started alongside Sascha Lewandowski last season and now, forging his path as Bayer's lone figurehead, the Finn has completed the side's transition from an overly technical, possession-heavy team into an efficient counterattacking unit that's capable of grinding out results.

However, on this bitter Wednesday night, it was United -- in the first half, particularly -- who allowed their hosts time on the ball and put faith in the pace and conviction of their attacking players to break. The first goal, born from a Leverkusen corner, was a case in point. The speed of the counter provoked memories of the heady days of Ryan Giggs at his mid-'90s pomp, when he would receive the ball from Peter Schmeichel and accelerate away. On this occasion, Shinji Kagawa battled for the ball and started the break, with the 39-year-old Giggs and Wayne Rooney also combining to gift Antonio Valencia the opener.

As Leverkusen chased the game in the second half, United's approach continued to reap rewards. Valencia appears to have recovered his appetite for taking on defenders, and even Nani -- who drew several gasps of frustration and more than the odd expletive in the first half -- reminded that he can still be an offensive asset for Moyes and United, rounding off the scoring by evading the goalkeeper and dinking in from a tight angle.

2) The Kagawa conundrum
Inconceivable as it might be after the 5-0 drubbing, had Manchester United not scooped all three points at the BayArena, it would have been their first failure to win an away Champions League group game since 2005-06. Among Sir Alex Ferguson's midfield options in that ill-fated campaign were Alan Smith, Kieran Richardson and John O'Shea. It should be a relief, then, that Moyes' main issue in midfield this season has been where to fit a player with the talent of Kagawa.

Those yearning to see the Japanese playmaker in a more central role got their wish on his return to Germany; he didn't disappoint. Kagawa looked sharp and hungry, and his dovetailing with an equally excellent Rooney created some attractive passages of play. If Moyes had been looking for Kagawa to make more decisive attacking contributions, he got his wish. After winning the ball to break for the first goal, he was fouled for the free kick that led to the second and his delightful lob wedge of a through-ball freed Rooney to create United's fourth.

Kagawa's problem is simply a problem of circumstance. Because of Moyes' understandable desire to play both Rooney and Robin van Persie, there is a rather robust English No. 10 blocking Kagawa's path to a regular spot. Moyes might be doing Kagawa a favour by not playing him, given that he has regularly shown himself to be wasted and ineffective when featuring in wide positions. Instead, the key might be to rotate more. Over the course of a long season, Rooney and van Persie will need time out -- if the result of giving Kagawa more influence and his favoured position can be a 5-0 victory over one of the Bundesliga's form sides, it is frightening to imagine what damage he could cause against the Crystal Palaces and Cardiffs of this world.

3) Evergreen Giggs
With Michael Carrick out injured, it was Ryan Giggs -- two days before his 40th birthday -- who was handed the responsibility of being United's midfield pass-master at the BayArena. Giggs was part of the United team that lost out to Leverkusen in the 2002 semifinals, his perpetual presence in the Champions League exemplified by the fact he is one of just four starting players from that second leg 11 years ago who are even playing -- Wes Brown (Sunderland), Mikael Silvestre (Portland Timbers) and Ze Roberto (Gremio) the others. Giggs, though, is the only one to still be gracing European football's elite stage.

His was a composed display, exactly what Moyes wanted from the player-coach for what was -- on paper, at least -- supposed to be the trickiest trip of United's Champions League season. There were a couple of loose passes in the first 20 minutes, but Giggs was controlled and neat, the qualities most needed for a Michael Carrick-less United. There was even room for a couple of perfectly pinged cross-field balls that would have brought a smile to the face of watching Paul Scholes, in the crowd after coaching United's U19 side earlier Wednesday.

Giggs' temperament and experience were perfectly suited to a night of this importance; the fact that he faced Leverkusen left-back Emre Can, a player who was born four months after the Welshman made his Champions League debut against Kispest Honved in September 1993, makes his appearance in the competition -- Wednesday night's was No. 148 -- all the more remarkable.