Stadium go-ahead edges Orlando closer to MLS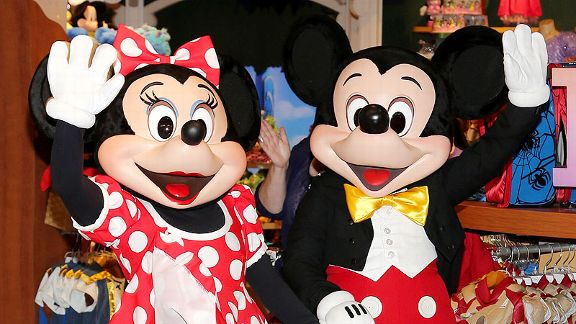 Alexander Tamargo/Getty ImagesOrlando's most famous residents could soon have an MLS team to support.
Orlando city president Phil Rawlins was working on about three hours' sleep as he arrived at the club's offices Wednesday morning, but still had plenty of energy. That's what happens when you reach the biggest milestone in OCSC's brief history.

The evening before, the Orange County Commission voted 5-2 to pass a $94.5 million funding package that allocated $20 million toward a soccer stadium. Combined with another $20 million from the city of Orlando, a club contribution of $30 million plus annual payments of $675,000, and the remainder coming from other jurisdictions, the financing for construction of the venue is now complete.

- Carlisle: Orlando aims to seal MLS expansion

"It has a been a lot of hard work of the whole team here, not just myself, but a lot of people at the club have put the effort in to make this possible," said Rawlins via telephone.

The vote by the Board of County Commissioners (BCC) marked the third and final hurdle that needed to be cleared. Orlando City had already gained approval from the Orlando City Commission as well as the city's Tourist Development Council.

But the vote of the BCC was by far the most tense. The city commission and TDC votes were both unanimous, but as late as this past Friday it looked like Orlando City lacked the supermajority needed for the measure to pass. Commissioners Tiffany Moore Russell, Jennifer Thompson and Scott Boyd, along with Orange County Mayor Teresa Jacobs, had long been backers of the project. But commissioners Fred Brummer, Ted Edwards, and Pete Clark had voiced opposition to the stadium proposal. Clark at one point wanted Orange County to be given a joint ownership stake in the club, only for Florida state law to bar such an arrangement. He soon hit upon another way for some of the money being allocated to find its way back into Orange County coffers.

"What I want is money coming back to the Parks Department to be able to run soccer programs for our kids in Orange County," said Clark in an interview a day before Tuesday's vote. "We can build fields, but like most organizations the operations and maintenance becomes the issue over time. If we can get a long-term commitment from the team to give money to the Parks Department we can build more fields and have more soccer programs for our kids."

Clark soon joined forces with Thompson and the two commissioners worked with the club through Monday to craft the necessary amendments to fund those programs and turn Clark's no vote into a yes.

"The last few days we knew we were getting very, very close," said Rawlins. "It was Clark and Thompson who really wanted to work with us on the youth fields and securing that future. We were delighted to do so because we're a very, very strong community club, and very committed to the community here. Once that was done we felt fairly comfortable that we had the votes, but delighted to have that reaffirmed last night."

Rawlins also lauded the contribution of MLS president and deputy commissioner Mark Abbott, who flew to Orlando on Monday to meet with the commissioners and Mayor Jacobs in a final show of support for the stadium project.

"The whole league has been very supportive for a number of months now," said Rawlins. "But Mark taking the time to fly in and meet with all the commissioners and the mayor, it really reaffirmed for everybody how supportive MLS is for Orlando, and how excited they are about us as marketplace in the Southeast."

Of course, in politics there are no absolutes. Orlando City had to wait through more than five hours of public comments, with Rawlins keeping co-owner Flavio da Silva, who was in Portugal on business, updated via text messages. The vast majority of the comments were positive, although some residents expressed concern about the gentrification taking place in the Parramore neighborhood, where the stadium will be constructed. But Rawlins wasn't taking anything for granted. He recalled how a bid last May to receive money from the Florida state legislature died before it could even come to a vote.

"There's always that niggling doubt in the back of your mind that someone may change their mind or someone may get influenced a certain way or change their vote," he said. "You carry that doubt with you for sure."

After several votes to add amendments to the funding package were complete, the official tally took place, with the measure passing with the minimum five votes needed. When the vote was confirmed, there was an outpouring of applause in the BCC chamber, which was followed by a celebration at a local establishment.

"We had a few beers, and it was great to celebrate with the fans downtown," said Rawlins. "The place was buzzing."

The next step is to finalize an expansion agreement with MLS, but that seems to be a formality. Abbott had told the Orlando Sentinel that if the funding package was approved, "we will have a Major League Soccer team here."

Rawlins feels that an agreement will be finalized in the next 4-6 weeks, and hopes to have the deal done "before Thanksgiving." He also feels that the MLS won't stand in the club's way of beginning MLS play in 2015, even though another expansion team, New York City FC, will start up at the same time.

"That's our goal, and the league has been supportive of it," said Rawlins. "I don't see any reason why we wouldn't begin MLS play in March of 2015."

In the meantime, Orlando City will spend one more year in USL-PRO, but plans are already being made to prepare the club for its inaugural MLS season. Much like other teams that spent a last season in the lower tiers of the U.S. soccer pyramid before joining MLS, the team already has an eye toward bolstering its roster.

"That will be one of our strategies, but it won't be the only one," said Rawlins. "I've already started talking with [manager] Adrian [Heath], and that's something he wants to do. He wants to bring in as many [players] as he can who have got the potential to play in MLS without being crazy about it."

That emotion will be saved for the fans, who can now start thinking of the club's first MLS match.