Dempsey goes on the attack, Altidore arrives
WASHINGTON, D.C. - As Clint Dempsey spoke about the United States' 4-3 victory over an understrength Germany side, his mind wasn't just focused on the two goals he scored. He was just as concerned about the three tallies the Americans conceded.

"We should have finished the game 4-1 or 4-2," he said. "Now we've conceded seven goals in two games, and we've got to do a better job of protecting Tim [Howard] and Brad [Guzan]. We've got to make sure we keep clean sheets because that's what's going to help you get the most points."

- Carlisle: U.S. celebrates 100 years with win
- Hesse: Klinsmann orchestrates victory

Perhaps that perfectionist streak is what U.S. manager Jurgen Klinsmann was referring to when he spoke of Dempsey's habit of never being satisfied.

"That's why I made him captain," said Klinsmann of Dempsey. "Because the other players look at him and see this kind of hunger. They see this drive. They see also the moments when he gets upset. This is really important for our own players to get that hunger and drive, to push yourself."

Without question, Dempsey has every reason to be concerned about the back line. But the sting of conceding three goals is a lot easier to take when your team scores four. And when some players who have been struggling to get on the score sheet get in on the act, there's reason for a bit of optimism, as well.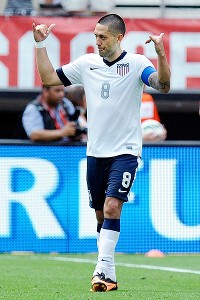 Greg Fiume/Getty ImagesClint Dempsey scored twice in the U.S.'s 4-3 win against Germany.
That was the case on Sunday. Dempsey gave the U.S. some critical breathing room, as it turned out, by scoring two second-half goals. Jozy Altidore got the U.S. off to a perfect start with a sumptuous volley after just 13 minutes, his first international goal in 18 months.

Throw in a howler of an own goal thanks to some dreadful footwork by opposition goalkeeper Marc-Andre ter Stegen, and the goals the Americans scored against Germany in this game equaled the number they had this calendar year combined.

The ironic bit is that on a day when the U.S let in three, it was actually their team defense that set up the attack. The return of Michael Bradley provided more grit in midfield, and he teamed well with Jermaine Jones in the center of the park. Yet the greater attention to defense was pervasive, at least until the last 15 minutes when the heat and a slew of German substitutes put the U.S. under pressure.

"I think we did a better job of pressing them, and fouling too, just giving ourselves a chance to get behind the ball," said Dempsey. "Also just being on their toes and making the game difficult. When we got the ball in the attacking third, just being patient, not just giving the ball away, being smart with it, and really just picking and choosing our moments to take more risks. And I thought we were more clinical in front of goal, and at the same time we deserved the result because I thought we played well."

That was especially true of Altidore. The U.S. forward had come under fire of late for not replicating his scintillating form at club level with the national team. But in addition to getting on the score sheet, his running off the ball made him more of a consistent threat, and his passing and holdup play helped tee up Dempsey for his first goal in the 60th minute.

"Today was huge just in terms of the amount of opportunities that we created, how aggressive we were going forward, and that was the difference," said Altidore through a team spokesman. "We've always had the talent. It was just a matter of showing it, and today I thought we showed signs of that."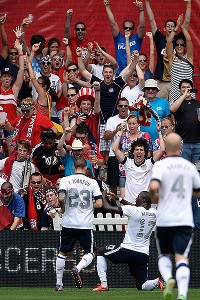 Dennis Grombkowski/Bongarts/Getty ImagesJozy Altidore's sublime volley goal got the U.S. off to a quick start against Germany at RFK Stadium.
Good service helps, as well. In Altidore's case, a pinpoint delivery from Graham Zusi made all the difference.

"The ball makes the goal," said Altidore. "It was a fantastic buildup from the team, but the ball from Zusi was fantastic. I just had to be there."

That he was, and overall Altidore was more in tune with the pace of the international game and what it demands. That hasn't always been the case, and Klinsmann admitted that this is something that the coaching staff has been working on with Altidore, especially since the difference between the international game and club soccer in the Netherlands is, according to Klinsmann, two or three levels faster.

"This is an adjustment," said Klinsmann. "It's not going to happen overnight. It might take a while. But [Altidore] has the finishing; he has the class to do that."

And with a trio of critical World Cup qualifiers coming up, that trait for both Altidore and Dempsey is revealing itself at the perfect time.

Notes:

-- U.S. midfielder Fabian Johnson left the match at halftime with what initial reports indicated was a hamstring injury. But Klinsmann stated during his postgame press conference that Johnson just experienced some tightness and was removed more as a precaution. How that will affect his availability for the Jamaica game will reveal itself in the coming days.

-- The U.S. will spend one more day in the nation's capital before taking a charter flight on Tuesday to Kingston. The team's arrival will take place in time for the U.S. staff to take in Jamaica's World Cup qualifier against Mexico that evening.