Juventus cap brilliant season, David Luiz's 'smile,' bad blood between Bayern & Dortmund
Juventus clinched their second straight Serie A title Sunday. You knew it was coming, and the Champions League elimination at the hands of Bayern Munich took off some of the gloss in the eyes of some. But, really, it shouldn't have.

Beyond winning things, what you look for year after year is forward progress. You can't always measure it with numbers (though this season, to some degree, you can: Juve will likely finish with more points and more goals scored than they recorded last season). It's more a question of the "eye test."

- Rzouki: Champions of Italy

What impressed this year is the way they kicked on after the Bayern setback, with five straight Serie A wins (and counting). The way they found their stride despite having to cope with European football (and a squad which, for varying reasons, didn't turn out to be that much bigger than last year's). The way certain relatively unsung players -- Kwadwo Asamoah in the early part of the season, Paul Pogba in the latter half, Andrea Barzagli all season long -- came up big and played a huge role.

Make no mistake about it, manager Antonio Conte's crew also triumphed against tougher competition than last season. Yes, Inter and Milan went into major rebuilding mode, but the latter, at least, showed in the second half of the season that they were ready to compete. Napoli, without the Champions League, were a much more consistent side. Fiorentina played some of the best football in Serie A this season. Roma, despite their mistakes, still have arguably the second-best squad and were deeper and stronger than during the past campaign.

Conte deserves credit, too, because, once again, the transfer market didn't quite work out the way he imagined. Lucio was a nonfactor. So were Nicklas Bendtner and Nicolas Anelka. Sebastian Giovinco showed that, for all his skill set, his physical limitations mean he's not going to be a week in, week out starter for Conte. Mauricio Isla was supposed to have a huge impact on the wing but instead hardly played.

The two signings who were instant hits were Pogba and Asamoah. And, even then, it wasn't quite in the way most expected. The young Frenchman showed he was more mature than his years, and Conte showed faith in him even when most Italian managers -- traditionalists as they are -- would have brought him on a few minutes at a time.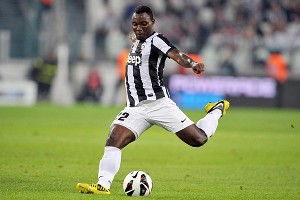 AP Photo/Daniele BadolatoKwadwo Asamoah, who plays for Juventus, is considered by some to be Ghana's best player.
But the stroke of genius from Conte was Asamoah. He was a central midfielder and, originally, he was supposed to simply add depth to the middle of the park. Yet Conte found space for Asamoah as a wingback, and he interpreted the role brilliantly. It gave Juventus a different dimension. Unlike a traditional wingback, he wasn't just an up-and-down guy, running hard and delivering crosses. Because his skill set is that of a creative central midfielder, he effectively gave Juve another passer in midfield, albeit from a wide area. As reinventions go, it was nothing short of brilliant.

The challenge now is to kick on and go even further. There's a whole summer left to debate what Fernando Llorente can bring and whether Juve will sign the proverbial "top player" they've been talking about for years. For now, Juve fans may just want to sit back and enjoy. Plenty of time to talk transfers later.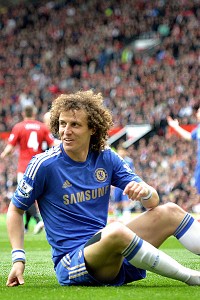 AP Photo/Darren Walsh/ChelseaWhether David Luiz was smiling or grimacing as Rafael got sent off is beside the point, and surely Sir Alex Ferguson knows this.
Outrage over Luiz? Please ...
Sometimes a manager's postgame comments are designed to deflect blame and give the media talking points so as to overshadow what else happened on the pitch. Manchester United were poor Sunday against Chelsea, but then so were their opponents, who nevertheless came away with the 1-0 win.

Does Sir Alex Ferguson's outrage at David Luiz's smile fall into that category?

I'm genuinely not sure. Whether he was grinning or grimacing -- and, bear in mind, the Brazilian defender spends most of his time with a goofy grin on his face, regardless of what he's doing -- seems sort of irrelevant to me. Or about as relevant as Cristiano Ronaldo's wink after Wayne Rooney's red card when England player Portugal at the 2006 World Cup.

- Lythell: Mata leads Chelsea
- Payne: United's shop window

Luiz was shielding the ball; he used his arms to do it. Whether he caught Rafael in the face, again, is pretty immaterial. It's no different than what we see all the time. If you choose to retaliate by aiming an almighty kick at his backside, you will get sent off.

That part is obvious. You can then debate whether Luiz should have been sent off as well for the elbows, but that's down to the referee, Howard Webb, not Luiz.

This is being depicted as one of those cases where a player takes a dive and gets his opponent sent off as a result. Had that been the case, you could understand the outrage at the smile (assuming it was a smile). But it was nothing like that. It was the kick that got Rafael sent off, not Luiz's reaction. And I expect that, deep down, Sir Alex knows that. If he really believes that neither Webb nor his assistants saw the kick -- and, by the way, the assistant was right there -- then Ferguson should take it up with them.

What this suggests to me is that, even with the title sewn up, Sir Alex hates to lose. Like most great managers.

Real Madrid's season of discontent
On Friday, Jose Mourinho defended his record at Real Madrid and, in the course of doing so, took another pop at Iker Casillas. It was a mistake, Mourinho said, not to ditch Casillas much earlier and bring in Diego Lopez.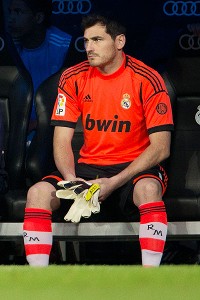 Jasper Juinen/Getty ImagesPepe came out in support of his benched teammate Iker Casillas when he said, "There needs to be a little more respect for Iker ... He's an institution, both in this club and in Spain."
This Mourinho-Casillas business has gone on for a long time, and it's pretty obvious how the Portuguese boss feels about Casillas. What was interesting was the reaction of Real Madrid defender Pepe, a guy many saw as a Mourinho loyalist, not least because they share the same agent, Jorge Mendes.

Pepe went decidedly off-message when, after Real's 4-3 win over Valladolid Sunday, he said: "There needs to be a little more respect for Iker. What the coach said was not the most appropriate. Iker is a player who is part of Madrid. He's an institution, both in this club and in Spain."

Pepe is right, of course. Continuing the potshots at Casillas makes no sense for Mourinho at this stage. Unless he wants to come out and say specifically what irks him about Iker -- and yes, there have been plenty of rumors regarding leaks and infighting -- simply saying he should have been dropped sooner is purely counterproductive.

- Rigg: Mourinho vs. Casillas

If you want to be cynical, you could conclude that Pepe himself has an ax to grind with Mourinho, since Pepe was no longer first-choice in the latter part of the season. And that maybe Pepe sees no point in toeing the Mendes line, since Mourinho will be gone next season, he won't be taking Pepe with him and he'll have to deal with the Madrid dressing room.

Or you could just conclude that Pepe was being honest and speaking his mind.


Bad blood in dress rehearsal for Champions League final
The dress rehearsal for the Champions League final between Borussia Dortmund and Bayern Munich could have been a humdrum Bundesliga affair between two reserve-packed sides. There were plenty of squad players on the pitch, but it was far from pedestrian.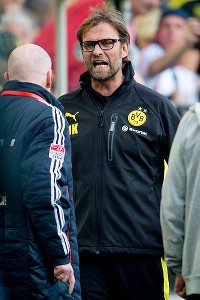 Odd Andersen/AFP/GettyImagesDortmund's Jurgen Klopp exchanged heated words with Bayern's sporting director Matthias Sammer during a match in which tensions boiled over.
Indeed, it was downright spiky. Bayern defender Rafinha's red card nearly prompted a brawl, and Dortmund manager Jurgen Klopp exchanged heated words with Bayern sporting director Matthias Sammer, who previously was a manager and player at Dortmund. No love from the fans, either, for Borussia midfielder Mario Goetze after news that he'll be joining Bayern next year. "Striving for money shows how much heart someone really has .... f--- off Goetze," read a banner.

- Schaaf: Should be one hell of a final

I don't have a problem with any of that, expect for Rafinha's goonish behaviour. This is a real rivalry between two clubs built in different ways and with different philosophy. Equally, Goetze has a right to go wherever he wants (after all, he had a release clause in his contract), but the Dortmund fans also have a right to feel deeply wounded and betrayed.

The real thing, at Wembley, looks like it's going to be pretty tasty.

PSG limping toward finish line
OK, I get it. Paris St. Germain are the big, bad rich boys who buy success, and few fans outside the Peripherique like them. That's what happens when you have far more resources than everybody else.

- Johnson: Tempers flare again for underperforming PSG

But you have to be pretty hard-hearted not to feel a modicum of sympathy for Thiago Silva. The PSG captain was sent off just before halftime for what looked like no more than touching referee Alexandre Castro in an effort to get his attention. That was enough for Castro to show a straight red.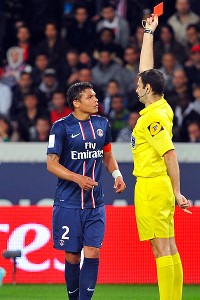 Francois Lo PrestiI/AFP/Getty ImagesYou had to feel for Thiago Silva when he was sent off, as the red card seemed incredibly harsh.
The rest of the game followed the familiar script. Plenty of PSG possession, increasing nerves and then, five minutes from the end, Alex's equalizer. Yup, it's easy to say that, had PSG played to their potential, they wouldn't have been a goal down, Silva wouldn't have needed to speak to the referee and therefore would not have been sent off, and so it's all their fault. Easy, but harsh.

With Marseille beating Bastia 2-1 the previous day, PSG couldn't have clinched Ligue 1 on Sunday night, anyway. Everything is postponed to next weekend, where they're faced with a tricky trip to Lyon. For some in the PSG camp, the end of the season can't come soon enough.

Props to Ajax, Frank de Boer
Ajax sealed their third straight Dutch title this past weekend. All three have been won under manager Frank de Boer, but this one, arguably, was the trickiest, given PSV Eindhoven's vast spending, deep squad -- no fewer than four players in double figures in the Eredivisie alone -- and big-name manager (Dick Advocaat, who was brought in at considerable expense just to wrest the title from Ajax).

De Boer rebuilt Ajax on the fly, after a summer which saw him lose Gregory van der Wiel, Jan Vertonghen, Vurnon Anita and Theo Janssen but not really get much help on the incoming front, apart from Niklas Moisander and Lasse Schone. De Boer kept his young team together throughout a hard-fought title race which saw Ajax grab a hold of first place only in mid-March.

No prizes for guessing what's next. Clubs will come knocking for the likes of Christian Eriksen, Daley Blind, Siem de Jong and Viktor Fischer. And, once again, Ajax will have to rebuild. They had better hope de Boer will be around for the rebuilding. Though, after what he's achieved, perhaps they'll be understanding if he moves on to a new challenge.

Banned in Newcastle
It wasn't that long ago that Newcastle were solidly in midtable and everyone was raving about the way they brought in a gaggle of gifted Ligue 1 players -- Yoan Gouffran, Mathieu Debuchy, Mapou Yanga-Mbiwa, Moussa Sissoko, Romain Amalfitano -- at knockdown prices. Now they're three points above the relegation zone and have won just once in their past seven. Last week, the Daily Telegraph -- hardly a rumor-mongering scandal sheet -- wrote a story suggesting there was a split in the camp between some of the French players and the rest of the squad, and that this was at the heart of the club's problems.

Stories like these emerge all the time when a team is underperforming. And, in England especially, there's usually a certain underlying narrative, pitting holdovers versus new arrivals. Heck, we've been hearing about it all season at QPR. Whatever the case, Newcastle reacted by banning the Telegraph because it wouldn't retract its story.

Now, I have no idea if there really is a split in the Newcastle dressing room. But if the story is wrong, the way for the club to react is to go to the lawyers and take legal action, not to ban a media organization because you don't like what they're writing. If it's made up, you'll win your court case and damages. If it's not, you won't.

All this does is make manager Alan Pardew look like a bully. And not a very effective one at that.

Class acts Klose and Di Natale
Miroslav Klose scored five goals for Lazio in their 6-0 hammering of Bologna. He's the first Serie A player to notch five in a game since 1986.

Antonio Di Natale put two past Sampdoria, reaching the 20-goal mark in Serie A for the fourth consecutive season. Only one other player in the history of the Italian game has ever scored 20 Serie A goals for four straight years: Gabriel Batistuta.

Di Natale is 35, and Klose turns 35 next month. They are different types of players with different skill sets, but they share that magical quality of knowing where the goal is at all times. The fact that they are still competing at this level despite making their professional debuts in the 1990s is a testament to their professionalism and love of the game.

Time to celebrate two genuine class acts.