Watching Chelsea with the future of Roman's empire
You want to meet an eclectic menagerie of people? Go to a soccer bar. For instance, several years ago, Sean Connery walked into my chosen pub in the middle of an FA Cup game between Manchester United and Portsmouth. He was wearing a hat and sunglasses and might have escaped notice if not for a guy at the bar who shouted above the din, "James Bond is in the house!" Even those of us who had enjoyed a few pints were able to decode that message.

Connery was a complete gentleman to anyone who staggered up to him. He explained that he had actually come to see the later telecast of a rugby game between his native Scotland and England, but that he had arrived early to check out United because of his close mate and fellow Scot, Sir Alex Ferguson.

Cut to Sunday at the Football Factory in New York City, minutes before the kickoff between Chelsea and Manchester City. As hundreds of Blues stood around the bar, I noticed that the table next to mine was ringed by several large gentlemen whom the owner referred to as his "beer muscle." They eventually moved aside when three well-groomed, young men slid inconspicuously into their seats. The only problem was that the tall one in a brown sweater and jeans was blocking my view of the TV.

"Excuse me," he said politely, looking nothing like a 20-year-old who had recently purchased an oilfield in Siberia for $46 million.

Nobody at the bar yelled out this time, but Arkadiy Abramovich was in the house.

And thus began a beautiful, 90-minute friendship between the eldest son of Roman Abramovich, owner of Chelsea, and a life-long Arsenal fan.

In addition to inheriting his father's love of facial hair -- young Abramovich was rocking some impressive chin stubble -- he also shares his old man's passion for soccer. Three years ago, while still in high school, he tried to buy Danish champions FC Copenhagen, but the bid fell through. Now he has to settle for being next in line to run Chelsea FC.

Unlike his father, who always looks aloof and impassive when the camera pans to him during a Blues match, Arkadiy is not afraid to be demonstrative. Not even three minutes into Sunday's game against Man City, he was shaking his fist at the screen in frustration when Gary Cahill, all alone at the back post, ballooned a volley into Row Z. He leaned over and appeared to whisper something in Russian to one of his tablemates -- I'm guessing it wasn't, "We really should pay Cahill another $50,000 a week."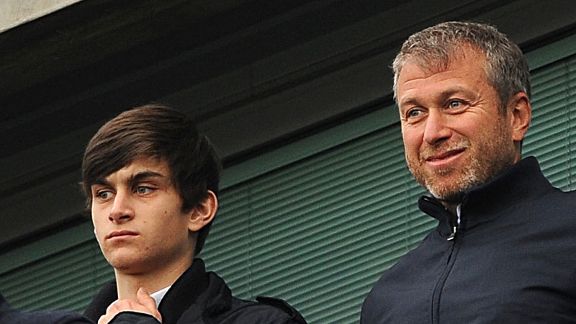 PA PhotosChelsea owner Roman Abramovich alongside his son Arkadiy in 2011.

The game was something of an acid test for the two would-be alpha dogs of the Prem, now that United seems hell-bent on qualifying for next year's Europa League. Oh, there are others in the hunt -- with their glittering early runs and players such as Luis Suarez and Aaron Ramsey in transcendent form, Liverpool and Arsenal can no longer be counted out. And then there's giant killers du jour, Southampton, currently sitting in fifth place and playing their most stylish soccer since the prodigiously gifted, but frumpy looking, Matthew Le Tissier shuffled his way through opposing defenses two decades ago. Roberto Martinez has allied flair to Everton's inherent Moyesian industry to make the Toffees a legitimate threat for a European place.

Have we forgotten anyone? I'm sure that the Spurs' 1-0 dismantling of Mighty Hull will ratchet up the fear factor for all future visitors to White Hart Lane.

But as much as I'd like to believe that early-season form leads to silverware in May, the last eight years have cruelly disabused me of that notion. I realize that if Arsenal is to put anything in their trophy case other than a gold-plated Mesut Ozil bobblehead, the Gunners will have to escape the jaws of Chelsea and Manchester City. After all, no less an esteemed marine biologist than Jose Mourinho has labeled the two clubs the deadliest predators in the Prem. "Are City the biggest shark?" the Chelsea manager quipped Friday, referring to the Sky Blues' toothsome payroll. "Yes. Chelsea are a clever shark. The shark that knows when to attack and how to attack."

It is doubtful that the Special One had Fernando Torres in mind when he made his Jaws-themed analogy -- the striker has been more a metaphorical minnow than a lethal Leviathan. Coming into Sunday's game, Torres had failed to score a Premier League goal for Chelsea this season, yet that drought looked like it was about to end in the 29th minute when Ramires teed him up in front of the Man City goal. But with the net -- not to mention a jittery Joe Hart -- at his mercy, Torres shanked his shot over the bar, causing my new friend Arkadiy to bury his face in his hands.

Seeing his distress over Torres' butchered sitter and in the magnanimous spirit of someone whose club sits at the top of the table for the fourth straight week, I asked if I could buy him a beer, forgetting that he hadn't reached the legal drinking age in New York City.

"No, thank you," he said in perfect English. "I have a Coke."

All around him, though, you could hear the plaintive "Same Old Torres" cries of Chelsea fans who have endured more blown El Nino chances than painful English collapses in World Cup quarterfinals. So it was something of a seismic shock when two minutes later, Nando redeemed himself with a scorching run along the right flank that left Gael Clichy flailing in his slipstream before he centered hard and low for an on-rushing Andre Schurrle to poke home from three yards out.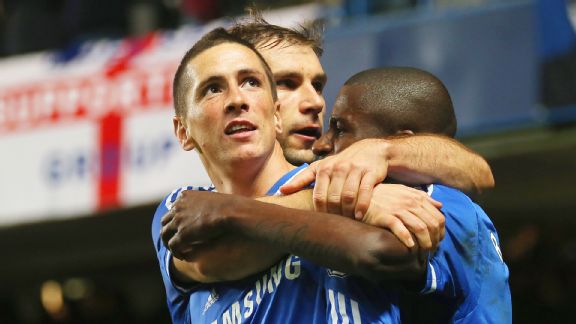 Clive Rose/Getty ImagesFernando Torres shrugged off earlier misses to give Chelsea a crucial win.

Rather than exhibiting his previous penchant of letting a slapstick miss affect his fragile confidence, Torres seemed almost galvanized by it. He worked tirelessly, pressing and harrying City in their half and heading away a corner in his own box. He also almost doubled Chelsea's lead by hurtling down the left flank and unleashing a screamer that thundered off the underside of the crossbar. The shot brought a smile to Arkadiy's face as he enthusiastically applauded the striker.

At halftime, I was busted by one of the Russian's friends. For the first 45 minutes, I had passed myself off as a fellow Blue in the hope of extracting valuable intelligence from the enemy camp. But my cover was blown when his tablemate glimpsed the Arsenal jacket hanging on the back of my chair.

There were so many things I'd been dying to ask him about -- Mourinho's baffling decision to marginalize my favorite Chelsea player, Juan Mata, whether the Blues would end up kicking themselves for being unable to recall Romelu Lukaku from Everton in January, or why they won't jettison Demba Ba, who would fit in quite nicely as Olivier Giroud's backup at the Emirates -- but that would have been rude. If there's one thing Blues and Spurs fans know about me, it's that I'm nothing but decorous around them.

Anyway, the second half was starting and Arkadiy turned his head toward the screen just in time to see City equalize via a Sergio Aguero goal that whooshed into the top corner past Petr Cech's outstretched right hand. From the pained expression on Abramovich Jr.'s face, it seemed as though he felt Cech should have done better, while Joe Hart foolishly thought, "I'm not the keeper who'll be on the wrong side of the headlines tomorrow."

With David Silva pulling the strings, and Aguero making Cahill and John Terry look like they were mired in quicksand, City were now rampant but unable to exploit their territorial advantage. The game seemed headed for a draw when a howler for the ages intervened. Chelsea's Brazilian substitute Willian sent a seemingly innocuous pass over the City defense that, for some reason, caused both Hart and Matija Nastasic to lose their bearings and do a passable impression of the circus act performed by Arsenal's Laurent Koscielny and Wojciech Szczesny in the 2011 League Cup final against Birmingham City.

With England manager Roy Hodgson undoubtedly reaching for his defibrillator, Hart came hurtling off his line to claim the ball at the precise time that Nastasic decided to head it back to him. Once the ball had gracefully looped over the keeper and bounced toward the right of the goal, all Torres had to do was angle it gently into the net. While Nastasic won't get the proper credit for the assist, at least he rose to the ball magnificently.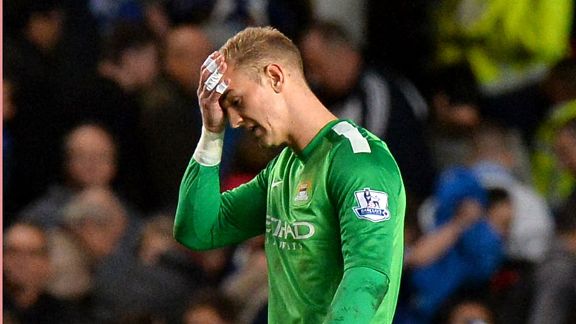 GettyImagesJoe Hart has endured a difficult start to the season.

Stamford Bridge erupted as if they had won free quiche and white wine, no one more deliriously than Mourinho, who had famously done a knee slide in front of a red-faced Sir Alex at Old Trafford after his then-team Porto beat United in the Champions League. Back then, he was dressed head to toe in Armani, but Sunday he went one better, wearing a velvet smoking jacket with a scarf knotted at his neck. Upon seeing Torres' shot cross the line, Mourinho catapulted out of the Chelsea dugout, sprinted past a not-too-happy-looking Manuel Pellegrini in front of the Man City bench and clambered into the stands where some guy in a pink shirt gave him a big kiss.

Young Abramovich's celebration was slightly more subdued. As the exultant Chelsea mob chorused with a straight face, "He scores when he wants. Fernando Torres. He scores when he wants," Arkadiy hugged and high-fived his two mates. Then he turned around and clasped my hand in triumph. It was an awkward moment for me, much like when I was introduced to Sol Campbell in 2001 just after he crossed over from the dark side of North London to join Arsenal. I didn't know whether to shake his hand or spit on his Spurs shoes. In the case of Arkadiy Abramovich, I took the high road.

"Congratulations on the win," I said to him, as I put on my Arsenal jacket and prepared to exit the bar. "But remember you play us in the League Cup on Tuesday."

The man who would be Chelsea's next czar looked up at me and smiled enigmatically, not unlike a shark who's worth billions.