U.S. jumps from ice straight into fire
Here's what we learned during Friday night's "Chilla in Vanilla": The U.S. men's national team can win during a blinding snowstorm.

Here's what we still don't know: Can they win in normal soccer conditions? Because the chances that there'll be a foot of snow at Estadio Azteca on Tuesday are about the same as the chances of Mexico's Giovanni Dos Santos getting his hair permed (approximately 2.7%).

Certainly, we got no clues from Friday's cosmic joke of a game as to how the U.S. will fare Tuesday in the oxygen-deprived altitude and will-sapping heat of Mexico City.

-- FIFA studying Costa Rica protest
-- Sutcliffe: U.S.-Mexico analysis
-- Carlisle: A most historic point

What we saw in the Mile High City was such a white-on-white blur that you could have told me that Shep Messing was in goal and I would have believed you. Who could prove otherwise?

At the non-soccer bar where I watched the match, a guy wearing a Duke T-shirt -- the American equivalent of a Spurs jersey -- wandered over from the row of TVs showing the NCAA basketball tournament and asked, "Is this the first soccer game played without a ball?"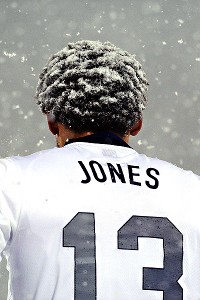 Ron Chenoy/USA TODAY SportsThe U.S. will go from one extreme to another Tuesday when it faces Mexico at Azteca Stadium.
It is unlikely that anyone will have trouble spotting the rock Tuesday (10:15 p.m. ET, ESPN). For probably 60 percent of the time, it figures to be Velcro-ed to a Mexican player's foot, especially given how desperately El Tri need the three points and convince their rabid fan base that their recent dip in form -- a scoreless draw at home against Jamaica, a blown two-goal lead in the final 15 minutes versus Honduras resulting in a 2-2 tie -- is just their way of lulling the rest of its Hex opponents into a false sense of security.

Estadio Azteca, happily perched at an elevation of 7,200 feet and sporting a capacity of 105,000 coin, battery and urine bag-throwing spectators, has long been the kind of terrifying location for visiting soccer gringos you might expect in a Quentin Tarantino film.

The U.S. record at the Mexicans' sombrero-shaped fortress is an impressive 1-8-1. The only blemish on the Tricolor's undefeated ledger came in a "friendly" last August. Even though the match had neither CONCACAF nor World Cup ramifications, the breaking of the historical duck went straight into U.S. soccer folklore right alongside Landon "Where's Waldo?" Donovan's stoppage-time goal to beat Algeria in the 2010 World Cup.

The image that is etched into my brain is of Brek Shea and Michael Orozco (both of whom made the current squad) hugging it out in front of a small but vocal contingent of Uncle Sam's Army while the rest of Azteca sat in such a stunned state that they completely forgot to throw anything.

You're excused if you have managed to blank out the 79 mind-numbing minutes that preceded the goal, when the United States could barely string three passes together. No, it is the result that counts. (I understand this better than most as I was still a semi-vital, young man of 9 or 10 when Arsenal last brought home a trophy.)

Last Friday's 1-0 giant-slalom win over Costa Rica will certainly be remembered for the absurdity of the conditions. But what may turn out to be even more meaningful in the long run for the Americans will be the whiting out of all the snow-sturm und drang swirling around the USA's German manager in the run-up to the match. Because on Friday, in the ankle-high drifts of Dick's Sporting Goods Park, the Klinsmann finally cameth.

Emerging from a miserable week during which the media questioned everything but his choice of parka, Klinsi embraced the blizzard like a young boy dreaming of a white Christmas.

With the three-point haul secured, and a move from dead last to second place in the qualifying group reminiscent of a NASCAR final-turn slingshot, suddenly no one cared about his controversial decision to leave captain Carlos Bocanegra off the squad, or his ADD approach of fielding a different starting lineup for the 24th consecutive time, or his Redknappian lack of tactical acumen, or his continued over-reliance on German-based players, or his stubborn refusal to stand outside Donovan's house and throw pebbles at his window until the USMNT's all-time leading scorer came out to play.

Eighteen months into the job, Klinsmann has discovered the secret to making all the trouble go away: Just win, baby. Also, play in the snow.

If Klinsmann got to enjoy snow Friday, the same cannot be said for his Mexican counterpart, Jose Manuel de la Torre, who has considerably more names than his side has World Cup qualifying points. "El Chepo" (not to be confused with Monsieur Cheapo, the usual transfer window moniker for Arsene Wenger) is feeling the heat for Mexico's winless start and fourth-place standing in the Hex. The former attacking midfielder, who took over in 2010, appeared 28 times for El Tri during his playing career but never made it to the World Cup. That hole in his résumé seemed certain to be filled as Mexico cruised through the semifinal round of qualifying with a perfect record while blitzing its opponents 15-2 along the way.

It was the latest flourish in an increasingly compelling body of work that shows Mexico's soccer program to be in rapid ascendancy. Since June 2011, El Tri have won the U-17 World Cup, the CONCACAF Gold Cup, the Olympic gold medal and finished third in the U-20 World Cup. It looks and feels like a golden era for our southerly neighbors.

By comparison, during that same period, the U.S. has won ... nada.

The disparity hasn't gone unnoticed by Klinsmann, who conceded before last year's friendly that "the Mexicans are a step ahead of us right now." He continued: "They've identified a way they want to play and everybody dedicates themselves to that style of play."

That style, of course, is predicated on skill, speed and short, precise passing. But no matter how immaculate the technique of its players, they need to possess the ball in order to be effective and of late; that has hardly been a given. For starters, despite its huge pool of young talent, El Chepo has been unable to find a creative playmaker in his midfield. More worrisome is that El Tri's two most dangerous attackers, Javier Hernandez and Giovani Dos Santos, both limped off with second-half cramps against Honduras. Their departure triggered a Mexican collapse as the Hondurans fought back from 0-2 to earn a valuable point.

All of a sudden the reigning kings of CONCACAF find themselves with a measly two points from two games and now have to face the only other side that can legitimately stake a claim to any history of dominance in the region.

It's both an advantage and disadvantage for El Tri to be hosting this contest as anything other than a quick early goal by the home side may well see their wildly passionate fans turn ugly. If Mexico federation president Justino Compean's getting caught twice on camera giving the middle finger to Honduran fans Friday is any indication, even the administrators are feeling a little tight around their track suit collars.

Klinsi understands this conundrum better than most. Before Friday, the ever-stoic German labeled Costa Rica a "must-win" game. Staying true to his meddlesome muse, he started the ancient DaMarcus Beasley at left back and watched the frequently invisible veteran have arguably his finest game for the red, white and blue. In fact, the U.S.'s entire jerry-rigged back line was remarkably solid, making Clint Dempsey's 17th minute pinball machine goal stand up like Frosty the Snowman.

Klinsi had given Dempsey the captain's armband in place of the dropped Bocanegra and Deuce wore it with his usual over-my-dead-body pride, going hell-bent for everything that moved. The Tottenham player must be hungry after getting little more than scraps at White Hart Lane this season due to injury. After Jozy Altidore's slap shot was blocked by a backward skating defenseman, it was Dempsey who crashed the net and picked up the deflected puck to set off the red-light celebrations.

Unfortunately, snow is as common in Mexico City as a warm and loving reception, and while the distance above sea level won't be wildly different than Denver, there may well be a 70-plus degree temperature shift at the Azteca. Which means the U.S. will not be able to rely on the wacky weather to befuddle their opponents and prevent them from strutting their superior ball skills.

With the Mexicans clearly in a worried and vengeful mood, the pressure on the home side will be asphyxiating, so much so that the contest is likely to turn almost entirely on the first 20 minutes. If the U.S. find themselves behind early, they'll be in for a long evening unless there's another heavenly intervention like an asteroid or -- even less likely -- a Jozy Altidore goal.