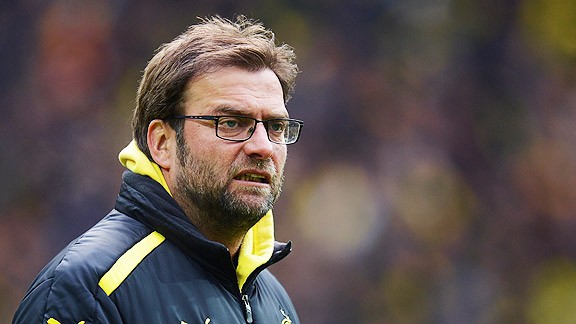 Lars Baron/Bongarts/Getty ImagesJurgen Klopp's Borussia Dortmund was all the rage in the Champions League group stage, but recent poor form in the Bundesliga has created doubts.
Two magazines. Jurgen Klopp on both of them. Two headlines.

"Dortmund, Inside Europe's Hottest Club", says one cover. "Klopp in trouble", says the other cover. Klopp in tracksuit, his arms crossed, perfectly trimmed three day beard, grinning knowingly in one of them. Klopp sporting a BVB winter jacket, JK written on it, his trademark baseball cap low over his face, his face towards the ground in the other.

- Yokhin: Shakhtar-Dortmund: Better than Mourinho vs. Ferguson

Both magazines were published within a couple of days of each other. They could not be more different. Ahead of Dortmund's first game in the Champions League knockout stage since 1998, when the title holders were beaten 2-0 on aggregate by the soon-to-be successors Real Madrid, coached by Jupp Heynckes, the German champions have run into a minor crisis. Bayern Munich have run away with the league, currently holding a 15 point lead over Die Schwarzgelben. In only 135 minutes of Bundesliga football Dortmund have conceded six goals and only scored twice.

- Video: Klopp hints at Premier League move
- Video: Klopp -- Title race over

These are worrying numbers for Borussia, who had the best defense in Bundesliga in two consecutive years. After only 21 Bundesliga games, Dortmund have now conceded 26 goals. Saturday's shock defeat to Hamburger SV was the biggest defeat since the 5-1 drubbing at home to Bayern in September 2009. During the first half of the domestic campaign, Dortmund were struggling with injuries in defensive midfield. Germany international Ilkay Gundogan missed a bunch of matches, his replacement, Germany Under-21 player Moritz Leitner, did not live up to expectations. Only in the last game before the winter break did Leitner break his curse. In his four starts before the Hoffenheim game, Dortmund had lost three times and drawn once, making him a starter in every Bundesliga game Dortmund lost during the first half of the season.

On the Champions League level, the former 1860 Munich man made two appearances as a last minute sub before going 90 minutes in the meaningless 1-0 win over Manchester City in December. It came as no surprise that Dortmund re-signed Nuri Sahin, 24, in January. Sahin, the youngest Bundesliga player ever debuting against VfL Wolfsburg at the age of 16 years and 335 days back in August 2005, had left Dortmund for Champions League glory in 2011. But an injury-prone year at Real was followed by an ill-fated loan to Liverpool. Sahin cut short that loan, and during an emotional press conference claimed not long after his transfer to Real he had realized all he wanted to do is play for Dortmund.

The Turkey international did so against Hamburg at the weekend, but his comeback in Dortmund's starting formation did not help a Die Schwarzgelben trying to secure a fifth straight win in Bundesliga. Sahin later said that while he tried to give his best, he "did not completely succeed". Sahin covered a distance of 11.36 km during the game but only had 68 touches to the ball during his first full 90 minutes for Dortmund. "He had a lot of good moments," Dortmund boss Klopp later claimed, but, on Saturday, Sahin was nowhere close to Champions League form.

It was the same Champions League form his teammate Gundogan had shown for Germany in their 2-1 victory over France last week. In the summer of 2011 Gundogan was brought in as the Sahin replacement, but soon found himself on the bench. It was not before a long cup night in Furth in March 2012 that the Gelsenkirchen-born son of Turkish immigrants finally arrived at his new club. That day, his 119th minute goal secured Dortmund a berth in the German Cup final and, after maintaining his form, Gundogan earned a place on the Germany squad for the European Championships last summer.

In his 15 Bundesliga starts for Dortmund this season, Dortmund have lost only once. Dortmund were unable to win any of the six matches in which the deep lying playmaker was missing from the starting lineup. During the club's 3-0 win over Nurnberg a few weeks back, Gundogan added up 147 touches to the ball and 93% of his passes reached his teammates.

Against Shakhtar on Wednesay, Gundogan is a major doubt. Thigh and toe troubles restricted his playing time to a 25 minute appearance over the weekend as a substitute and on Monday Gundogan was not training with the team. But Gundogan's injury is not the only worry for Klopp, who might as well have to do without left back Marcel Schmelzer. The Germany international, back from a cold, had to leave Dortmund's training pitch ahead of time on Monday.

Domestically, Europe's hottest club has run into trouble but are still en route to another year of Champions League football next season. Internationally, Dortmund, of course, have impressed when taking the Group of Death by storm. Have Dortmund sacrificed the Bundesliga title for success in Europe? "Certainly, it is something special to compete at the highest level in Champions League," Dortmund keeper Roman Weidenfeller told German magazine "kicker".

Dortmund have to break cover against Shakhtar. If they succeed, Klopp might give us his best smile again.