If no 'Decima', is Mourinho's place diminished?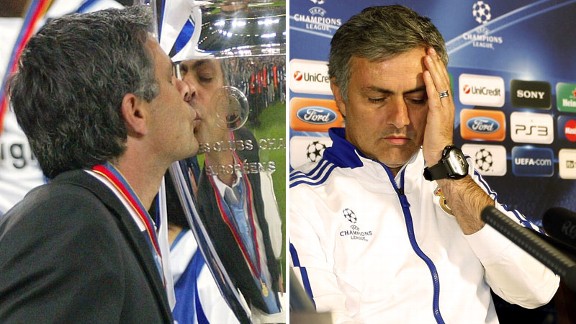 AP PhotoJose Mourinho's meteoric rise accelerated in 2004 when he led Porto to the Champions League title. Will a 2013 flameout at Real Madrid diminish his stature?
Given what the Bernabeu had just witnessed, Jose Mourinho could have been forgiven for a degree of bombast.

It was the hour following the 2010 Champions League final and, after Inter had just produced a 2-0 victory over Bayern Munich so clinical it could have been formulated in a laboratory, their manager offered a scenario that could have been scripted.

"I want to become the only coach to win the Champions League with three different clubs."

- Bennett: Balance of power is shifting
- Michael Cox: Best Starting XI in Champions League
- Carlisle: Jermaine Jones at home in Europe
- Delaney: Continent divide
- Hunter: Real Madrid v Manchester United
- Video: Celtic Park showdown
- Video: Europe's No. 1

When you considered the stadium in which he was standing -- and was about to almost immediately come back to -- the implication was clear.

Mourinho would match the impeccable nature of his victories with Porto and Inter by finally delivering Real Madrid that perfect 10th European trophy.

At that point, it seemed inevitable.

Two and a half years later, in an Italian interview to celebrate his 50th birthday at the end of January, Mourinho restated that same ambition. Except this time, although he spoke with the same sense of inevitability, it didn't have the same urgency or even implication.

"I will win another Champions [League]. The third one will come. I can't say I will obtain it this season, but in the 15 or 20 years I have left in my coaching career, I will win it."

Such an achievement would make Mourinho the most successful coach in the competition's history alongside Bob Paisley but, given the variety of his victories, also arguably the greatest manager in the game.

By such a point, he would certainly have few questions left to answer. In the more immediate term, though, would an inability to deliver the Champions League to Real Madrid constitute an ultimately failed period at the club?

Right now, that is the really big question, as Real Madrid prepares to host Manchester United Wednesday in the first leg of their Round of 16 tie.

Many, not least Mourinho himself, would point to the way he dethroned Pep Guardiola and one of the most celebrated sides ever in Barcelona.

There are, however, a few caveats to that argument, even beyond the speed with which his team have unraveled and regressed in La Liga.

For one, although Real may have become absolutely obsessed with Barca over the past few years, they are a club who have historically defined themselves according the wider world, not least the European Cup itself.

Better to break new ground than just beat an old foe.

And you only have to look at Mourinho's personal list of his favoured achievements to realise he feels much the same.

"The Champions League with Inter was the most beautiful title," the Portuguese said. "Also important were the league with Real Madrid against Barcelona, winning the Champions League with Porto, and the (Premier League) with Chelsea, who were 50 years without winning it. But the meaning for the Inter family... it was an unspeakable dream."

In other words, he most enjoys combinations of history, unprecedented achievement and symbolism. More than many, Mourinho appears to be a manager who gets wrapped up in the mythology of a club. He goes to a team, solves its biggest problems and ends its longest waits - and then departs.

As such, despite -- or perhaps because of -- the irony that he is also the ultimate short-term manager, it would surely gnaw away at him to not achieve the feat that would bring all those elements together: a Champions League victory that sets two long-awaited records in the competition, and with a club most associated with the trophy but have now gone 11 years without it.

"We feel as if it is ours," Michel Salgado said, speaking of his longtime club Real and the European Cup. "Our entire identity is bound up in it."

Even in December, a man as normally measured as goalkeeper Iker Casillas gave a surprising insight into just how intensely the club wants that trophy again.

"I do not have to think about it," he said. "If you told me now that we would finish 25 points behind Barcelona in La Liga that is obviously not ideal ... but if you tell me that we are going to win La Decima, I would sign for that right now."

A large part of Mourinho's current problems, though, may be down to the attitude of players such as Casillas -- and not solely because of the personality clashes that seem to ensure this is the Portuguese's last season at the Bernabeu.

Because, when you properly consider Mourinho's career, Real are his first squad to have had so many players with a pre-existing record of success at such high levels.

Porto, for example, hadn't reached the semifinal of the Champions League in a decade and hadn't won a European trophy in 15 years. Chelsea, as Mourinho himself mentioned, hadn't won a league title in almost 50. And, despite domestic dominance facilitated by the consequences of Calciopoli, Inter were enduring an ongoing psychodrama with the European Cup.

In fact, in Mourinho's first season at the San Siro in 2008-09, he offered an interesting insight into the psychology of his management.

"I need top personalities to work with me, because I put a lot of pressure on my players. A top personality becomes a super player. A soft, fragile personality can be smashed. This is my weakness, I believe. I need top characters."

It is quite possible, though, that if those top characters have already experienced the top successes -- and thereby a different way of winning -- they expose another weakness in the Portuguese: an inability to deviate from a necessity to create a constant state of extreme emotional tension.

That's particularly relevant to Real, given how resistant some players have been. A core of the squad have already won a record amount of trophies in relatively harmonious fashion with Spain, yet one of Mourinho's main psychological tools has been to constantly reignite a rancorous rivalry with their international teammates on the Barcelona squad.

Of course, many of the current problems began when Casillas supposedly went behind his manager's back to smooth things out with Barcelona's Xavi at a point when conflict between the clubs reached a particular low. To a certain degree, it as is if some Real players are simply not as in thrall to Mourinho in the manner he usually requires. The spell has either been broken or, with them, was never conjured.

Only added to all of that, there is the curious -- and arguably contradictory -- nature of Mourinho's very Champions League victories.

So far, in his four major career jobs, he was won the competition by lifting the two logically lesser sides to higher levels while failing on the continent with the two more formidable ones.

Chelsea, after all, had reached the semifinal in the season before Mourinho joined and were one of the wealthiest clubs in the world along with Real Madrid.

Porto, however, were outside the top 20 of Forbes' rich list in 2004 while Inter's victorious 2009-10 campaign was actually the only time they, or any other Italian club, had reached even the semifinal in a five-year stretch from 2007-08 to 2011-12. In other words, he has most overachieved with relative underdogs.

Conquest with Real Madrid, then, would complete his personal record of achievements in more ways than one.

As Guardiola, of all people, has said: "Mourinho's career trajectory is immaculate."

Failure, however, would bring a first impediment and significant imperfection -- and, worse, at the very venue that has always seemed set to bring the most perfect of his victories. Rather than make history, Mourinho would only be the latest in a long line of managers to struggle with the competition that has most created Real's status.
In short, there would be nothing special about that.

Not that Mourinho would admit it publicly.

Because, back in that press room at the Bernabeu, just a few weeks after victory with Inter, Mourinho struck a different chord.

"I don't have to prove anything," he said in the summer of 2010 about the job at Real. "I don't have the conditions to say that this is the most important or difficult challenge I've faced in my life. I've already passed that dimension ... I don't want to be called a legend. But I do have a big history which is difficult to compare with."

The key for a manager as ambitious as Mourinho, though, is that history should be impossible with which to compare.