Time for Trapattoni to think outside the box
Uninspiring was the only way to describe the Republic of Ireland's 2-0 friendly victory over Poland and they clearly have work to do before key World Cup qualifiers.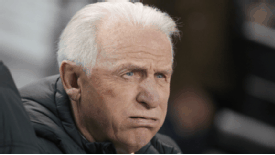 PA PhotosGiovanni Trapattoni takes his Ireland team to the United States to face Spain on Tuesday
With 43 days until they take on Sweden in Stockholm, Giovanni Trapattoni still has time to make the necessary changes to keep their dreams of going to Brazil in 2014 alive. The problem, however, is that he does not recognise their faults.

By sticking with the rigid 4-4-2 formation that saw Ireland look like a bunch of amateurs at the Euro 2012 finals, the veteran Italian clearly does not see the value in playing an extra centre midfielder or even a playmaker in the No. 10 role – something most top internationals teams have adopted.

The personnel is available for both positions – Everton's Darron Gibson and Norwich City's Wes Hoolahan immediately spring to mind – yet the Ireland manager prefers to stick with what he knows. And is why Sweden will be relishing the visit of a one-dimensional side who believe they can rival them for second spot in Group C behind Germany.

The Irish players are doing the best that they can, although it was obvious to see from their on-field bickering over positions and duties that simple instructions from their manager do not exist. That is hardly surprising considering Trapattoni, and his assistant Marco Tardelli, still have not mastered English five years into the job.

For those who argue that a win is a win, a closer look is required at this performance against a team ranked 16 places below Ireland in FIFA's World Rankings. It was a game that lacked creativity, drive and imagination, but, most of all, it looked like the Ireland of last summer when they were swept aside by Croatia, Spain and Italy.

Against an average Poland team, debutant Conor Sammon flapped around like a worker bee with one wing as long balls flew over his head and Trapattoni's insistence on his midfield squeezing tight left them exposed out wide as well as having no options to break down the wings when they actually did win aerial battles.

In central midfield, James McCarthy wasn't sure what he was supposed to be doing alongside Glenn Whelan and the lack of understanding between the pair was worrying from an Irish perspective. It hardly improved when Paul Green replaced Whelan as each focused on their own job.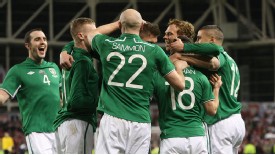 PA PhotosIreland may have won but they flattered to deceive
When Ireland took the lead on 35 minutes through Ciaran Clark, who slotted in when a corner kick wasn't properly cleared, it felt almost unjust. Yes, the home team were battling hard, but a goal never looked to be in them. Then again, Trapattoni has previously stated that his team's best chance of scoring is through set-pieces.

The one rogue, or joker in the pack, for the boys in green is Robbie Brady. The Hull City wideman is the only player willing and capable of sparking his team to life with a piece of individual skill, a daring shot, or a weaving run. The Manchester United academy graduate needs to be trusted more to have an impact.

Everything that jars about this team traces back to Trapattoni. For example, their inability to hold onto possession of the ball, tossing it around as if it were a live grenade that nobody wants to touch, comes down to the manager not encouraging his players to build patterns of play and feed passes into feet.

When that does happen, it is borne from players reacting naturally to the flow of the game. And that is how Hoolahan's goal on 76 minutes came about as fellow substitute Jeff Hendrick looked up and chipped a delightful pass into him. It was as rare as it was welcomed by the Irish supporters.

Although, such moments have been seldom seen under Trapattoni's reign and they should not be expected when Ireland travel to Sweden next month and then host Austria four days later in two massively important qualifiers. Hope and set-pieces are what the Italian is banking on, but they only get a team so far.

This friendly was an opportunity to change tactics, style and personnel, but all it offered was another win for the history books and further evidence that Ireland are going nowhere fast under their stubborn manager.