Sad Gazza downfall a cautionary tale
When a young Paul Gascoigne was asked for his footballing hero, he gave an unequivocal answer. Bryan Robson, captain of England, was his choice but the reasoning was troubling. He had not chosen 'Robbo' for his bravery, goalscoring from midfield or inspirational leadership. Instead, Robson was hailed above all others because of his ability to "drink ten pints and be the best in training the next day".

Gascoigne has not changed his opinion. During the appearance at Northampton Town that brought his latest plunge back into alcoholism's darkness into public light, he maintained that Robson remained the best player he had ever played with. Yet there was an added malevolence. "But he's a t---," Gascoigne slurred. "They're all t----. You're all t----."

There was nervous laughter from an audience aware that they were watching an atrocity exhibition from a man remembered far more for his fall than his rise to heroism. Gascoigne, barely aware, hitting another rock bottom, was still trying to make them laugh as he quivered uncontrollably. Now he can no longer play football, the sad clown act is all that remains. And the fun stopped some time ago too.

"Win, draw or lose, always on the booze," was the prevailing attitude when Gascoigne was a young professional. Footballing and drinking went hand in hand. The trend continued into the hedonistic 1990s. The Premier League was sponsored by a brewery, football fans were happily portrayed as laddish, beery cheerers. Players were no different. Managers too: Terry Venables, Gascoigne's manager for club and later country, owned a bar, Scribes West, where the great and the good of London football supped and gossiped. Everything went better with booze.

Alcohol was an easy route to bonding, a social lubricant that allowed team-mates to loosen up with each other. Gascoigne, shy by nature, and riddled with insecurities, had a prop to assist him. There is no greater cure for anxiety than alcohol, but when it gives, the after-effects can be taken away with punishing interest. Booze only accentuated his hyperactivity, and the rest of the team, 'the lads', had their entertainer. Gascoigne, eager to please, was only too happy to oblige. The end result was oblivion, and a deeper, potentially fatal set of anxieties.

Gascoigne, the most talented English player of his generation, lost his career to misadventure, alcohol always central to the downward spiral. The beginning of the decline and fall is usually carbon-dated to the moment his rash challenge, maliciously aimed at Gary Charles, led to his being carried from the field at the 1991 FA Cup Final. It was the week that the term 'cruciate ligament' became known to the British public.

Other players have recovered from similar injuries, some going on to greater heights. Gascoigne used his rehabilitation to up his drinking to dangerous levels, despite a move to Lazio relying on his eventual fitness. He soon further injured his knee in a nightclub brawl back in Newcastle, an incident that led Glenn Roeder, his former captain at St James' Park, to abandon his role as Gascoigne's minder in Italy. Booze began to burn bridges.

"Gazza: My Story," published in 2005, is Gascoigne's version. The title says it all. The nickname, the caricature, he has always had to live up to, and after he stopped playing, even more so. The cult of Gazza was fed off, by journalists and hangers-on alike until there was nothing left.

His book's overriding argument is that his is no tale of under-achievement, since personality difficulties and childhood tragedy should have prevented him even becoming a footballer. He sells himself short, since at his 1990 peak, he was the only English player who could have played for Brazil. His 57 caps were not nearly enough. Lesser talents have 100 caps.

A sometimes awkward running style, not far off that employed by Phil Jones, hid a ruinous burst of acceleration. His distribution excelled over both short and long distances. The last great performance of Gascoigne's career came in October 1997, when England played out a 0-0 draw with Italy to qualify for France '98. A deep-lying Gascoigne's passing kept England in controlled possession as they weathered a Roman storm.

The spiral accelerated on his non-selection for that World Cup. Glenn Hoddle handled the affair badly, but was justified in making the decision. Gascoigne's playing career was soon an end-of-the-pier show. That the magic had gone became ever more apparent.

His footballing afterlife has been a cycle of destruction and rehabilitation, the latest being that chilling floorshow at Sixfields, his subsequent escape across the Atlantic funded by friends. The money is all but gone too.

Gascoigne was by no means the only victim. Gary Charles, by coincidence, suffered a very similar descent into alcoholism, his nadir coming when police arrested him drunk in charge of a car with its backseat soiled by its alcohol-sodden driver. Gascoigne's captain at Euro '96, Tony Adams, fought and won his own battle, and set up a clinic to help fellow victims. Gascoigne was admitted but could never last the distance at Sporting Chance.

Comparisons with past and present are difficult to avoid. George Best's demise is the most obvious, though the two were very different men. Once age had moved him beyond his Miss World-squiring salad days, Best was happiest in a quiet local, glasses on nose, crossword in hand, goblet of white wine to hand, a scowl reserved for those who interrupted his stupor. Gascoigne's drinking is more chaotic, as evidenced by an attempted intervention in the Raoul Moat siege in July 2010. The hilarity outweighed the tragedy, though it should not have done. Being alone has become his greatest enemy.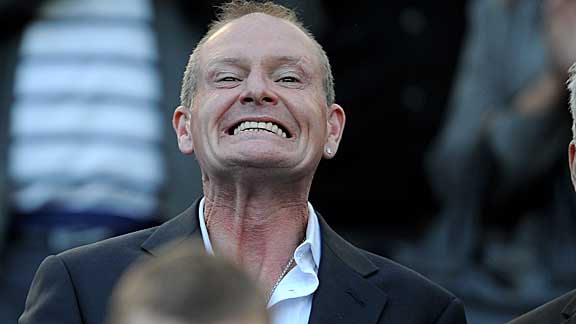 GettyImagesPaul Gascoigne has suffered a very public breakdown
Wayne Rooney is the modern player most compared to Gascoigne. They share a physiology and an explosiveness but Rooney, for all his troubles, has stayed on the right roads by having the right people around him. Rooney's own shyness does not have the by-product of needing to be the class clown. The greatest 'what if' of modern English football remains Alex Ferguson's failure to sign Gascoigne.

Booze is not so publicly associated with professional football these days. Footballers do their carousing behind closed doors, or the VIP rope at the very least. Gascoigne and Best's very public downfalls serve as cautionary tales. These days, few players grade their fellow professionals according to their ability to consume alcohol and still perform.

When Best neared his painful end, he made clear his wish to be remembered only for football. Gascoigne, living a hellish afterlife beyond the game, wants the same too. The hope must be that he can recover and survive to hear that happen.