Is Pellegrino the next South American coach to thrive in the Prem?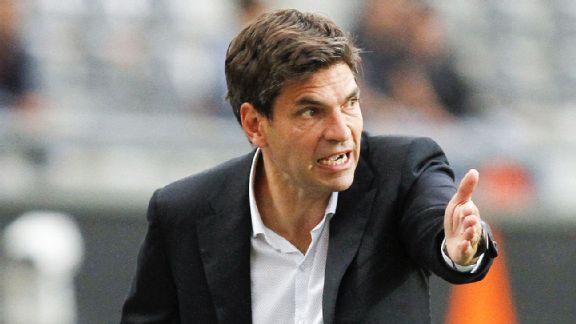 Gabriel Rossi/LatinContent/Getty ImagesMaurico Pellegrino is the next South American tabbed to get a Premier League job.
It could well be that the final of England's Capital One Cup will be between a club coached by a Chilean (Manuel Pellegrini's Manchester City -- to give them the full title always used in the Santiago press) and a Uruguayan (Gus Poyet's Sunderland).

Indeed, throw in Argentina's Mauricio Pochettino at Southampton, and the Premier League now has almost as many South American coaches as it does English.

There is Alan Pardew at Newcastle, Steve Bruce at Hull and, for now at least, Sam Allardyce at West Ham -- and, to be fair, Norwich City's Chris Hughton is really more English than Irish, the country for which he played his international football.

The home contingent has gone up in recent weeks, with Tim Sherwood stepping in for Andres Villas Boas at Tottenham, and temporarily at least, with Keith Downing in caretaker charge at West Bromwich Albion. But if Downing is merely holding the fort until someone else can be found, then the possibility exists that the Premier League will end up with another South American boss.

Whispers are linking Mauricio Pellegrino to the Albion job. And even if he does not end up in the Black Country, then it may not be too long before another English club comes knocking. His own CV and the current success of the other South Americans would make it a logical move.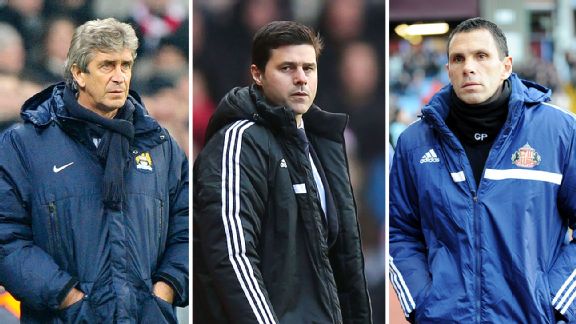 Getty ImagesManuel Pellegrini, Mauricio Pochettino and Gus Poyet have all had varying degrees of success at their respective clubs.
Now 42, Pellegrino was an elegant and intelligent centre back in his playing days, part of a highly successful Velez Sarsfield side through most of the 1990s, when the Buenos Aires club truly established themselves as one of the leading forces in the Argentine game. He did not have enough pace to shine in his season with Barcelona, but slotted in much better to Valencia's counter-attacking game in a six-year spell at the Mestalla. He then made a few appearances for Liverpool -- again struggling for pace but picking up invaluable experience for the future -- before ending his career back in Spain with a handful of games for Alaves.

His time at Liverpool may not have been a success, but the sharpness of Pellegrino's football brain did not go unnoticed. Club coach Rafa Benitez brought him back to the club as his assistant, a relationship that continued in 2010, when Pellegrino followed Benitez to Inter Milan.

Pellegrino has since been flying solo. Going back to take charge of Valencia in 2012 was probably a case of too much, too young, especially with the club going through a transitional phase. And in the past few months he has been learning more about his new craft back in Argentina with Estudiantes.

It has not been an easy environment. Financial realities have bitten hard, especially with the sale to Napoli of the club's promising young Colombian centre forward Duvan Zapata. In his absence, goals proved hard to come by in the recently completed Argentine championship, where the team finished in ninth position. But they had the best defensive record in the league, and its total of four defeats was bettered only by one rival, Arsenal, who lost three times. Pellegrino made it clear that he could organise a team, keeping things tight through the middle and making interesting attacking use of the full backs. He has put himself in the "coaches to watch" category.

He has also demonstrated his commitment to the cause. In August, Pellegrino became so animated while giving instructions from the touchline that he dislocated his own shoulder. Is he ready to throw himself into the challenge of coaching a Premier League club? He has seen the competition from the inside and the out, as a player and on the coaching staff. He knows the game on a global basis. With the sound work being done in England by his fellow South American coaches, it would seem to be just a question of time before Mauricio Pellegrino is putting his shoulder at risk somewhere near an English touchline.