Worrying times for Asia's World Cup hopefuls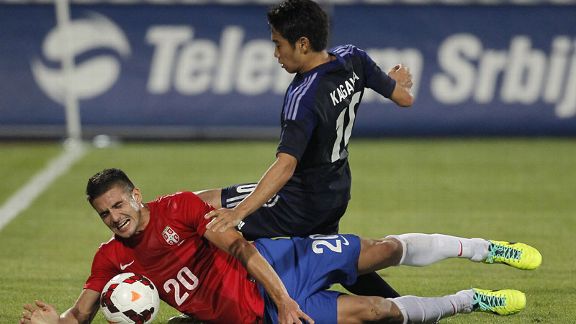 GettyImagesJapan have lost six of their last eight games, including recent back-to-back friendly defeats to Serbia and Belarus.
Guatemala, Haiti, Ghana, Thailand, Mali and Canada -- these are the teams that Asia's 2014 World Cup qualifiers have defeated since sealing their spot in Brazil four months ago. Only one of those vanquished has a chance of joining them in South America next year.

It is to the credit of Japan, Australia and South Korea that they have sought tougher opposition, but all three have lost to Brazil while other defeats have come at the hands of Serbia, Croatia, France, Belarus and Uruguay. Asia's top three teams are all struggling for form.

The World Cup is going to be tough enough as it is with Asian experience in South America minimal. Only those teams at the top of their game will prosper in Rio and elsewhere. With eight months to go, nobody needs need to be quite at that stage just yet, but it is not only results that have been mixed. Performances on, and sometimes off, the pitch leave something to be desired.

All have issues with big stars struggling for playing time in the big leagues. Shinji Kagawa's plight at Manchester United has been well-discussed. Just 46 minutes of Premier League action ahead of last week's international break seems to have dulled the playmaker if the games against Serbia and Belarus are anything to go by.

But it is not just Kagawa. Maya Yoshida is not playing for Southampton and now not playing well for Japan. It could be that the Socceroos No. 1 Mark Schwarzer gets no league action at all this season as Petr Cech's Chelsea understudy, while the Arsenal bench would be a significant step forward for Korea's main striker Park Chu-Young, forgotten and unused in North London.

Then there are coaching issues. Holger Osieck was fired as coach of Australia after a 6-0 thrashing meted out by the French in Paris followed the same spanking suffered in Brazil a month earlier. The German delivered World Cup qualification, but the indifferent performances on the road to Rio followed by worse at the East Asian Cup and those two heavy friendly defeats put him on the back foot. With concerns about his failure to regenerate an aging team, there was nothing to stop him from being toppled. Osieck left no legacy except a muddled debate that does not only centre on who should be the next coach but even what the 2014 World Cup means in regard to the country's long-term football development.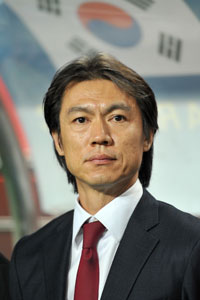 GettyImagesHong Myung-Bo is still trying to put his stamp on the South Korea team.
South Korea are slowly getting used to new boss Hong Myung-Bo, who has been in the job for less than four months. Performances were poor in a qualification campaign that ended successfully, albeit by the smallest margin. Choi Kang-Hee stepped down, as promised, and 2002 captain Hong took over. The football has certainly improved, but results have not. The two wins out of the eight played came at home to Haiti and Mali. The team has played well at times but can't score, and 2002 star Ahn Jung-Hwan found the target when he said the team had the weapon but lacked the bullets.

Japan are in a strange situation. The Samurai Blue qualified before any other nation. This is a team with a coach in place for three years, that won the Asian Cup at the start of 2011 and that can field a starting XI made entirely of European-based players. In short, this is the team that is supposed to be Asia's best hope of success in South America.

Since sealing that Samba deal, coach Alberto Zaccheroni has purposely sought out the strongest tests possible, saying he wanted to find weaknesses. With six defeats from the last eight meetings with non-Asian opposition, the Italian may have got more than he bargained for. The same old problems are still there -- less-than-solid defence and lack of ruthlessness in attack -- but there is something less tangible too. Japan look a little stale. Not long ago, the stability in the team seemed a real asset in a region not known for such a quality, but there is a danger of stability drifting into safety, with established stars looking a little too established. Perhaps it is time for a shake-up.

While the big trio is struggling for form, Iran -- Asia's fourth qualifier -- are unbeaten. That doesn't sound bad until you realise that Team Melli have yet to arrange a single warm-up game since sealing a fourth appearance at the World Cup in June.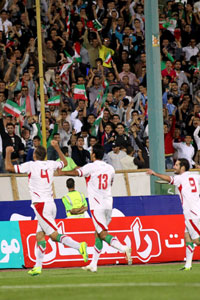 GettyImagesIran's Asian Cup qualifier against Thailand was their first game since qualifying in June for the 2014 World Cup.
As is often the case, Iran are busier behind the scenes than on the pitch. Complications with payments going to Carlos Queiroz's coaching staff have not helped and were sorted only when the Portuguese boss returned to Tehran earlier in October after rumours that he had left his post.

Fans in Iran are accustomed to incompetence, politics and who knows what else holding the national team back, but no games in four months? Overseas training camps canceled? It is no wonder that Queiroz has expressed his dissatisfaction with the way preparations are going, or not going as the case may be.

Usually there would be no enthusiasm for playing Thailand in an Asian Cup qualifier, but this time, it was a much-needed game. Yet in that time, the other three qualifiers have played a combined total of 28 games. Iran have had 90 minutes of football since qualification; Japan have had 990.

There's much to think about and more to do ahead of Brazil, but there's still cause for hope. Japan lost to Serbia in the buildup to the last World Cup too. Only the defeat in 2010 came two months and not eight months before the big kickoff. It came at home, not away, and against a second-string (at best) Serbia team and not their first-choice team. Had it not been so late, coach Takeshi Okada would have been out of the door. As it was, he stayed, changed things around at the last minute and was just a penalty shootout away from the quarterfinals in South Africa.

So it's never too late, but that's not an example to be relied upon. There is still time left for the Asian nations to improve and bring their teams to the boil at the right time, though that assumes that the basic ingredients are already in place. It's no time to panic, but it is time to worry.