South America's telling progress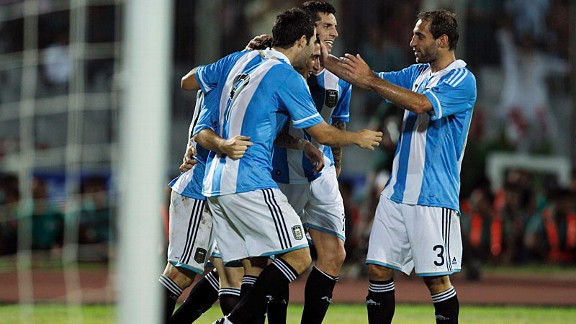 APArgentina looked impressive during their convincing World Cup qualifying campaign.
Four years is a long time in football, and so it is that as we reach the end of South America's mammoth World Cup-qualifying programme, it's instructive to look back. Tim Vickery has already written for ESPN FC on the final double-headers, as Uruguay settled for the playoff spot with Chile and Ecuador taking the remaining automatic berths behind Argentina and Colombia.

I wanted to take a look, though, at what's changed for each of the continent's sides since we were last here. Sure, Argentina have qualified automatically and Uruguay are in the playoff after a dramatic last match between the two in Montevideo, but that's about the only similarity. Since we were at this point in 2009, Uruguay have been to a World Cup semifinal, been crowned champions of South America, gone through a huge slump in the middle of qualifying and come back through it.

Brazilians are sure to be a little more nervous at the prospect of Uruguay making it to a World Cup they looked, for a brief while, like they might miss out on. After all, South American football fans can be superstitious folk at times (such as the Argentine who told me in all seriousness prior to the last World Cup that they were bound to win because the year -- two thousand and TEN -- was the same as Maradona's old shirt number), and no-one's forgotten about 1950.

It shouldn't only be Brazilians who are nervous. Uruguay might not be getting any younger but they have tremendous team spirit, and in dragging them through an incomprehensible slump, Oscar Washington Tabarez has proven yet again that he's a fine manager.

The biggest changes, though, have come elsewhere. Both Peru and Venezuela surprised many during the Copa America in mid-2011, both reaching the semifinals as the more traditional powers (apart from Uruguay) struggled. For Peru, it proved to be something of a false dawn, though they're still undeniably a better side than in the second half of the 2000s.

For Venezuela, the last World Cup cycle has been revelatory, even though it's ended with failure to qualify for the main event. Before the current campaign began, Venezuela had won 18 World Cup qualifiers and drawn 14, from a total of 106 played. Today, those numbers read 23 wins and 19 draws. In other words, if we use three points for a win across all those games, just under a quarter (20 out of 88) of the points Venezuela have won in their history have been won in the past 16 qualifying matches -- and almost half in the past 36, if we add in the 22 points in 18 games from the 2010 qualifiers.

Their current FIFA world ranking of 36 is the highest they've ever held. Nearly two years ago, they hosted Argentina -- against whom their record until that day read played 18, lost 18 -- and beat them. After the Copa America, I wrote that they were no longer the continent's whipping boys, and I'm delighted they've managed to continue their progress, even though the playoff spot proved beyond them in the end.

Chile have had the most turbulent time of the qualifiers. Claudio Borghi got off to a poor start and was replaced by fellow Argentine Jorge Sampaoli. Borghi, let's not forget, was himself replacing an Argentine -- Marcelo Bielsa, whose standing in the country couldn't be higher. In some ways, it was an impossible job, but the results certainly didn't help. Sampaoli has brought the fun back to the Chilean national side, and having had an indifferent Copa America under Borghi, they qualified more comfortably than the last day mathematical confirmation of their place might suggest.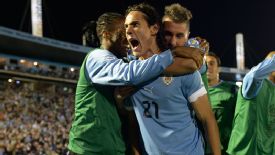 GettyImagesUruguay's win over Argentina meant much more than just another three points.
Ecuador have continued to tread a familiar path; strong at home in the altitude of Quito, they're more capable than Bolivia (who continue to be dreadful away from La Paz), close to sea level, but still not great. In qualifying this time round, they've actually won one point fewer than they got in failing to qualify for 2010.

Making better progress in the past four years have been their close neighbours Colombia. Imported managerial talent has made a difference -- Ecuador are the only one of the four automatic qualifiers who don't have an Argentine manager -- and Jose Pekerman's introduction for Colombia has been revelatory. Having missed out on South Africa by a point, and followed it up with a quarterfinal capitulation to Peru in the 2011 Copa America, the Colombian federation brought in Pekerman and they've not looked back since.

Radamel Falcao Garcia, James Rodriguez and MacNelly Torres, who prior to his move to Al-Shabab this year was, in my opinion, one of Latin American football's best-kept secrets for some years, suit Pekerman's aggressive, attacking style down to the ground and should make Colombia, who are back at the World Cup for the first time since 1998, a force to be reckoned with on their home continent.

It's possible, though, that although Argentina have gone from qualifying automatically four years ago to, erm, qualifying automatically this year, their transformation could prove the most important. Gone is the unplanned chaos of Maradona's "management," and gone are the barely any better organised days of his replacement, Sergio Batista, who should never have got the job. Uruguay's 3-2 win on Tuesday night was a match Argentina didn't particularly care about, but prior to it they'd gone two years without defeat -- it was the longest current unbeaten run of any international side.

Alejandro Sabella is a proper manager and knows defence is still a major issue for his side, but he's also aware that his attacking options will be the envy of every other national team manager in Brazil next year. There were times during the last campaign when Argentina looked imperious, and whilst the defence means they can't be considered favourites, it's going to be very interesting seeing who (if anyone) puts them out next year -- and how.