Consistently inconsistent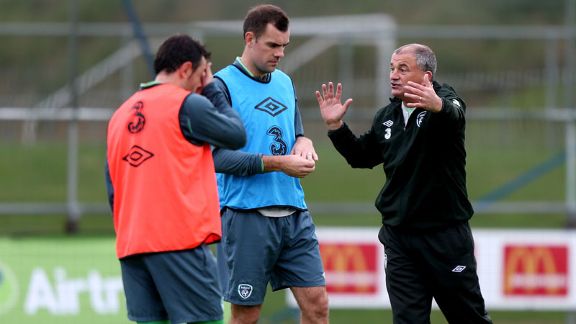 GettyImagesNoel King speaks to Andy Reid (left) and Darron Gibson ahead of the game.
Nothing is ever guaranteed in football, yet when the Republic of Ireland targeted clinching second place in Group C of their World Cup qualifiers it actually did look like being a real possibility. That was until the games started.

Yet to fully shake off the hangover from the 2012 European championships, where they were humiliated by Croatia, Spain and Italy, the team -- and everyone connected to them -- naively thought that more football would be the answer to their woes, rather than properly addressing them.

It was blatantly clear that serious issues were bubbling up with manager Giovanni Trapattoni about his lack of trust in the team, negative tactics, bizarre selections, horrendous man-management, appalling communication skills and an insistence on not watching players for their clubs. Yet it was all ignored, as results would be best remedy for their Italian headache.

Then the wake-up call arrived. It came after 37 minutes of their opening qualifier away to Kazakhstan when a team ranked 116 places below saw Kairat Nurdauletov strike to put them behind. This wasn't how it was meant to be, trailing to a team that their supporters expected to beat easily. Something was clearly not right in the Ireland squad.

Late goals from Robbie Keane and Kevin Doyle eventually saved the team's blushes in Astana, but the following month saw them get ripped apart in a 6-1 loss to Germany in front of a sold-out crowd at the Aviva Stadium. Suddenly panic set in, calls for Trapattoni's exit got louder ahead of a trip to the Faroe Islands, and it looked as though change was on the way.

The two problems with replacing the 74-year-old were that the Football Association of Ireland (FAI) didn't have the money to pay off his contract (Trapattoni's 1.2 million euro salary was being largely funded by billionaire businessman Denis O'Brien) and the stubborn manager was not about to walk away. It was agreed that he could change his ways and turn things around to still compete with Sweden and Austria for second place.

It's important at this stage to state that Irish football supporters are quite realistic. They know the limitations of the current crop of players, they understand that the FAI is crippled with debt and they acknowledge that other nations have made significant strides ahead of them. But once their team stops being competitive, that is when they have a problem.

Once it was accepted by Trapattoni that the team could only achieve so much and go so far, the Irish public deemed that to be unacceptable. Of course there were bigger issues at play, such as the FAI's slow-motion approach to youth development, but there were plenty of talented individuals available to the manager -- he just chose to overlook many of them.

A friendly defeat at home to Greece -- the team Trapattoni said Ireland could emulate following their Euro success in 2004 -- really stung, but draws away to Sweden and home to Austria set them back even further because it was clear that both of their rivals in Group C were extremely average and very beatable.

The confidence around the Ireland squad was lifted somewhat by a decent display in a friendly with England at Wembley, which was followed up by a 4-0 thumping of Georgia and a second qualifying win over the Faroe Islands. But trouble was ahead with defeat at home to Sweden and away to Austria ending their qualification hopes ... and Trapattoni's five-year reign.

Having finally got what they wished for, the Irish footballing community was then left wondering where to go next. The common call was to appoint former Celtic boss Martin O'Neill as he could restore some pride to the set-up, but the FAI has, wisely, decided to take their time in finding the right man. So in the meantime, it promoted under-21 manager Noel King to the senior set-up for the final two qualifiers.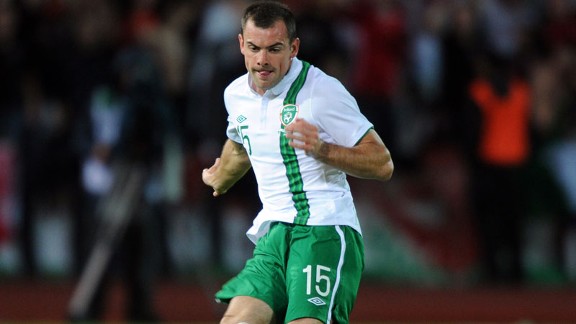 GettyImagesDarron Gibson had not played for Ireland since before the European championships last year.
King, a shrewd tactician and excellent coach, opted to do things his own way. For starters, he recalled three exiled players (Darron Gibson, Andy Reid and Anthony Stokes) and switched to a 4-2-3-1 formation, which required the team to actually work on team shape in training -- something that should be expected at international level, but was not done under Trapattoni during the latter part of his tenure.

Although, instead of recognizing the positive approach that King was making, certain members of the media labeled him as "tactically illiterate" because they were the ones who didn't understand what he was doing. The players certainly did and were full of praise for the interim boss, yet a backlash continued against someone who was addressing key areas in the team.

Defeat away to Germany was inevitable despite the fact that Ireland contained them well to an extent and should have scored a couple of goals themselves. Then they beat Kazakhstan 3-1 with a more attack-minded game plan working well, Reid was outstanding in the playmaker role, but still the negative comments came and questioned King's ways.

From the start of the campaign to the end, the only consistent thing for Ireland was that their standards continually fluctuated along with their confidence. That isn't good enough when trying to qualify for major tournaments and it reveals a deep problem within Irish football, because there are issues to address at every single level of the pyramid.

Appointing someone like O'Neill would be like applying a plaster to the situation. Instead, the FAI needs to be brave and go for someone who recognizes what they are working with, can achieve results and work on the development side, while helping to raise the standards.

It will be interesting in the next few months to see what decisions are made. If they get this call wrong, the FAI could be setting Irish international football back 10 years, such is the rapid progression of other nations.