Hodgson focus now the future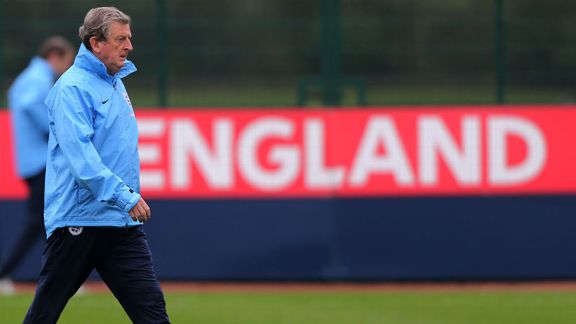 GettyImagesRoy Hodgson has to start thinking about the future beyond the 2014 World Cup.
"We've got a chance. If you want to win the lottery, you buy a lottery ticket," he said. "We have our ticket, which is useful in itself."

Roy Hodgson was nearly tempted to answer the question of whether England can win the 2014 World Cup. Thankfully, his reply stopped short of the type of statement that can write a back-page headline on a tabloid newspaper. Few Englishmen could actually believe that their second global crown will be collected on July 13 in the Maracana.

• Brewin: Hodgson ticks finals box

The heavy weather made of a qualifying group that contained very little in the way of danger should have seen to that. England are an average outfit containing very few players who will be of concern to the tournament favourites. Hodgson himself is hardly a born winner. The nation knows its teams will probably perish in the usual circumstances -- a penalty shootout in the early knockout rounds. That's what the English expect to do.

Brazil, then, is something of a shot to nothing. The national mood is one of regeneration, of commissions that might eventually reach the solution of restoring England to the pinnacle of the world game. Hodgson's broad smile of satisfaction Tuesday was fully in tune with a nation that just felt glad to get there.

The accusation made against Hodgson's appointment last May was that one of its aims was to lower national expectations. Harry Redknapp, the opposing choice, was the type of rabble-rouser who might lift a nation's hopes. However, the Football Association's careful choice has completed all of his objectives so far, and none at the cost of unrealistic expectation.

Yet England cannot just go to Brazil in search of mere sun and samba, of fun, frolics and favelas. The long trip to South America must serve a purpose beyond the mere taking part.

"There is a blend between experience and youth that looks good," Hodgson said. That balance must be tipped toward such youth gaining experience. A trip to the finals has to serve as the bedding ground for the next generation. The adventure employed in approaching the closing pair of qualifiers with Montenegro and Poland must now transfer to Hodgson's selection of his 23-man squad.

Short-termism, almost always the enemy of progress, has to be avoided. There is little sense in taking players for whom this will be the last hurrah if a place in the team is not secure. To return to what, on the evidence of last weekend's response to an article from this writer, remains a divisive subject, Frank Lampard should not go to Brazil if Steven Gerrard, the captain, already has his place secured. Beyond the definites, youth rather than experience must always be the choice.

The Premier League season so far has seen a notable breakthrough of young English midfielders. Ross Barkley is already a squad member alongside Jack Wilshere, whose cameo in the dying minutes against Poland was a brief reminder of his ball-carrying ability. Were Wilshere to become less barrel-chested and his glass ankles to strengthen, a place in midfield would already be secure. However, with the quiet effectiveness of Michael Carrick in evidence on Tuesday, he will have to fight for his place. Nevertheless, gaining experience of such a challenge should do him plenty of good.

And there is further talent to call on, too. At a time of such soul-searching, there have been reminders that the well is by no means dry.

Ravel Morrison's excellent pair of strikes against Lithuania for the under-21 team signalled a talent of the type that can terrorise tournament opposition in the fashion that Michael Owen and Wayne Rooney once did. Morrison's on-field bust-up with Wilfried Zaha in Ipswich suggested there is still significant taming of his temperament to do yet, but perhaps the carrot of a finals place may further harness him.

At France '98, Rio Ferdinand was taken as a teenage defender who was always unlikely to play, but gained the tournament experience that served him well in what eventually proved an exemplary England career, and especially at the finals he played in. Taking Theo Walcott to Germany as a 17-year-old mascot was considered madness at the time, but he has matured into a reliable international performer, though will return to find himself competing with Andros Townsend.

Beyond the blooding of youth, other tough decisions need to be addressed. Leighton Baines' excellence in the final pair of qualifiers must be rewarded. At 28, he is no stripling, but he has four years on Ashley Cole, and offers an attacking threat that Cole no longer can. In fact, Cole has never quite been able to supply the precision of crossing with which Baines provided Wayne Rooney's crucial opening goal.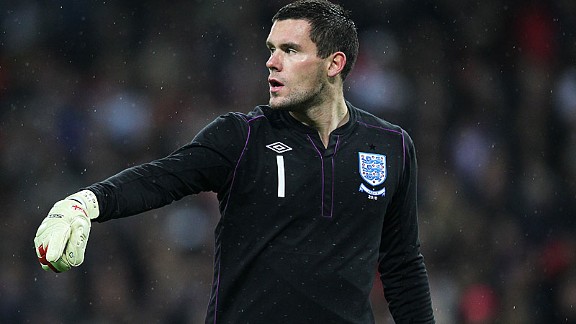 APBen Foster in action in an England-France friendly in 2010.
Joe Hart came through his recent personal crisis, and will -- barring further accidents -- begin the opening group game, but Hodgson must find a credible contender for his place. Celtic's Fraser Forster must be blooded in the friendlies with Germany and Australia to locate reliable backup, while Ben Foster, a Hodgson favourite from their time at West Brom together, should be called upon when he returns from injury.

"When the time comes there will be a lot more than 23 who merit selection, either on the basis of what they've done or what they're capable of doing," Hodgson said in a news conference where he was keen not to make any promises, and comfortable only with discussing the events of the evening and the qualifying campaign.

He now faces six or seven months of the agonies of watching his potential players play club football. There will be trouble ahead. There always is. Somebody will suffer the curse of the metatarsal, others will lose form. England's hopes are never helped by the rigours of a Premier League campaign but Hodgson must not repeat previous -- and repeated -- errors in taking injured players to a World Cup.

Hodgson's selection must be a careful combination of ruthless, progressive and pragmatic, with eyes focused firmly on the future far beyond Brazil.