Three Things: England vs. Poland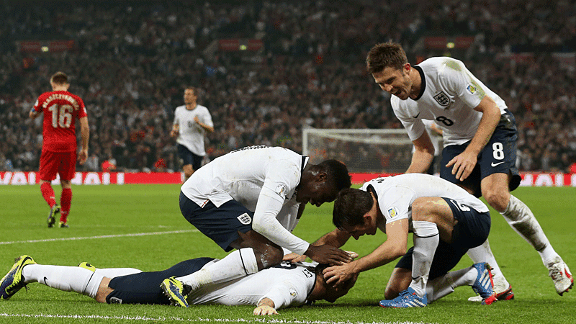 GettyImagesWayne Rooney is mobbed after finding the back of the net against Poland.
Miguel Delaney brings us his three observations from England's 2-0 defeat of Poland at Wembley, which sealed World Cup qualification for the Three Lions.

Rooney has re-invented himself as England's main man

For all his recent issues at club level, Wayne Rooney has only solved problems for his country. Against Poland, he did so yet again. In fact, it is arguably to the forward's credit that his most distracted season with Manchester United coincided with his most dead-eyed campaign for England. This goal at Wembley marked his seventh of this qualifying group. While it is not as many as the nine he struck in the lead-up to 2010, only two of those were genuinely game-changing; many were add-ons to routs.

That certainly wasn't the case throughout this group or in this game. Rooney hit key goals in five matches -- half of his team's 10 games, which have culminated in England finishing on top. That is in no small part to Rooney.

Such clinical finishing was also in contrast to the evident anxiety of Danny Welbeck, whose series of missed chances only fostered English frustration and worry. While it is actually somewhat admirable that the young Manchester United forward did not hide and continued to bravely get into such positions, he needs to develop Rooney's assurance. It was also No. 10 who created one of those opportunities, with a superb ball inside in the 50th minute.

There were actually occasional glimpses of the young Rooney, too -- if in entirely the correct sense. One of the themes of the 27-year-old's career, after all, is that he has never truly recreated the genuinely awesome displays of Euro 2004, when he seemed destined to become one of the country's greats.

On Tuesday night, during one particularly energised moment of the second half, he raced at the Polish goal in the manner he did to France so many years ago. Just when he seemed set to pull the trigger, however, he paused and laid it out wide. It is perhaps indicative. Part of the reason that Rooney has been less lively is because Sir Alex Ferguson has consciously attempted to polish the forward's game, to make it more collectively productive.

The offset was that he often played a secondary role to Cristiano Ronaldo and, most recently, Robin van Persie. It even happened with England, as all of Steven Gerrard and Frank Lampard appeared to claim a more senior status. No more.

For all the talk of the player who appeared in 2004, Rooney himself recently claimed that he has not come close to fulfilling his international career because he has yet to score in a World Cup. He has done more than anyone else to get them there.

A departure in style?

As common as it has become for Rooney to score a key goal, it was just about the only constant to this performance. In contrast to basically the entire Roy Hodgson regime so far, England was hugely uncertain at the back but enjoyably lively up front.

Similarly, if the number of times that Robert Lewandowski got in behind the defence was a worry for Hodgson, the sheer amount of chances that his side created was encouraging. This is something we have not seen enough from England, not least for the variety of interchanges in the team's attacking.

It was also not the only departure. For one, there was the display of Leighton Baines from left back. If he will never quite reach the defensive excellence that Ashley Cole displayed at his peak between 2004 and 2011, the Chelsea full back has never been capable of the type of glorious cross that ultimately unlocked Poland here. Their defence simply couldn't deal with it. Similarly, there was the composure that Michael Carrick displayed.

The midfielder remains something of a curious case. Although he never quite produces the truly influential passes during top-level games that would at least go somewhat to justifying the otherwise outlandish comparisons with Andrea Pirlo, there can be no disputing the manner in which he keeps things ticking along, just moving the play on an element. That was genuinely important here when England looked so anxious early on.

In other games, Hodgson may require another option. That has been the recurring issue. The other question, however, is how much of this will recur.

Was it the consequence of a specifically tense and vibrant occasion, or an attacking display to genuinely try and build on? Time will tell.

It did mean, however, that England doesn't need to spend that time preparing for a playoff.

A lesser Lewandowski?

Quite simply, this was not the kind of performance that has seen so many clubs looking to purchase the Polish striker. It did go a long way, however, to explain why Pep Guardiola has reportedly gone a little cool on Lewandowski at Bayern Munich. He squandered as many chances as goals he scored against Real Madrid.

The displays at the other end of the pitch also offered some reflection. While Rooney illustrated a forward at his international peak, and of the kind Lewandowski needs to grow into, the Pole's profligacy was only matched by Welbeck.

Naturally, Lewandowski's development is somewhere in between those two United forwards, but there are also unusual contrasts in his own career. For a player who can be so emphatically brilliant, he can also be atrociously wasteful. On Tuesday evening, he was the latter. What happens next will be revealing.