Brazucas, Belgians, and Brazilians at Barca
We've long been accustomed to goalkeepers moaning about tournament footballs, but the 2010 World Cup ball, the Jabulani, was so unpopular that even the outfield players hated it. Let's hope that adidas does better next summer with the "Brazuca" model. What does Brazuca mean? Well, I'm glad you asked. It means taking a sense of pride in the Brazilian way of life. With a bit of luck, adidas will take a sense of pride in building its new ball and ensure that it doesn't fly off toward the floodlights as soon as you put some power behind it.

The famous Maracana stadium has been refurbished for the World Cup and, if Brazil's exhibition match against England was anything to go by, the construction team has done an incredible job. For one, the acoustics are phenomenal -- every time Brazil attacked, the crowd's roar could have popped television speakers all over the world. Granted, so you can't fit 200,000 people in there anymore, but the 78,000 who remain will make you think that you can. One of the planet's most iconic football stadiums is now ready to host the world.

It was back in 2007 that we first suspected Belgium might have a golden generation in the making. Its U-17 side, complete with Eden Hazard and Christian Benteke, came a penalty shootout away from reaching the European Championship final. Well, it's safe to say that the young Belgians have fulfilled their potential. These days, every major club in the world wants a Belgian in its team. Last week's 2-1 victory over Serbia put Belgium in pole position for automatic qualification. Can the Belgians go all the way and win it? There's no reason why not. Expect to see the phrase "Dark Horse" used regularly to describe this lot.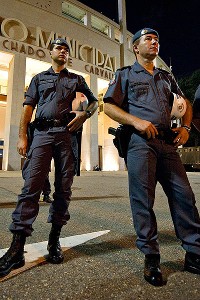 Nelson Almeida/AFP/Getty ImagesHopefully the police in Brazil don't need to get involved to stop overzealous caxirola players
There was much to dislike about the last World Cup, but nothing was as irritating as the noise of the vuvuzelas. Those dull, one-tone plastic horns made every football match sound like an army of bumblebees was staging its own Grand Prix. Thankfully, they won't be making an appearance in Brazil. Nor will the Brazilian Ministry of Sport approve the use of caxirolas, a gentler percussion instrument invented specifically for the tournament but swiftly banned by FIFA in case it was used as a weapon or, horror of horrors, as a vehicle for unauthorized advertising. Instead, we'll just have crowd noise. Thank heavens for that.

Brazil is a vast nation, the fifth largest on Earth, and with stadiums located all over, we'll certainly see a lot of it next year. The joy of staging a tournament in one country, rather than spreading it across two or more, is that the world learns so much about the hosts and their culture. That being said, FIFA will have to make sure that it plans the fixtures carefully. Surely it won't be silly enough to tell teams to play one fixture in Porto Alegre in the south and another in Manaus in the north. There are nearly 2,000 miles between them.

What kind of Neymar will we see in 2014? Will it be the Neymar long prophesied by Brazilian supporters, the golden boy with the world at his feet? Will it be a burned-out husk, a shuffling shade bewildered and broken by expectation? Brazil, with Pele in 1958 and Ronaldo in 1998, has known both. Let's hope that it's the former and that Neymar's move to Barcelona helps him raise his game to the next level. There's something about Neymar's style, the way he flickers around the ball like a kingfisher, that lifts the heart. This could be his World Cup.

Europe may be considered the home of the most glamorous domestic leagues, but its national teams have never fared well across the Atlantic. No European side has ever won a World Cup in North, Central or South America. It will be fascinating to see how this generation of players fares in Brazil. Spain's three consecutive international successes will mark it as the favorite, though Germany is just as strong. Can the Europeans buck a trend that stretches back 84 years or will they fall foul as their predecessors did before them? We can't wait to find out.


---
World Cup 2014 Coverage
- Bennett: Shadow of '70s looms over Brazil
- Macintosh: Brazucas, Belgians, and Brazilians at Barca
- Gab Marcotti: World Cup favorites
- England: Hodgson faces a history of failure
- Is this a tournament too far for Spain?
- World Cup no-hopers
- How good are the U.S.?
- SPI: World Cup interactive map
- Top up-and-coming players
- The dark horses in Brazil
---
European fans won't have to worry about antisocial kickoff times next year. FIFA has elected to schedule all the knockout games for the afternoon, sparing the old continent from two weeks of late nights. FIFA said that it took into account "rest periods for players, local temperatures, global broadcast schedules and fans' travel plans," but I think we all know which of those was deemed most important. With a four-hour difference between Sao Paulo and London, the lucrative European TV advertising markets will be well served with two weeks of prime-time evening football. Bad news for the players. Good news for anyone in Europe who wants to keep their job.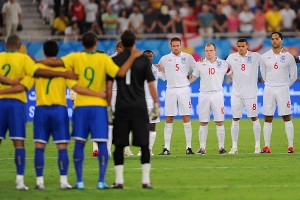 Michael Regan/Getty ImagesBrazil and England have played out some tight matches in recent times
Let's be honest, everyone in the world likes laughing at England. It happens so often now that even the English tend to join in. A summer tournament in Brazil for an underwhelming, overhyped side led by a manager whose tactics were recently dismissed as a step back to "the dark ages"? I think we all know how that's going to end, don't we? The only problem is that with some difficult qualifiers still to come, there's every chance that England won't even qualify, thus denying the entire planet of a good belly laugh. Spoilsports.

Every World Cup throws up one nation of unlikely heroes for whom qualification alone was the crowning moment of glory in its football history. This year, that nation could be Ethiopia. The Walia Antelopes can secure a place in the final playoff round if they beat South Africa this week. It's not as unlikely as it sounds. Ethiopia sits two points clear at the top of its group and held the hosts of 2010 to a draw when they met earlier in the campaign. Sewnet Bishaw took his nation to the African Cup of Nations for the first time in three decades in 2012. If he pulls this off, he'll be a national legend.