"Giroud 2 Benzema 1" was L'Equipe's headline on Saturday, the morning after France's two main strikers each found the net against a low-quality Australia side in a 6-0 romp in the Parc des Princes.

The Arsenal striker's first-half double more than justified Didier Deschamps' decision to start with him ahead of Karim Benzema for the second successive game. The "scoreline" of the matchup between the two striking rivals was a reflection of more than their goal tallies. No doubt Olivier Giroud, replaced by his rival at halftime, had scored more points in Deschamps' eyes too. In the buildup to the game, both Benzema and Giroud had insisted it was not a case of going up against each other. L'Equipe's headline -- quite rightly -- reflected the reality.

There was no doubt Benzema was first choice, however, when Deschamps replaced Laurent Blanc in summer 2012. There was little argument either, with Giroud only freshly transferred from Montpellier to Arsenal, a Ligue 1 top-scorer's crown and French title counting for little compared to the undoubted superior individual talent of Benzema. Last week, tellingly, Deschamps talked about "an evolving hierarchy" between his strikers -- having already been dropped for last month's qualifier in Belarus, Benzema must have known he would again be marginalised come Friday.

Ostensibly, the reason was Benzema's barren run in front of goal -- a mammoth 1,217 minutes before he ended that after just six more minutes against the pitiful Socceroos. A neat, near-post finish it was too, but it capped the evening's scoring, and though it could easily be argued that France then took their foot off the gas, it could equally be put forward that Benzema's presence and the team's subsequent inability to find the net was indicative of why Giroud has sneaked ahead.

"I had confidence in Karim; I still have confidence in him," said Deschamps last week, summing up why Benzema has not been working in his side. "With Olivier, they have different characteristics. One can replace the other, but not always in the same way." Intrinsically more talented than Giroud in pure footballing terms, the former Lyon star just does not fit into Deschamps' system.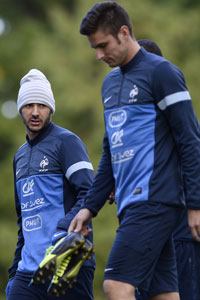 GettyImagesOlivier Giroud appears to have displaced Karim Benzema as France's first-choice striker.
The 1998 World Cup winner has tried, though only in lukewarm fashion, to use both strikers in a 4-4-2, but neither looked comfortable while the team's strengths were not brought to the fore, namely their wealth of quality to be used in a 4-2-3-1. In Franck Ribery, Samir Nasri and Mathieu Valbuena, as well as Dimitri Payet and Loic Remy, Deschamps has high-carat options behind a lone striker. The tactical fluidity, and the understanding between Ribery and Nasri in particular, was evident against the Australians and suggested they could do similar damage to better teams. Valbuena, rested for the friendly so as to be fresh for Tuesday's more meaningful encounter with Finland, has been arguably Deschamps' most effective performer in the last 14 months. Play Giroud and Benzema together, and that central playmaker role -- so dear to the French since the advent of Zinedine Zidane -- is lost.

If you are restricted in terms of your formation, then you need the players to fit that, and Giroud -- crucially -- works so much better in the role of lone striker than Benzema. As Bixente Lizarazu pointed out in his L'Equipe column last week, "The Gunner is a penalty-box forward" and is best served from the flanks. That was proved true with his brace against Australia, both goals stemming from the left side where Ribery is positioned, the same Ribery who has revelled in an identical role in an identical formation (until Pep Guardiola's arrival) at Bayern Munich.

"I don't think he's an out-and-out striker anymore," explained Jean-Pierre Papin, the former European Footballer of the Year, with regard to Benzema recently. "He's more a playmaker or support striker. ... When you see Karim drop really deep to get involved in play, that's what makes me say he's more a playmaker." Dropping deep in a France shirt not only gets him entangled with those just behind him -- limiting their effectiveness -- but means that he is simply not in the penalty area when the ball comes in. Giroud too plays his bit for the team, though farther up the pitch. His physique allows him literally to play a pivotal role, holding the ball up or flicking it on to allow those positioned behind to run beyond him and pose a goal-scoring threat; all four of France's goals against Belarus last month involved the Arsenal man, whose eight goals in 15 competitive outings give him the edge on current form too.

There are mitigating factors for Benzema. While Giroud is a relatively late developer in football terms, Benzema has been scrutinised since he broke into the Lyon first team along with Hatem Ben Arfa, creating a bubble of pressure and expectation around him from which he rarely escapes. The slightest step out of line or dip in form is immediately pounced upon, while his naturally nonchalant demeanour means the French public are less forgiving with him than with the more approachable Giroud.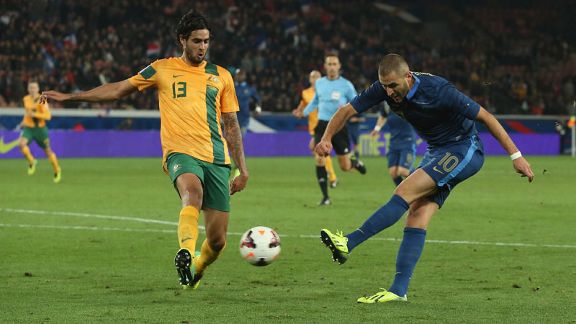 GettyImagesKarim Benzema ended his 1,224-minute international scoring drought with a goal in France.
"A striker is asked to score goals, not do the work of a right back. When people say that there's an attitude problem, they mean that the bloke doesn't want to play football. Frankly, people shouldn't say that because when I go out onto the pitch, I want to play football," said Benzema, defending himself last week. "A striker has to be the first line of defence, but I'm not going to run back to Hugo Lloris' goal."

Booed when he came off the bench at the Parc des Princes, fans mocked him by chanting "He's scored, he's scored" after he eventually found the net for his country. Benzema's response -- a raised thumb -- not only got those fans on side as they then gave him an ovation, but also may have helped alter his image as something of a dilettante of the ilk of his peers Ben Arfa, Jeremy Menez and Nasri.

Even his former Lyon teammate Juninho Pernambucano, in his role as a French radio pundit, suggested recently that "football is no longer the priority in Karim's life", but the Madrid forward can still count on one fan of note. Zidane, assistant coach to Madrid boss Carlo Ancelotti, told L'Equipe on Friday morning: "In the France team, it's like he's the most important player along with Ribery, and we ask more of him. He has to score, be all over the place, and is even judged by what he says. But it's a goal that's going to allow him to get out of this. That's why I tell him: Don't give up. You have the talent, you just need a little spark and you'll get back to your best."

Having scored against Australia, perhaps he now will, and Deschamps would likely welcome the extra option -- perhaps being able to employ Benzema in a 4-3-3 with Giroud and Ribery, or even a Bayern-style 4-1-4-1 if the game situation called for it. But come kickoff against the Finns, Benzema will likely have the opportunity to ponder just how that might work as he sits on the substitutes' bench once again.