"Albacete, caga y vete," they say. It's not a particularly pleasant phrase, but they say it's not a particularly pleasant place. "Albacete," runs the translation, "take a crap and get out of there."

Albacete is deep in Don Quixote country, on the arid plains of Castile and on the road between Madrid and Valencia. The joke goes that there's not much going on there and not much to see, so the best thing you can do when you get there is leave, having done the necessary first.

Even on a normal week, it's unfair, but this week all the more so, as there will be much to see. The world champions, for a start.

Spain's 2-1 victory over Belarus in Palma, Mallorca, took them a step closer to Brazil 2014. On Tuesday night, la selección play their final qualifying game against Georgia in Albacete, knowing a draw will guarantee that they reach next summer's World Cup. The stage will be the Carlos Belmonte Stadium, attendance: 17,500. Spain are the best international team in history and are playing their last World Cup qualifier -- not some friendly but their final, decisive game -- in a small stadium in a small town.

If it is a striking statistic, it is not an isolated one. Run through the list of Spain's most recent home matches and it is repeated over and over. They have just come from Palma, where the stadium holds 23,000. Before that, it was Gijon (30,000), the Calderon in Madrid (55,000), Pontevedra (12,000) and the Olympic Stadium in Seville (57,000).

Go back a little further and the list runs: Malaga (27,000), Alicante (29,000), Logrono (16,000) and Granada (23,100); Madrid's Santiago Bernabeu (78,000), Salamanca (17,400), Murcia (31,000), Atletico Madrid's Calderon again and Merida (14,600); La Coruna (35,000), Bernabeu (78,000), Sevilla's Sanchez Pizjuan (45,000), Villarreal (18,000) and Albacete again; Murcia again, Santander (22,500), Huelva (21,700) and Elche (26,000); Malaga again, Las Palmas (20,000), Madrid and Oviedo (30,000); Mallorca again and back to Madrid.

So much for intimidating atmospheres and home-field advantage. Of those stadiums, 14 are not even topflight grounds, nor do they feel like it. The noise is limited, and the concept of miedo escénico, or stage fright -- invented by Jorge Valdano to describe how visitors feel -- is virtually absent. It's not exactly "Welcome to Hell," and there's something quite surreal about watching Spain play at Pasaron in Pontevedra, with just 12,000 people cheering on the best team in the world, like Robert De Niro taking the starring role in a school play.

It is not always ideal for the players either. Spain's headquarters is in Las Rozas, 25 kilometers northwest of Madrid. They meet and train there every time there is a match, and during most international breaks, there are two matches.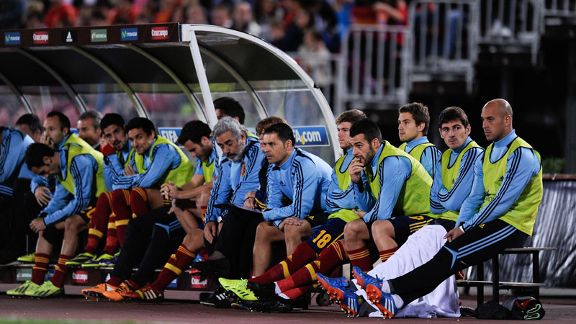 GettyImagesSpain faced Belarus at the Iberostar Stadium in Palma.
This time around is an example: Spain's players arrived in Madrid on Monday night, six of them from England. The formal concentración began Tuesday. They trained in Las Rozas on Tuesday and Wednesday. On Thursday, they flew to Mallorca and trained in the stadium then played there Friday. On Saturday, they were given the day off. On Sunday, they will return to Las Rozas, where they will train before traveling to Albacete on Monday. There, they will train Monday and play Tuesday. Then they will head back to their clubs, most of them via Madrid.

The good news is that Albacete can be reached by train. More often, both matches are played in cities best reached by plane. In other words, for most players, joining the Spanish squad means six flights rather than two.

There is a basic reason for that: Spain does not have a national stadium. National identity is both complex and contested here, and some view centralism with suspicion. Spain has a devolved political system in which regionalism is strong and peripheral nationalism is too. Building a national stadium would inevitably provoke fierce debate, and you can't simply "invent" a tradition. So using clubs' grounds, or Olympic stadiums in Barcelona and Seville, is inevitable.

Decisions about which grounds can prove complex too. Not everyone embraces the selección, and there is a nervousness about taking Spain to certain locations, with some regional federations never requesting the chance to host the national team.

They have not played in the Basque Country since 1967, still during the Franco dictatorship, and that night the "home" crowd was not exactly effusive in its support for Spain. The Camp Nou, home to FC Barcelona, whom former president Joan Laporta describes as the unofficial Catalan national team, had held just five Spain international matches -- in 1960, 1963, 1969, 1980 and 1987 -- before the final of men's football at the 1992 Olympic Games. It has yet to hold one since.

Every so often, the possibility arises and the debate is served: Why shouldn't Spain play there? Usually, the idea is quietly dropped. When Barcelona and Athletic Bilbao met in the final of the Copa del Rey in 2012, fans from both sides whistled the Spanish national anthem. Few want a repeat at a Spain game.

Yet if that helps to explain the absence of big grounds like San Mames and the Camp Nou, it is not the whole story. Time was, when Spain needed a big win, when they were confronted by a huge match against a tough opponent, they played in Seville or Valencia. Or in the capital. Over the course of Spain's history, they have played 62 times in Madrid, 43 times in Seville and 32 in Valencia (followed by 18 in Barcelona, nine in Gijon and eight in Malaga). Now, it is far more spread around; smaller towns, smaller grounds, are hosting Spain. The Spanish Football Federation, the RFEF, has often insisted on the idea of the national team being "everyone's."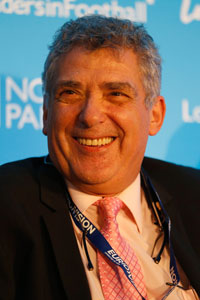 GettyImagesIt is in Angel Maria Villar's interests to play in an array of stadiums.
For Angel Maria Villar, the president of the RFEF, the logic is clear. He represents a national federation made up of regional football federations -- and it is the regional presidents who vote for the national president. He depends on them, and they depend on him. The greatest gift he can give them, the biggest favour he can do, is to bring Spain to their stadiums and towns. Requests from regional federations arrive daily: Please let us host Spain. It is a tactic that is repeated on a global scale with Spain's friendlies away from home -- that the selección consistently cross the Atlantic to face Latin American nations is a political decision more about strategy than soccer.

Here's the thing: Cynicism plays a part, but when smaller towns host Spain, it is special. Yes, it is true that it can feel a bit weird to watch the world champions in Mallorca, say, where a running track separates the fans from the action and there are only 23,000 fans in the first place. Yes, the travel is kind of ridiculous in an already busy schedule: six flights in a week, three or four times a year, plus the inevitable trips to the other side of the world. And it is true that the players don't exactly appreciate it. The pitches are different sizes, and the surfaces sometimes of wildly varying quality.

But when you go to Spain's home games, it's hard not to be won over by it. There's something special in the air -- excitement, gratitude, a real sense of the circus coming to town. Go to Albacete or Pontevedra or Salamanca, cities that don't get first-division football, and they embrace the national team. It feels like the selección really is everybody's. For supporters in Spain's smaller cities, it is a real opportunity, a real occasion, in a way that is not replicated when they play in Madrid. The local papers fill with page after page, and for a couple of days, they feel like the centre of the country, the centre of the universe -- this is their moment too.

The stadium fills too. Usually, it fills twice, in fact -- not just for the game but also for the training session the night before. And on the night, Spain tend to do what Spain do: win. Look back at that list again: 29 home matches in 20 cities, and the 30th match to come Tuesday with a second trip to the Carlos Belmonte. In all those games, Spain have scored. 29 matches, zero defeats. If that run becomes 30 on Tuesday night, Spain will be heading to Brazil. Via Albacete.