The final reckoning in South America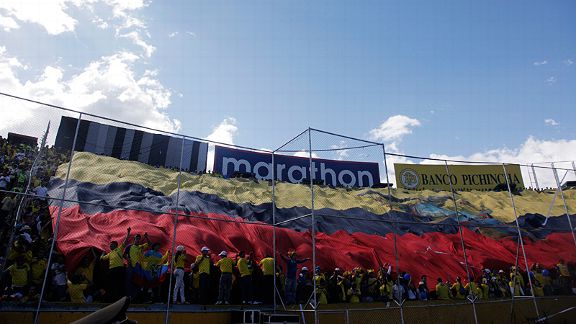 GettyImagesHigh stakes at high altitude when Ecuador hosts Uruguay.
Notoriously tight, furiously competitive, the surprise is that South America's marathon World Cup qualification campaign goes into the last two rounds with so little still to be decided.

Argentina are already through. Barring an extraordinary mathematical accident, Colombia will join them. At the other end, Paraguay, Bolivia and Peru have run out of road, and Venezuela need a miracle.

In short, then, there are three places left -- two automatic, the other one a spot in a playoff. And there are three teams chasing them. Two of those teams will be able to make plans for Brazil 2014 in the next few days. The other will have to think about overcoming Jordan -- against whom Chile, Ecuador or Uruguay would all consider themselves strong favourites.

Chile, though, will be very disappointed if they have to settle for the playoff. They are the form side. Under electric little coach Jorge Sampaoli, they have won their last four games. Another win ensures them a place in Brazil. Two draws will almost certainly see them over the line. One draw may even be enough.

The real battle goes on below them, between the side currently in fourth, the last of the automatic places, and the fifth-place team. Ecuador and Uruguay are separated only on goal difference, which seemed an unlikely scenario just a few months ago. Going into June's matches Ecuador were second in the table, seven points clear of sixth-place Uruguay, and with a game in hand.

That lead has been whittled away. Ecuador have had something of a crisis in confidence. The tragic early death of Cristian Benitez was a blow to morale; another blow came in a friendly played against a second-string Germany side in the United States at the end of May. Ecuador's defensive deficiencies were ruthlessly exposed by the dynamism of their European opponents.

Germany were four up after 23 minutes. The South Americans hit back strongly, and perhaps ended up deserving better than a 4-2 defeat. But doubts about their capacity to defend were sown. The team have not subsequently played with the same conviction, accumulating two draws and two defeats in four World Cup qualifiers.

Uruguay, meanwhile, have displayed their legendary fighting spirit at the time they needed it most. Back in June, the playoff spot looked like the realistic limit of their aspirations. Since then, they have won away at both Venezuela and Peru -- direct rivals for fifth place at the time.

In the context of a CONMEBOL World Cup qualifying campaign that has seen just 12 away wins to 37 home, these are superb results. And then, with a heavily patched up defensive unit, Uruguay ended Colombia's long unbeaten run with a 2-0 win in Montevideo. Overtaking Ecuador and claiming an automatic place became a realistic ambition -- but it will need another brave away performance, this time at the altitude of Ecuador's mountain fortress of Quito. This is undoubtedly the standout game of Friday's round.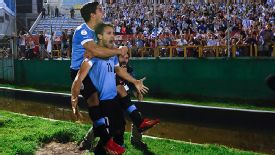 APUruguay's Luis Suarez has the ability to trouble Ecuador in Quito.
Uruguay will surely sit deep, look to suck Ecuador forward, and slip Luis Suarez on the counterattack, where he is capable of setting off the panic bells in that weak defensive unit. But Ecuador, with the sinuous dribbling of Jefferson Montero and the powerful shooting surges of Antonio Valencia, have plenty of tools to unlock the Uruguayan defence. Some aging limbs in the visiting side might really feel the effects of the altitude (2,800 metres above sea level) as the second half wears on. It truly is a fascinating tie.

The other matches are of more than academic interest. In front of their own fans in the sweltering Caribbean port of Barranquilla, Colombia will want to seal their place in style, while also dismissing a feeling that they have gone off the boil in the past few months. Chile, full of attacking verve, will want to demonstrate that they can defend away against such a dangerous opponent.

Meanwhile, Venezuela and Paraguay both want to build for the future. In Paraguay's case, it was never going to be easy to replace the generation that pushed Spain so hard in the 2010 World Cup quarterfinal. Francisco Arce, coach at the start of the campaign, surely tried to change too much too soon. Now Paraguay have nearly two years to build toward the next campaign. And Venezuela have certainly become more solid under coach Cesar Farias -- but have missed out on making their World Cup debut as a result of not scoring enough goals. Last time out against Peru, a young Venezuela side with a more attacking balance played an excellent second half. Can that be sustained?

In the case of the Peruvians, that 3-2 defeat was yet another disappointing result away from home. Since failing to reach the 1998 World Cup on goal difference, Peru's record on the road comes straight out of the chamber of horrors -- in the subsequent four campaigns, their trips have yielded two wins, six draws and 26 defeats, with 21 goals scored and 75 conceded. Their last away win in World Cup qualification came all the way back in June 2004. This has to be improved if they are to make it to the competition once more. Friday's trip to Buenos Aires gives Peru an opportunity to end their away campaign on a high note -- and it also offers host Argentina a chance to look at some of their options.

Of course, the primary aim of a World Cup qualification campaign is to get the team safely over the line. But there is also a secondary objective -- prepare for the competition. On Friday a run of injuries means that Argentina will be without several first-team players; the midfield axis of Javier Mascherano and Fernando Gago will be missing. Striker Gonzalo Higuain is another absentee -- as is captain and talisman Lionel Messi, top scorer of the qualifiers, who in the course of this campaign has at last reproduced his Barcelona form in the shirt of his country.

Argentina's plans to lift the trophy next year are, of course, built around Messi. But what if injury should strike again? Like it or not, coach Alejandro Sabella needs to prepare for just such a dreadful eventuality. The Peru game, then, is doing him a favour.