Wilmots makes Belgium's golden generation shine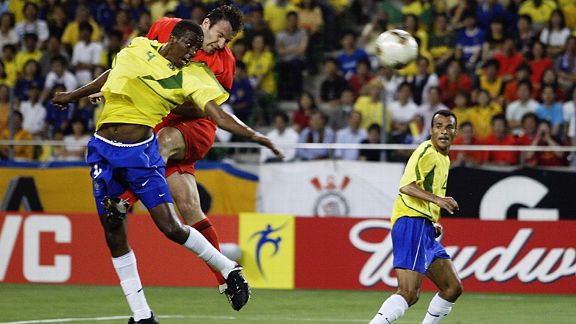 GettyImagesMarc Wilmots scores Belgium's goal that never was against Brazil.
Belgian fans are unlikely to ever forget June 17, 2002 -- the day their national team was denied a perfectly valid goal against Brazil in the knockout stage of the World Cup. The Red Devils performed brilliantly in the first half of the last-16 clash, and Marc Wilmots headed home a Mbo Mpenza cross to open the scoring in Kobe, Japan, only for Jamaican referee Peter Prendergast to mysteriously whistle for a foul.

Brazil eventually won 2-0 thanks to late goals by Rivaldo and Ronaldo, but Belgium were their toughest opponents on the way to lifting the trophy. It is impossible to predict what would have happened if Wilmots goal stood, but Belgium could well have faced England in the quarterfinals.



It was a minor miracle that Wilmots played a part in his fourth World Cup at the age of 33, after undergoing no fewer than 13 operations during his career. Not only did he captain the 2002 team, but he scored in each of their group-stage matches, including the crucial 3-2 win over a superior Russia. When Prendergast-aided Brazil put Belgium out of the World Cup in Korea/Japan, Wilmots knew it was his last international cap. He could never have imagined it would also be the last game Belgium has since played at a major tournament. For a decade the nation has failed to qualify for either the World Cup or the European Championships, and only now, with Wilmots at the helm as head coach, are the Red Devils finally set to return.

A draw in their UEFA Group A qualifier against second-place Croatia on Friday would be enough to book Belgium's ticket to Brazil 2014.

- Brassell: Belgium's youth

"If I hadn't been strong mentally, I never would have recovered from injuries. With enough willpower, you can knock over quite a few mountains," Wilmots said a few years ago. That is his credo. Wilmots was never blessed with exceptional talent, but succeeded in his playing career thanks to self-belief and an extraordinary desire to win.

A son of a farmer, he was soon nicknamed the Bull of Dongelberg in his home country, due to physical strength and nonstop running. After moving to FC Schalke in 1996, another nickname was added: Das Kampfschwein, the Battling Pig. It was meant as a compliment.

Wilmots' commitment to the course made him an instant idol with the blue-collar fans of Schalke, and he rewarded them by scoring the winning penalty in the UEFA Cup final shootout against Inter in 1997. Back then, the final was a two-leg affair. Wilmots netted the only goal in the home match and helped to defend heroically in the return, and then he ran amok around the San Siro pitch after bringing the Royal Blues their only European title in history.



Wilmots' attitude is fondly remembered in Gelsenkirchen. "He is the most positive footballer I've ever met at the club," says leading Schalke journalist Joerg Seveneick. "He was never down. Even after the worst defeat, in the midst of the deepest crisis, all you needed was to talk to Wilmots, and suddenly the future looked bright again. He was certain we can overcome everything."

That mentality helped Wilmots have an illustrious career, despite being written off by many for allegedly lacking basic skills. He always aspired to progress, and improved his ball control and tactical awareness immensely as years went by. A born leader, he bore the weight of all his teams on his broad shoulders and showed them the way up, winning unlikely titles along the way. Now he is doing the same from the bench; as Belgian journalist Peter Vandenbempt simply explains: "Wilmots coaches the way he played."

But it all could have been so different as the Belgian FA didn't plan to give Wilmots the coaching job at all. Wilmots worked as Dick Advocaat's assistant with the Red Devils before the Dutch coach was lured away to Russia in 2010 by a very good financial offer. Georges Leekens was brought as the new Belgium coach, and Robert Waseige, who coached Wilmots at the 2002 World Cup, was left raging: "I don't understand why Marc wasn't even considered for the job. That was an unpleasant surprise for me."

Bizarrely, Leekens left abruptly, in May 2012, to take charge at Club Brugge. His decision was so unexpected that Belgian FA chairman Francois De Keersmaecker learned about it watching TV news. Dismayed, the federation installed Wilmots as a temporary solution and went searching for a permanent big-name replacement. It turned out they didn't have enough cash to lure targets Eric Gerets, Michel Preud'homme, or Louis van Gaal.

In the meantime, Wilmots went about proving there was no need to look any further than him and won everyone over quickly; the players accepted his leadership immediately, and a friendly at Wembley against England, even though it ended in a 1-0 defeat, was extremely positive.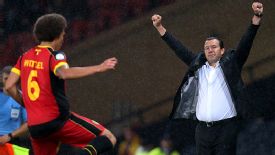 APMarc Wilmots celebrates Belgium's victory over Scotland in their last World Cup qualifier.
The logical decision was finally taken by the Belgian FA in June 2012. "Marc had taken over this role in unexpected and difficult circumstances, and confirmed since then all his excellent work in recent years. He succeeded incredibly quickly in making a big impression as coach among the players and the coaching staff," read an official statement after he was given a contract as head coach until 2014.

The emergence of Belgium's so-called Golden Generation is not a new and unexpected occurrence. Many of the team's stalwarts -- Vincent Kompany, Thomas Vermaelen, Jan Vertonghen, Moussa Dembele, Marouane Fellaini and Kevin Mirallas, to name just a few -- are in their mid-20s and have been on the scene for a while. One can say that they only recently came of age, and that younger stars like Eden Hazard, Kevin de Bruyne and Romelu Lukaku made the team much stronger, but the bottom line is that Belgian success was expected earlier than 2013.

Nevertheless, many journalists and fans remained pessimistic for years and didn't believe the talented players possessed the right mentality to break the tradition of constant failure. When talking to Belgians about the possibility of qualification for major tournaments, "it's not gonna happen" was the response. But now the nation believes that great things are just around the corner.

The results came under Wilmots. Under Leekens, roughly the same squad failed miserably in a relatively comfortable group when trying to qualify for Euro 2012. The fiasco included a 1-1 draw in Azerbaijan and an injury-time equaliser conceded in a 4-4 home fixture against Austria. Discipline could have been better, with Hazard famously strolling out of the stadium before the game ended, disappointed at being substituted and proceeding to buy himself a hamburger. The FA believed Leekens could fix all that. Luckily for Belgium, he chose to leave the international stage, and was eventually sacked at Brugge just four months later.

The feeling of togetherness under Wilmots is tangible. He effortlessly manages a squad full of huge egos, and all the stars are pulling in the same direction. That is a very significant feat, especially in such a diverse and politically complex country as Belgium, with players coming from many different backgrounds and cultures. The atmosphere, though, could hardly be better, as can be seen on this YouTube hit, which includes Hazard playing with Christian Benteke's ear.

Wilmots' leadership is exactly what was needed to turn a bunch of talented individuals into an all-conquering unit. "I was commentating on too many tournaments without a Belgian team participating. It's time to change that," he said when he got the job.

After starting the qualification campaign on a positive note, the coach said, "The joy of people in the stands, the Belgian flag, the feeling of patriotism -- that's what is so important."

His team had the guts to come from behind to get a 1-1 draw in the home game against Croatia a year ago. Other than that, the rest of the matches ended in victory. Now the country is totally united behind the team, and this is not easy in Belgium. Wilmots, who comes from the French-speaking southern region of Wallonia, is now equally hailed in the northern Dutch-speaking region of Flanders. In fact, it would be difficult to find a more popular figure in the whole of Belgium.

Barring disaster, Wilmots will take his squad to Brazil. For a man who experienced such a great injustice against Luiz Felipe Scolari's Brazil side more than a decade ago, that will be a sort of closing of the circle. There is no doubt Wilmots would love to take on Scolari again, with an infinitely more skillful team than the one he captained in 2002.

"When I replay that moment in my head, I go mad," Wilmots used to say. He is out for revenge. Brazil, beware the Battling Pig. Belgium will be arriving with firm belief that they are able to go all the way. After all, their coach has always thought that willpower can move mountains. Add talent to that, and the potential is frightening.