Five most crucial qualifiers
Ahead of Friday's crunch World Cup qualifiers, Miguel Delaney picks five games that promise to throw up an interesting headline.

England vs. Montenegro

Why you should watch: Of the 22 World Cup places still up for grabs ahead of Friday's fixtures, it is the spot at the top of UEFA Group H that involves the tightest situation and most permutations. As it stands, just three points separate four teams, with half of the remaining six fixtures involving direct face-offs.

The match to definitively tilt it all either way is likely to be this game at Wembley, with both teams keeping an ear out for events in Kharkiv. There, second-placed Ukraine on 15 points host fourth-placed Poland on 13, ahead of the latter's own trip to London on Tuesday. Montenegro lie in third on 15 and unbeaten away from home. Complicating it all further is that, although England are on top of the table with 16 points, they are hardly in top form. In what has been a cautious and tense group on the pitch, it does feel like single moments can have disproportionately significant effects.

England are under more pressure but have far fewer injury worries than their technically inclined hosts. Stevan Jovetic did, however, distil the importance of the game for Montenegro: "For us, it means everything because we are such a small country. It is important not just for football reasons but also the prestige of the country."

What it will mean: The anxiety is revealed by the rather extreme disparities in different outcomes. An England win would put them in full command, but anything less will leave them in grave difficulty as regards direct qualification given that Ukraine face San Marino in their final game and Montenegro are home to Moldova. A draw would give the visitors here both a hugely creditable result and fighting chance but, as they are eight goals behind Ukraine in goal difference, they arguably need to forge their own destiny and win.

Players to watch: After a controversial week for Jack Wilshere, the onus will be on the midfielder to respond the same way he did for Arsenal against West Brom: by hitting a key goal. The sparkling Jovetic will be hoping to make up for recent lost time at Manchester City, and show England how his two appearances in the Premier League have not been enough to showcase his talents.

Mexico vs. Panama

Why you should watch: For 16 years, Mexico have been a fixture in football's greatest event. In fact, in all that time, they have not once failed to reach the last 16. On Friday, they could find themselves in the wilderness rather than the World Cup. Lose and they are as good as out. Compounding the situation and only illustrating the issues, this is new manager Victor Manuel Vucetich's first game in charge of a team that have only hit four goals in this campaign and not yet won at home. He faces a resilient Panama, who lie ahead of Mexico on goals scored and beat El Tri in the Gold Cup semifinals.

Both are aiming for the third direct qualification place behind already-secure USA and Costa Rica. Honduras currently occupy that berth, with the fourth-placed nation to enter a play-off with New Zealand.

What it will mean: With Honduras three points ahead of both, but facing a home game against Costa Rica and then a trip to lowly Jamaica, the sense is that a win is essential. Even then, the victor will be hoping for a favour elsewhere before the final round of games.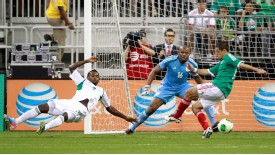 APMexico need Javier Hernandez to find the goal-scoring touch that has so far eluded him in qualifiers.
Players to watch: Mexico need Javier Hernandez to illustrate the clutch goal scoring that has eluded him so far in this campaign, while Panama need Blas Perez to replicate his feats against the same opposition in the Gold Cup.

Slovenia vs. Norway

Why you should watch: Whatever happens over the next week -- and Norway have already seen an awful lot of change in the last two -- this is the group that could well end up meaning the most in an emotional sense. Although Switzerland's domination of the top spot ensures it is not quite as open as England's, there is a genuine frisson about the four sides aiming for second here.

Two of them, Albania and Iceland, have never even been in a play-off before -- let alone a tournament. Norway have not qualified for anything in 14 years, while Slovenia are hoping to continue to defy history and logic by reaching a third World Cup out of four despite their small population. As such, this is likely to be one of those frantic games that can't help but be influenced by news of events elsewhere.

At the same time, Albania will be hosting a Swiss side looking to make qualification mathematically certain, while second-placed Iceland are playing Cyprus. Slovenia's resurgence may only foster a certain raucousness, given that they have won three straight games after a dismal start to the group. Norway, however, are hoping for a rebirth of their own after replacing Egil Olsen with Per-Mathias Hogmo. The shackles may come off.

What it will mean: With Iceland expected to beat a Cyprus side who have not claimed a single point on the road, and thereby push themselves up to 16 points in the play-off spot, it is imperative both sides aim for a win here. Slovenia lie a point behind Iceland in third, Norway one further back on 11. Defeat will more than likely lead to elimination.

Players to watch: Forward Milivoje Novakovic has personified Slovenia's resurgence, returning to the team ahead of those three victories at 34 years of age and scoring twice. Norway will similarly look to the recent renaissance of midfielder Per Ciljan Skjelbred at Hertha Berlin.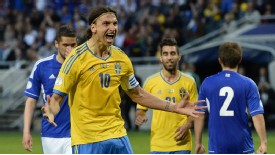 GettyImagesZlatan Ibrahimovic will likely be the driving force in Sweden's quest for qualification.
Sweden vs. Austria

Why you should watch: This is a decisive qualifier that sums up so much of the circumstances of international football at the moment, and illustrates the contrasts of that uncertain middle tier. At home, there is a largely patched-together Swedish side that have relied on their experience, as a player as talented as Zlatan Ibrahimovic has combined with a 37-year-old journeyman like Anders Svensson.

On their travels is an exuberant but incomplete young Austria team that seem to have chanced upon a burgeoning group of talent. Although Sweden are three points ahead, they were beaten by Austria 2-0 in their earlier meeting. Another open affair is highly likely.

What it will mean: Victory for Sweden will mathematically secure second place behind Germany, but three points for Austria would all but do the same for the visitors. Marcel Koller's side would be ahead of the Swedes on both goal difference and head-to-head record, with a fixture against the Faroe Islands to come while the Scandinavians host Germany. Given those fixtures on Tuesday, too, a draw could leave the table very tense and very tight.

Players to watch: Even if individual stars often get too much attention in such situations, it's difficult not to think this could come down to Ibrahimovic against David Alaba. Both proved more influential than anyone else in their respective victories over Ireland, with the Swede providing the crucial pass in his game and Alaba the crucial goal in his.

Colombia vs. Chile

Why you should watch: Beyond the fact that these have been two of the best sides to watch in a typically bombastic CONMEBOL campaign, both can finally make true on their talent by sealing qualification in this decisive fixture. There's also the fact that the effect of any dropped points could be deepened by events in Quito, with both Ecuador and Uruguay two points behind Chile on 22 and facing off against each other. Adding a further tension to the fixture is that Colombia have already let one opportunity to qualify slip, losing 2-0 to Uruguay themselves.

What it will mean: Victory will put either side through, but the loser could face a tense final night if Ecuador-Uruguay ends in a draw. That could still be the case for Chile, if this fixture in Barranquilla also ends level, although such a situation would send Colombia through. A win for either Ecuador or Uruguay in that match would definitely do the same for the side of Radamel Falcao too, even if they were to lose. Two draws and CONMEBOL could be in for a chaotic final night.

Players to watch: Falcao is predictably Colombia's top scorer in this campaign with seven goals, although Eduardo Vargas is only two behind for Chile, in all making both the two highest scoring sides after Argentina.