EUROPE
Group winners automatically qualify for the finals; the eight best runners-up go into two-legged playoffs.

Group A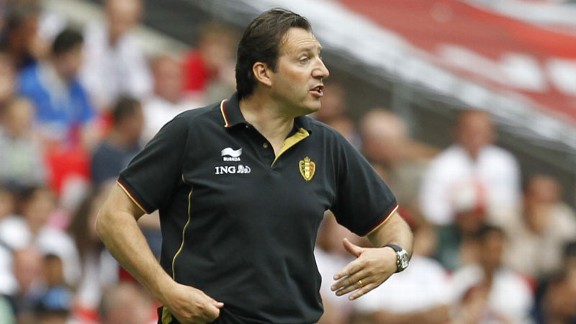 GettyImagesMarc Wilmots should guide his Belgium team to Brazil over the next two games.
Marc Wilmots' Belgium are on the verge of their first World Cup finals since 2002, leading Croatia by five points with two games left to play. The two nations meet in Zagreb on Friday, when a draw will take the lowlands nation to Brazil. Croatia's only hope is to beat Belgium, and win in Scotland on Tuesday, then hope Belgium fail to win at home to Wales.

Belgium are assured of one of the eight playoff spots in the unlikely event they finish second.

Group B
ITALY became the second European team to qualify last month, leaving only second place to fight for.

Four nations might mathematically be in with a chance of second place, but it is surely a two-horse race with Bulgaria in pole position -- though as it stands they would be the unlucky runners-up to miss out on the playoffs.

Bulgaria have a one-point cushion over Denmark, so wins in Armenia and at home to Czech Republic would guarantee second spot. And they may well need to win both matches to have enough points for one of the eight playoff places.

Goal difference means the Danes must pick up two more points than Bulgaria, and they are at home to Italy on Friday and bottom team Malta on Tuesday. They could still finish second with just three points against Malta, though that would almost certainly not be enough points to be one of the top-eight runners-up. Victory at home to Italy may therefore be crucial if they are to realistically be in with a chance of going to Brazil.

Czech Republic and Armenia are on nine points, four behind Bulgaria, meaning their hopes are slim. Even if the Czechs win at home to Malta and in Bulgaria, and Bulgaria fail to beat Armenia, they will still likely to miss out on the playoffs as the worst runner-up.

Armenia have slightly more hope -- purely because they lost at home to Malta which means fewer points are deducted from their total to calculate the best second-placed teams. However, even if they win at home to Bulgaria, their last match is away in Italy. The only way they are then likely to finish second is by winning in Naples with Bulgaria drawing with the Czechs. Even in that eventuality, the fact that Denmark play Malta means the Danes may still finish above Armenia on goal difference with the two teams on 15 points.

A lot will become clearer after Friday's games, though the odds are stacked against any nation from this group making the playoffs.

Group C
Germany lead Sweden by five points, and will effectively qualify with a draw at home to Republic of Ireland on Friday due to their vastly superior goal difference -- but need a win to confirm it. Joachim Loew's side will also be through if Sweden fail to win at home to Austria.

Austria travel to the Friends Arena knowing they must avoid defeat in Sweden to stay in contention. In fact if Austria win in Stockholm they are almost sure to finish second in the group, as they will be ahead of the Swedes on goal difference with only Faroe Islands left to play.

A draw between the two nations would leave it tight. Sweden would then need a point at home to Germany on Tuesday to secure second, but defeat would allow Austria to almost certainly climb above them.

Republic of Ireland may not be mathematically out of the running but in truth they have no hope. They would have to win in Germany and at home to Kazakhstan, plus hope Austria win in Sweden -- then Austria lose in Faroe Islands and Sweden be defeated by Germany. Oh, and they would also need a goal-difference swing of around eight.

Germany are assured of one of the eight playoff spots if they do not finish top.

Group D
NETHERLANDS were the first nation to qualify from Europe, and there is a three-team battle for second with Hungary currently a point ahead of Turkey and Romania.

Hungary have their destiny in their own hands and will definitely be in the playoffs should they win in the Netherlands and at home to Andorra. The latter fixture gives them hope, as Andorra have not scored a single goal or point in the qualifying programme. Hungary are effectively guaranteed to finish on a minimum of 17 points, but the trip to Netherlands is the worst fixture they could wish to have.

Turkey are currently third and travel to Estonia -- by no means a straightforward fixture -- before they are at home to Netherlands. Fatih Terim's team will surely have to win in Estonia to give themselves a realistic chance and hope Hungary have not shocked Netherlands.

The above means Romania could actually be seen as slight favourites as they go to Andorra and entertain Estonia. They have every chance of winning both games and 19 points could be enough to sneak into the playoffs.

Group E
Switzerland are on the brink of the finals, needing two points from an away game in Albania and a home date with Slovenia to be absolutely sure.

The only nation who can pip them to the finals in any realistic mathematical equation is Iceland, who would have to win both games with the Swiss recording two blanks.

Switzerland will also qualify with a draw on Friday if Iceland lose. And they would also be through with a defeat if both Iceland and Norway fail to win too.

The battle for second is a titanic four-team affair with Iceland (13 points), Slovenia (12), Norway (11) and Albania (10) still in contention.

Iceland will be in the playoffs with a chance of being at a major tournament for the first time in their history if they win at home to Cyprus and away to Norway.

Slovenia and Norway meet on Friday, and if Iceland do beat Cyprus we are sure to lose one of the former two nations before Tuesday. Norway would be knocked out if they fail to win in Maribor, while a draw would also leave Slovenia having to win away in Switzerland on Tuesday with Norway beating Iceland that night too. But if Slovenia can win, they will put crucial pressure on Iceland and, if Iceland then lose to Norway, Slovenia could take second with a draw in Switzerland.

As noted above, it is likely Norway will have to win away to Slovenia to remain in the running, but if they do that they would then entertain Iceland on Tuesday in a last-day shootout -- which Norway would have to win to take second place. Iceland would be through if they avoided defeat.

The outsiders are Albania, who must win at home to Switzerland and in Cyprus to finish on 16 points. A combination of results could see them finish second on goal difference, but first of all we need to see if they can win at home to Switzerland.

Group F
Russia are a point above Portugal with two games left to play. Russia's final two games are away in Azerbaijan and Luxembourg, which makes them overwhelming favourites to take the automatic spot. Portugal entertain Israel and Luxembourg and must win both, while hoping that Russia somehow also slip up.

Russia will qualify on Friday if they win and Portugal lose.

Israel still have a mathematical chance of qualifying, more so of second place, but in reality their campaign is over. They would have to win away in Portugal and at home to Northern Ireland, and hope Portugal pick up no more than a point at home to Luxembourg.

Group G
Bosnia-Herzegovina and Greece remain separated purely by goal difference going into the last two rounds.

As Bosnia's goal difference is 15 goals superior, they know a regulation win at home to Liechtenstein followed by a victory away in Lithuania will send them to their maiden finals. Greece must win at home to Slovakia and Liechtenstein and hope Bosnia are tripped up.

Group H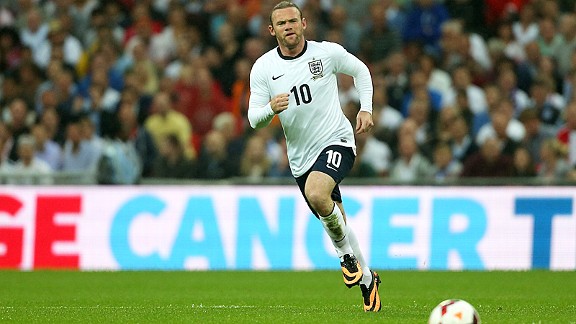 GettyImagesWayne Rooney will have the weight of a nation on his shoulders as England try to make it to Brazil.
England are in control of their own destiny, one point ahead of Ukraine and Montenegro and three points clear of fourth-placed Poland. England are on 16 points, but Ukraine will likely get a minimum of 18 points as they have yet to play San Marino.

England's final two games are at home to Montenegro and Poland and England will be assured of a place in Brazil with two wins. If Ukraine and Poland draw on Friday, then England would be in a very strong position with a win that same night - three points and at least eight goals better off than Ukraine although their rivals do have that game against San Marino on Tuesday. If Ukraine fail to beat Poland, England are guaranteed to need no more than four points to finish top.

However, if Ukraine win at home to Poland -- they kick off an hour earlier than England on Friday -- it makes the group very interesting. Anything less than a win for England over Montenegro would then mean Roy Hodgson's team could realistically finish only second at best. And the San Marino-Ukraine game effectively means that if Ukraine do beat Poland, then England will have to win both matches to qualify automatically.

Due to Ukraine playing San Marino and their already superior goal difference, Montenegro have to get at least a point at Wembley to stay in contention. But if Ukraine at least draw against Poland, then Montenegro will have to win in London with Ukraine therefore set for a minimum of 19 points with better goal difference. Montenegro finish their campaign at home to Moldova.

Poland are the outsiders, and will have to win away in both Ukraine and England. That would give them 19 points and also first place if England have failed to beat Montenegro. But the first task is to win in Ukraine, as anything other than a win is not going to be enough.

Group I
France are level on 14 points with Spain but the world champions have a game in hand, and finish their campaign at home to Belarus and Georgia. Spain cannot officially book their place until the final day, but France are headed for the playoffs once again. France's final game is at home to Finland on Tuesday.

CONCACAF
The top three nations in the final group stage qualify directly for the finals, with the fourth-place team facing a two-legged playoff against New Zealand.

The UNITED STATES and COSTA RICA booked the first two places from the region last month, leaving just one automatic place up for grabs.

Honduras (11 points) lead Panama and Mexico by three points, but with a superior goal difference of just two they have only small margin for error.

Mexico and Panama meet at the Azteca Stadium on Friday, and whoever loses that game will almost certainly be out. Honduras, needing four points to reach Brazil, entertain Costa Rica on the same night. Honduras can actually qualify on Friday night if they win and Mexico-Panama is a draw.

The final day of qualifying sees Honduras go to bottom-of-the-table Jamaica, Mexico travel to Costa Rica and Panama host the United States. Friday's results will tell us more closely what the final matches may mean.



SOUTH AMERICA
The top four nations qualify automatically from the region, and the fifth-place team plays Jordan in a two-legged playoff.

Last month ARGENTINA ensured they will make the short trip to Brazil next summer. Although Venezuela remain in with a mathematical chance of the playoffs, it is essentially a four-horse race for the final three places, with the nation that loses out headed for Jordan in the intercontinental playoff.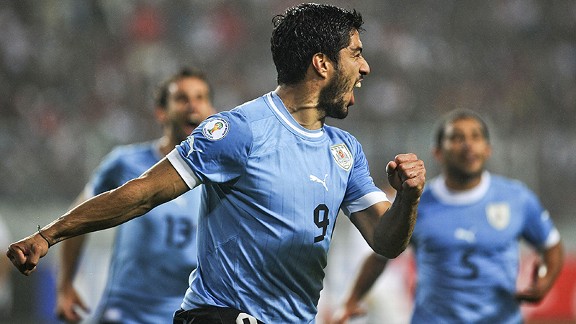 GettyImagesLuis Suarez and Uruguay may well have to settle for a playoff against Jordan.
Uruguay are level with Ecuador on 22 points. Chile are third on 24 points with Colombia second on 26.

Colombia need only a point from their games at home to Chile and away in Paraguay. Chile require one win, with their other game being at home to Ecuador.

Ecuador will almost certainly take the final qualification spot if they match Uruguay's results due to their superior goal difference. The two nations meet in Quito on Friday in a mammoth qualifying showdown, and a home win would surely consign Uruguay, who are at home to Argentina to finish their campaign, to the playoffs.

Uruguay can qualify on Friday if they beat Ecuador and Chile lose to Colombia.

AFRICA
The African qualifying playoffs will be played over the next month, with the five winners of the two-legged ties advancing to Brazil.

Ethiopia vs. Nigeria
Ivory Coast vs. Senegal
Tunisia vs. Cameroon
Ghana vs. Egypt
Burkina Faso vs. Algeria

ASIA
IRAN and SOUTH KOREA qualified from Group A, with JAPAN and AUSTRALIA making Brazil from Group B.

The two third-place sides, Jordan and Uzbekistan, drew both legs of their playoff 1-1 which saw the tie go to penalties. Jordan emerged victorious in a thrilling shootout, winning 9-8. They will now face the fifth-place side from South America in the intercontinental playoff.

OCEANIA
Qualifying was completed last year with New Zealand advancing to an intercontinental playoff against the fourth-place team from CONCACAF.