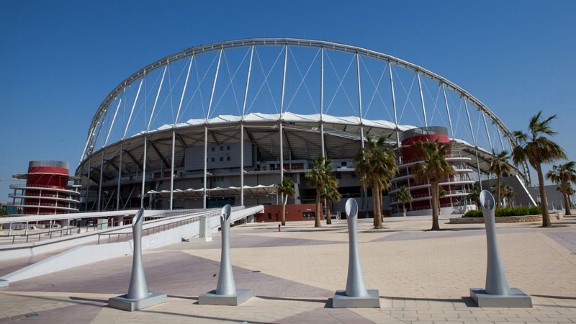 GettyImagesWill Doha's Khalifa International Stadum be hosting World Cup football in 2022?
Okay, so here's what we know.

Sepp Blatter didn't want the World Cup to be staged in Qatar 2022, whether in winter or summer. He voted for the United States.

- Winter World Cup talks on agenda
- FIFA face IOC backlash
- Europe backs winter World Cup
- Blatter's Qatar admission

Michel Platini did vote for Qatar. It's not entirely clear if he still wants to have a World Cup in Qatar. But what is certain is that he does not want a summer World Cup in Qatar. Last week, UEFA voted unanimously to support the switch from summer to winter.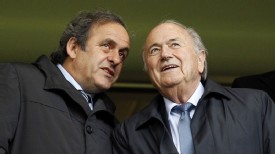 GettyImages Michel Platini voted for Qatar to host the 2022 World Cup, Sepp Blatter favoured the United States.
Frankly, apart from some broadcast rights holders and the big European domestic leagues, you're hard-pressed to find anybody who -- if the World Cup has to be held in Qatar -- would rather it be held in summer than winter. Not that those two categories are to be underestimated. The former pour a lot of money into the game and, should they produce contracts stating the competition will be in the summer, they'll have a lot of clout. The latter have extremely deep pockets and influence, to varying degrees, some of the richest most powerful FAs, who, in turn, wield disproportionate power within the game.

That said, they're not really bothered where the World Cup is held as much as they are concerned with when it is held.

You've probably figured out where this going. In fact, you could make a Venn diagram out of it.

Firstly there are folks who are indifferent to where the World Cup is, but if it has to be in Qatar, they don't want it in summer.

Then there is their closely correlated converse sub-set, who say that if it has to be in summer, then it can't be in Qatar.

Next up, folks who say that it must be in summer, at all costs, whether in Qatar or somewhere else.

And, finally, folks who say that it must be in Qatar, but they're not really fussed when you do it.

How do you reconcile everyone given that the bid decision has already been made and, in fact, some building and infrastructure work is already taking place?

Well, that part is easy.

The most powerful man in the game, Blatter, would rather the World Cup be elsewhere. Deep down, he's probably not entirely bothered by the winter/summer debate, but he'll go with what the majority wants, because that's what smart elected leaders do. And he's very good at hanging on to power.

Conveniently, he's found that FIFA can pretty much do what they like. There is a legal mechanism to move the World Cup to winter, provided there is enough of a consensus. And -- guess what -- there pretty much is. Other than Platini (it's one of the few things on which he and Blatter agree), the secretary general of the Qatar 2022 World Cup committee is also on board.

So that's settled then?

Not quite. Because Blatter has another option. The nuclear option.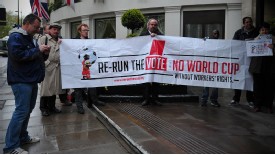 GettyImagesThe decision to hand World Cup hosting rights to Qatar has caused much consternation, for a number of reasons.
It has emerged that the special investigator FIFA hired to examine the 2022 World Cup bidding process, Michael Garcia, has found plenty of evidence that political influence played a part in some executive committee members' voting.

Of course, that's not exactly news. Platini himself revealed that Nicolas Sarkozy, then president of France, asked him to vote for Qatar at the time, though the UEFA president says he would have chosen them anyway.

Beyond that, it's pretty obvious that FAs and national governments are very closely intertwined. They don't just do what's good for football, they do what's good for football in their country -- which is often a short step away from simply doing what's good for their country. And who better than their elected presidents, prime ministers, emirs, supreme leaders, kings and emperors to tell them what's good for their country and what is their patriotic duty?

In theory, though, that's illegal. FIFA statutes very clearly forbid governments from interfering into the footballing decisions of FAs. Nations have been banned for what FIFA calls political interference.

So, effectively, Blatter could find himself in a situation where he notes that a significant portion -- or even the majority -- of the ExCo which awarded the 2022 and 2018 World Cups did so because they were influenced politically by their governments. And that, by FIFA rules, is illegal.

Illegal enough to invalidate the entire bidding process and re-assign the World Cup to another nation? Maybe. Especially given the fact that Blatter himself was never a Qatar booster, but rather a backer of the United States bid.

Ordinarily you wouldn't even contemplate this option. But when you look at who the major power players and stakeholders out there are and you look at what they want and you consider that some "promises" that some folks might have made back in 2022 may now already be fully paid up... well, it's not something you'd want to rule out.

Stranger things have happened. Like awarding a summer World Cup to a country of 600,000 people with insanely hot June temperatures.