Ghana newest Egypt hurdle for unflappable Bradley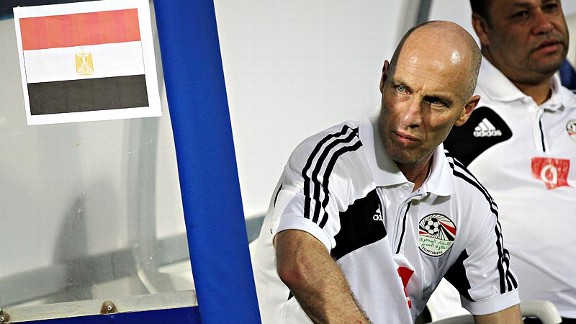 Karim Sahib/Getty ImagesBob Bradley has managed to keep his Egypt team focused despite the many distractions caused by the country's political strife.
Egypt didn't appear to catch any breaks when it drew continental powerhouse Ghana in Africa's final round of World Cup qualifying. But that amounts to situation normal for Pharaohs manager Bob Bradley, who, after navigating his way through the country's continuing political crisis, is undaunted by having to face the Black Stars in order to reach next summer's World Cup.

"Ghana is a strong team, but Egypt is a strong team," Bradley said by phone Monday. "The competition throughout Africa is intense, so you know when you get to the final round you'll be tested. I think both teams will get tested and now the players will represent Africa in a good way."

The reality is that as one of the unseeded teams, there were no easy outs for Egypt. Nigeria, Ivory Coast, Algeria, and Tunisia were seeded along with Ghana. Given the tensions associated with playing fellow North Africans Tunisia and especially Algeria -- who eliminated Egypt four years ago in a pressure-packed and at times violent playoff -- the sense was that combining matches against one of those countries with the continued upheaval in Egypt was a potentially explosive mix that was best avoided.

Of the three remaining teams, Nigeria is the continental champions while both Ghana and Ivory Coast are full of quality players. The challenge was going to be considerable, regardless of the opponent.

"Ghana just has so many talented players; guys that are quick and capable of doing very good things, guys that play in some of the best leagues with some top teams," Bradley said. "Whenever you play Ghana, you know that on that end, their ability as a team, technically, their athleticism, these are all things that you have to be able to handle."

Bradley acknowleged that when he heard that Egypt would be facing Ghana, his mind drifted back to the 2010 World Cup. In the round of 16, the U.S. team he managed fell to the Black Stars 2-1 in extra time. But Bradley has never been one to dwell too much on the past, and this qualifying foray with Egypt is no different.

"The Ghana team now has changed a little bit; they have a different coach," he said. "And our focus is certainly on the team that we expect to see in these two games."

Bradley will spend much of his available brainpower on his own team as well and all the challenges that involves. The former U.S. manager has witnessed two overthrows of the country's government since being named manager back in September 2011.

The turmoil has seen the Egyptian Premier League shut down twice, with the most recent suspension coming in July following the ousting and subsequent arrest of Egyptian President Mohamed Morsi by the country's military. Such events have forced Bradley to engage in a delicate balancing act.

"[I've often] talked about the fact that there was this deep divide," Bradley said of the tension within Egypt. "Now, if you read anything that's coming out about Egypt, that's all anybody talks about. The leadership on both sides and the media on both sides still operate in ways that only deepen the divide. There's certainly an information war that goes on these days where it's not easy for people to always know the truth. That's how things work here."

Yet Bradley has managed to surmount the divisions wracking the country to maintain a unified squad, the only team in the world with an perfect record in qualifying.

"What we've always tried to do is make sure that we understand that we can't let any of that get in the way of what we're trying to do," he said. "The players have been incredible throughout all of this. We have really strong leadership within the team, and so there's still as a team, a real strength, even at a time when there's so much going on."

Bradley hailed the contributions of veterans such as Wael Gomaa, Ahmed Fahty and Hossam Ghaly, who is just returning from an ACL injury. Standout forward Mohamed Aboutrika has delivered as well in terms of goals and leadership.

"Aboutrika has done a great job in terms of guiding a young player like Mohammed Salah," Bradley said. "We not only see the understanding that they have on the field, but in other ways off the field. He's a guy who has been through this stuff and is a guy who understands the pressures that the media here can put on players."

Bradley added that each period of political unrest in Egypt has brought about different challenges. When the domestic league was first suspended following the Port Said stadium disaster on Feb. 1, 2012, Bradley held a stream of training camps to keep his players fit.

With Cairo-based clubs Al Ahly and Zamalek both participating in the CAF Champions League, their drop in form due to the lack of domestic games since July hasn't been as acute. But Bradley said that plans were being made to hold a training camp before Al Ahly's CL match set for the weekend of Oct. 5.

One problem that has continued to crop up is finding a suitable venue for games due to security concerns. Egypt's past two matches, a 3-0 friendly win against Uganda in August and a 4-2 World Cup qualifying triumph against Guinea, were both played in the Red Sea resort town of El Gouna. Bradley said the Egyptian Football Federation was only notified a few days before the Guinea match that it would have to be switched from Alexandria to El Gouna.

"When you're not allowed to play a game for security reasons, it's not necessarily because anybody thinks there's going to be trouble at the stadium," Bradley said. "But when there's other things going on in and around Cairo, the decision is made that security needs to be used in other places, and so the game gets pushed to places like El Gouna.

"El Gouna is not an easy place to play. The stadium is small, it's very windy, the field's not very good. From the pure technical standpoint, the challenges of those matches in El Gouna are big."

Bradley added that he's optimistic that the home leg against Ghana will be played in Cairo, but "that's not determined yet."

"We hope that now in the whole lead-up to the final round that this can be handled so that everything is known ahead of time," he said.

But in a country where turmoil is the only constant, Bradley and his players are ready for anything.