Is the end nigh for Osieck?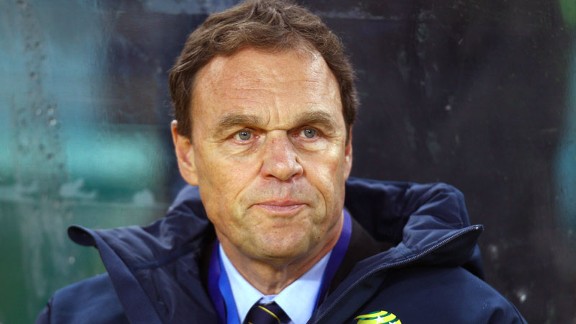 AssociatedPressure is mounting on Australia coach Holger Osieck.
Fans Down Under woke up early last Sunday to watch the men in the famous gold shirts run rings around a static and passive opposition. The problem was, Australia were in their change strip of blue. Those supporters who went back to bed must have struggled for sleep -- closing the eyes makes it all the easier to visualise the images of the six Brazilian goals flying past a hapless Mark Schwarzer.

Many of the problems on display -- the lack of movement, pressing and creativity -- were old ones. Many of the questions -- such as whether the 2014 World Cup should be the last hurrah of the golden generation or the first step toward the 2018 tournament and beyond -- have been asked before. But now there is a new debate: Is it time for coach Holger Osieck to go?

Aussie fans fear that the 6-0 defeat in Brasilia was an unwanted preview of what could happen next summer if the relationship with the German continues. Osieck's homeland looms large in Australian World Cup consciousness. The 1974 competition in West Germany was the nation's first appearance. Thirty-two years later and there was that glorious Kaiserslautern afternoon against Japan, scenes of joy on a summer afternoon that stand in stark contrast to a 4-0 defeat handed out by the Mannschaft on a cool Durban night four years later. At the moment, 2014 is looking more 2010 than 2006.

Firing a coach who has just led a team to the World Cup -- only its third in the last four decades -- is not done lightly, even in the feverish world of Asian football that Australia has been officially a part of since 2006. Pulling the trigger after a place at the World Cup is secured is more cruel than breaking off an engagement after the church, honeymoon, dress and flowers have all been arranged, invitations sent out and presents received. Yet if the main man in your life seems to be stuck in his ways, unwilling to listen, convinced he is right and lacking in the communication department, then the jitters are natural.

There are precedents. Gabriel Calderon led Saudi Arabia to the 2006 World Cup unbeaten yet was gone at the end of the year. South Korea also qualified with ease, but by the end of the campaign, Jo Bonfrere was being booed by fans in Seoul and was soon on his way out. Going back a little further, Iran changed managers twice before the 1998 World Cup.

Osieck has been in charge for over three years. He has done what was asked of him and taken the team to the World Cup, albeit not exactly smoothly. History is replete with teams flying through qualification and dying at the tournament itself (with England at the 1988 European Championships coming to mind), while others, such as Brazil ahead of 2002, were sluggish on the road to East Asia but soared when it mattered.

Even so, until the excitement starts to mount -- and it will -- fans Down Under will find it hard to forget the journey itself. After five games of the final round, the Socceroos had six points and had just been outplayed by Oman in Sydney. If there was a real desire to pull the trigger, that was the time, and according to those close to the team, defeat in Japan in June would have spelled the end of Osieck. Yet in Saitama, his team responded with a spirited and competent performance and were only denied victory by a last-minute penalty. And then two home wins over Jordan and Iraq sealed a spot at the World Cup. Talk of a change was forgotten.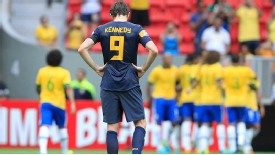 GettyImagesThe 6-0 defeat to Brazil renewed calls for Osieck to change his approach to young players.
Until last weekend. The question is whether a 6-0 thrashing in Brazil is cause for dismissal when even Spain lost 3-0 there just weeks previously. It goes without saying that this Australia team is not in Spain's class. It is not even in the same class of the 2006 vintage, which was packed with players in Premier League and Serie A. These days, it is more UAE, Qatar and China. A Socceroo playing regularly in a big European league is a rare breed these days, but such performances, lacking in cohesion, organisation and ambition, have become more common.

There might be no debate over whether the 2013 team rivals its illustrious version of seven years earlier, but there is argument as to whether qualification is the be-all and end-all. When Osieck was appointed, he was hailed as a man to regenerate a squad that was the second-oldest in South Africa. He has yet to do so. The same old faces are around and when they exit the Socceroo stage, either in Brazil or six months later after the Asian Cup, the new occupants of the famous shirt will be more green than gold when in terms of international experience.

It has been said that if trust had been given to youth then failure to qualify for the World Cup would have been forgiven. It would not have. Osieck's first duty was to get the team to Brazil 2014. Failure to do that means failure -- there are no asterisks on the resumes of international coaches claiming credit for future success years after they have departed.

A genuine desire to see young blood on the pitch grew as the qualification campaign stuttered along. It happened a little in the latter stages with Tommy Oar and Robbie Kruse given chances with encouraging results. The East Asian Cup in July was an opportunity to check out domestic-based young talent in a mini-tournament where results really did not matter -- fortunately so as it turned out -- with Mitch Duke and Ryan McGowan playing their way into the Brazil squad. That was it though. It may not be true that Osieck would have been forgiven for going with youth and failing to qualify for the World Cup but having some fresher faces on the pitch in Brazil and getting thrashed would have been.

In the end though, it is always about the World Cup. If Osieck is to be fired, it will not be because of a failure to regenerate the national team. The primary reason will be due to concerns over Brazil 2014. When he came close to the bullet earlier this year, it was because of worries that the team may not actually qualify not what it may or may not look like in 2016.

There are alternatives of course. With Australia certain of a place next summer, plenty would be interested in the job. 2006 hero Guus Hiddink for one -- though apparently with the proviso that he will make a decision after the draw is made in December. The Dutchman may breathe new life into the set-up but would be a short-term appointment and not one usually inclined to look beyond the next tournament.

But it is unlikely that Osieck will get the chop, similarly poor performances against France and Canada in October aside. If the powers-that-be were really concerned about blooding youngsters and uncertain performances then change would have come months ago. For better or for worse, this is a relationship not set to end just yet.