Five things we learned from South American qualifiers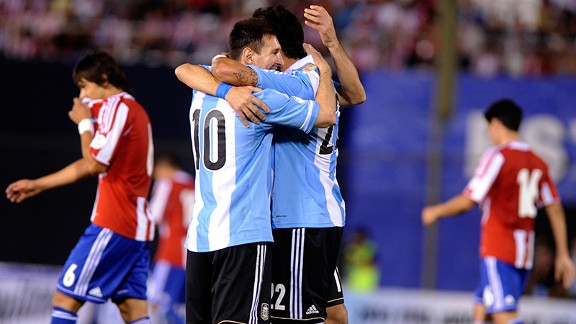 GettyImagesLionel Messi scored a brace from the penalty spot for Argentina against Paraguay.
ESPN FC writer Tim Vickery examines the latest round of South American World Cup qualifiers.

• CONMEBOL wrap: Messi helps Argentina qualify
• Highlights: Uruguay 2-0 Colombia (UK, Ireland, Pac)




1 -- ARGENTINA KNOW WHAT THEY ARE DOING

The first team from the continent to book their place in Brazil, Argentina's qualification might seem predictable enough - but it looked anything but in the early stages of the campaign, when coach Alejandro Sabella's side lost to Venezuela and drew at home to Bolivia.

Since then, though, the side have made enormous progress. They are not perfect. Sabella is aware that there is a price to pay for fielding two strikers plus Lionel Messi, and Angel di Maria as part of a midfield trio; it means that the team can be very vulnerable down the flanks, a weakness that was exposed in Tuesday's hour of triumph, the 5-2 win away to Paraguay which sealed qualification with two rounds still to play.

The positive side of the equation, though, is that the team have powerful and exciting attacking firepower. Their rapid counter attacks were too much for a bewildered Paraguay defence. Di Maria's capacity to surge from deep makes him ideal for this type of game, and, crucially, Messi is housed in a structure which gets the best out of him. He has an excellent understanding with Fernando Gago behind him - so often Messi's supply line. And in front of him he clicks naturally with Sergio Aguero.

There is still work to be done on the balance between attack and defence, but over the course of the campaign, Sabella's team have worked out a well-defined and attractive identity.

2 - COLOMBIA AND ECUADOR HAVE GONE OFF THE BOIL

Neither of these teams were anywhere near their best in these two rounds, though Colombia's win over Ecuador means that barring a mathematical miracle, they have made it to their first World Cup since 1998.

But in neither round did they show the spark that was burning so brightly a few months ago, when the players seemed to be enjoying themselves so much it was as if they were experiencing a collective childhood. Laboured and a little lucky against Ecuador, in the away match against Uruguay, the Colombians were worryingly passive and lacking width. Like the days before coach Jose Pekerman took over, they found it very hard to get behind the opposing defence and thus get the best out of centre forward Radamel Falcao Garcia. Pekerman needs to do some thinking. What is his best starting eleven?

Ecuador have had to endure the tragic loss of striker Christian Benitez, which has understandably shaken morale. It could be that they are also suffering from the defensive deficiencies showed up in June by a second string Germany side, who were four goals up before the half hour mark. Confidence has been undermined, and having to settle for the play-off slot has become a real possibility.

3 - CHILE ARE FLYING

Coach Jorge Sampaoli's side recorded their fourth consecutive win in the campaign with Friday's 3-0 triumph over Venezuela. They are playing the most exhilarating football in the continent, full of pace, movement and attacking intent. And then they confirmed their good form by coming within a few seconds of beating world champions Spain in a friendly in Switzerland. Only a stoppage time goal secured a 2-2 draw for the Spaniards, who were the latest victims of Chile's incisive attacking play. A place in Brazil next year now beckons - one win from their remaining two games will be enough, and the worst-case scenario is a two legged playoff against Jordan. Neutrals should be cheering them over the line, for they will surely be an asset to the World Cup.

4 – URUGUAY ARE NEVER MORE DANGEROUS THAN WHEN THEY HAVE THEIR BACKS TO THE WALL

A few months ago it looked a tall order for Uruguay even to finish fifth and make it to the playoff. That is now all but assured - indeed, coach Oscar Washington Tabarez can now set his sights firmly on an automatic qualifying slot. Uruguay are level on points with fourth placed Ecuador, but with an inferior goal difference. In the next round, in a month's time, Uruguay climb the Andes to meet Ecuador in their mountain fortress of Quito. The altitude makes it very hard for un-acclimatised opponents. But Uruguay are making a habit of coming up with big wins when it matters most.

Their triumphs away to Venezuela and Peru were hard-fought affairs of vital importance - these are (were in the case of Peru) the two rivals for fifth place. And then the sky blues topped it off by coming up with two late goals to beat Colombia on Tuesday.

After a dreadful 2012/13, Tabarez has got his mojo back. He has worked out that his team are at their best when they sit deep, with the defence and the midfield lines close together, and look to slip Luis Suarez into space to break on the counter-attack. Vastly experienced, they are a good tournament team - and it is looking increasingly likely that they will have the chance to show it in Brazil next year.

5 - A NEW GENERATION IS EMERGING TO CARRY VENEZUELA TO THE NEXT LEVEL

The Venezuelans can cling on to a far-fetched mathematical possibility of snatching fifth place. They need to win their one remaining game (at home to Paraguay), hope that either Uruguay or Ecuador lose both theirs, and also overturn a significant goal difference deficit (six goals against Uruguay, 10 against Ecuador). It is not going to happen. Venezuela's brave campaign will end in disappointment - mainly because they have scored fewer goals than anyone else.

Coach Cesar Farias has stopped them being a soft touch, but it came at a price. Going into Tuesday's game against Peru they had scored just four times in six home games - nowhere near good enough for a side with serious ambitions of making it to the World Cup.

On Tuesday, then, Farias was a bit more adventurous. He paid a price for picking a midfield with a more attacking balance - it was a factor directly responsible for Peru taking the lead. But by the final whistle he must surely have been thinking that he made the right choice. The goal that ended up winning the game illustrates the point, since two of Venezuela's promising youngsters combined to score it. Little left footed Yohandry Orozco cut in from the right flank to set up the similarly diminutive Romulo Otero for a well-placed finish. These two talented attacking midfielders carry with them the hope that Venezuela can build on this impressive campaign, and that lack of goals and creativity will be less of a problem next time round.