Is Ozil Germany's best player?
Last Wednesday, I babbled my way through "Off the Ball," an award-winning sports show on Dublin's Newstalk Radio. They had called me to discuss the fallout of Mesut Ozil's transfer to Arsenal and I did the best I could to reply to a few questions.

At one point, however, the presenter, Ger, had me well and truly stumped, although his question was simple and straightforward: "Is [Mesut] Ozil Germany's best player?"

It's moments like these when I hate doing radio or television. Yes, it was an easy enough question, but there seemed to be no easy answer and you're always in a hurry on radio or TV. You can't consider a question for a few moments and let it sink in. You have to keep talking to avoid the most dreaded of catastrophes -- a few seconds of silence.

But, really, how can you answer a question like this? If last week's shenanigans, meaning the final days of the transfer window, proved anything, it's that, first, football still hasn't gotten over its silly obsession with the star player. And, second, that this star player is almost always an attacking midfielder or forward.

I mean, I can understand why people are attracted to the guy who races down the wing or dribbles through the middle, who plays the lethal vertical pass or curls the ball into the triangle. But is he more important -- let alone objectively "better" -- than some of the five, six or seven men behind him?

Take the three finalists of this year's European Footballer of the Year award. I'm willing to concede that you can somehow compare Franck Ribery, Lionel Messi and Cristiano Ronaldo and come up with some sort of ranking here.

But it becomes a lot harder when you compare players across positions. Could you really, confidently state that Messi is better than a player like Gerard Pique? That Ronaldo is better than Iker Casillas? That Ribery is better than Bastian Schweinsteiger?

Well, yes, maybe you, dear reader, could, but I find this terribly hard and generally suspect that the flashy, offensive guys are overrated by default. Which is why I said a few weeks ago I like the fact that Schweinsteiger was voted Germany's Footballer of the Year for the reason alone that he is now used in a primarily defensive role, which automatically makes it more difficult for him to win such plaudits.

I tried to put all or some of these thoughts into my on-air reply, yet I failed miserably, confused two English words that couldn't be more different ("diplomatic" and "evasive") and ended up delivering some gibberish that Ger is probably still trying to make sense of.

But only two days later, I realised I had been completely wrong from the start, anyway. Because there was indeed a laughably easy answer to the question.

It was Friday and Germany were playing Austria. Nothing much of importance was happening on the pitch. There was just a German player doing the right thing at the right time, the way he always does. Still, it gave me what people who don't share my aversion to highfalutin' words might call an epiphany. I suddenly realised what I should have done.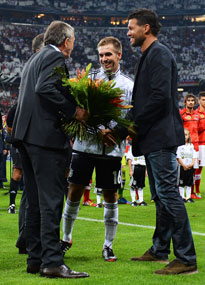 GettyImagesPhilipp Lahm earned his 100th cap on Friday.
"No, he isn't," I should have told Ger. "Because obviously our best player is Philipp Lahm."

And it really is obvious, isn't it? What had happened in that game against Austria was just that Lahm played one of his trademark simple but smart passes. Suddenly I asked myself if I could remember a real blunder from Lahm, the sort of mistake that makes you shake your head. But I couldn't.

Before the game, Lahm had been honoured for winning his 100th cap for Germany (all, it should be noted, as a starting player). So then I asked myself if I could remember a really bad appearance from Lahm, the sort of game that makes you wonder if the player should be taken off. But I couldn't.

Of course it's not as if Lahm never does anything wrong. I could name a few Bayern fans who think that last season was his worst since he became a starter, but the fact that nobody else has realised this probably only tells you how good Lahm is even when he isn't.

If consistency is a criterion for deciding who's good, better and best, then I can think of only very few players, German or non-German, who could hold a candle to Lahm. He's been almost faultless since the summer of 2003. That was when then-Stuttgart coach Felix Magath took him on loan, on a recommendation from Bayern Munich II coach Hermann Gerland, and Lahm became a Bundesliga regular at the age of 19.

In fact, his age may be the most amazing thing about Lahm -- more impressive then the fact he's equally comfortable on either wing and can also play in midfield. That's because Lahm belongs to the small group of German players -- which includes Schweinsteiger and perhaps the slightly younger Lukas Podolski -- who have no business being this good.

Lahm was born in 1983, which means he profited only very little, if at all, from the Talent Promotion Programme that the German FA launched in 1998 to combat the dearth of young talent. (Two years later, in 2000, this original plan was expanded into the much-publicised and now famous Extended Talent Promotion Programme.)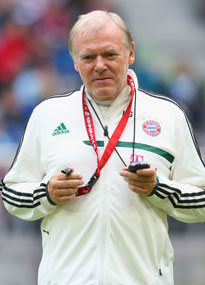 GettyImagesHermann Gerland is currently assistant manager at Bayern.
According to Gerland, who coached the player for two years in Bayern's reserve team, Lahm "was already perfect when he was 17. He could do it all, there was nothing left for me to teach him." And that, indeed, is the impression Lahm has given during the 10 years he's been playing football at the very highest level -- that there is nothing anyone has to tell him or explain to him.

Lahm simply knows what to do, and then does it, because at one point -- before he was 17, if Gerland is to be trusted -- he somehow won a complete understanding of the game, which could be as good a definition of being the best player as you're likely to get. At least it's a much rarer gift than many people think and explains why Pep Guardiola calls him "the most intelligent player I have coached in my entire career" after less than three months in Munich.

Or maybe the most amazing thing about Lahm is that most people have already forgotten that he was haunted by injuries during the first years of his career and missed half a season on account of a torn cruciate ligament, the sort of injury most footballers come back from these days but usually not as the same player.

If anything, though, Lahm only got better in the wake of the injury. Less than eight months after making his comeback, he raced down the (left) wing at the Allianz Arena, then collected a clearance, took on two opponents, cut inside and, well, curled the ball into the triangle.

It was the opening goal of the 2006 World Cup and today, seven years later, we know that it was the moment that kick-started the renaissance of German football. Today we also know that it was only appropriate that this highly symbolic goal was scored by our best player.