Maicon right back in the frame for Brazil
Is there life after Gareth Bale?

It is a question that not only applies to Tottenham. It is also relevant as Maicon tries to rebuild his career for both club and country.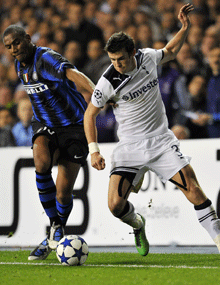 GettyImagesMaicon has struggled to recover from his humiliation at the hands of Gareth Bale in 2010.
Try as he might, Maicon will have a hard time forgetting two meetings with the flying Welshman. In 2010 the Brazilian right-back was considered to be at the top of his profession. Fearsomely strong, he charged up and down the right flank, uniting an attacking threat with defensive ferocity. And then, in the group stages of the 2010-11 Champions League, Bale emerged on the world stage by turning Maicon into a laughing stock. Tottenham met Internazionale in the group phase -- and in both Milan and London Maicon was taken apart so convincingly that he was thoroughly humiliated. Given an oar he would have been unable to get close enough to Bale to paddle his backside.

Hundreds, thousands of games are played. A few stick in the memory, of those who watch and those who play. These two were in that category. A right-back who had always been able to bank on his physical capacity had been beaten at his own game. He became the butt of terrace jokes. "Taxi for Maicon" was a common cry -- and to make matters worse Maicon moved to England, where he would have to put up with such barbs every time he took the field -- not that this happened very often.

Manchester City signed Maicon because coach Roberto Mancini was planning to play with a three-centre-back system, with the Brazilian pencilled in as an attacking wing-back down the right. Neither the collective idea nor the player's individual form were a success. Mancini was sacked at the end of the season and Maicon, after making just nine appearances, was told that he was surplus to requirements. Roma, busy selling their stars to English football, took him back to Italy.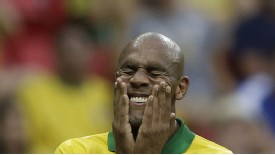 GettyImagesAn injury to Dani Alves gave Maicon a chance to return to the Brazil team in their 6-0 friendly drubbing of Australia.
The fact that, given such a context, Maicon has been recalled to the Brazil squad is in itself worthy of comment. The standout point is that Brazilian football, usually so strong in terms of top-class full-backs, is currently struggling to come up with an alternative to Daniel Alves on the right flank. The reserve in recent squads has been Jean of Fluminense, a central midfielder who will never be anything more than an improvisation in the right-back position. Another recent call-up is Marcos Rocha of Atletico Mineiro -- interesting going forward but with little notion of defending. Some might say similar things about Alves; going into the 2010 World Cup the argument in favour of Maicon was that he was the better defensive full-back.

So Maicon was recalled for this month's friendlies against Australia and Portugal -- his first national team call-up since playing a couple of games in the 2011 Copa America. It was a decision that clearly had more to do with past performances and the lack of alternatives than with anything the player has done in the last couple of seasons.

And then Alves was injured, leaving Maicon as the first-choice right-back to face the Australians in Brasilia on Saturday. Now 32, he made a successful comeback, combining well with Bernard down the flank, and with either Ramires or Paulinho inside him. There were a few examples of the powerful forward charges of old.

It has to be said, though, that Australia were desperately disappointing opponents, unable to defend with efficiency or to attack with any potency. Brazil's 6-0 win was a nice way for a recalled player to ease his way back into the international fold.

Tuesday's game should be more of a test. Brazil face Portugal in Boston. The opponents will not be at full strength -- Cristiano Ronaldo has not even made the long trip to the USA. But rather than a home fixture against mediocre opposition, this is a game on neutral ground against a dangerous adversary -- one that is usually able to field plenty of tricky wingers to torment the opposing full-backs. It is a match that will tell us much more than Saturday's romp about Maicon's chances of making next year's World Cup.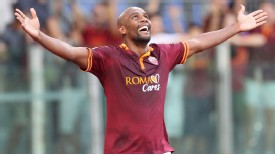 GettyImagesShould Maicon continue his recovery at Roma, he could find himself in Brazil's World Cup squad.
Maicon, though, has happy memories of facing the Portuguese. It was against Brazil's former colonial masters that he scored one of his great international goals, blasting home from a seemingly impossible angle back in November 2008.

Brazil's right-back can take heart from that memory -- and from the fact that Wales will not qualify for the World Cup. There will be no reunion with Gareth Bale in Brazil 2014.