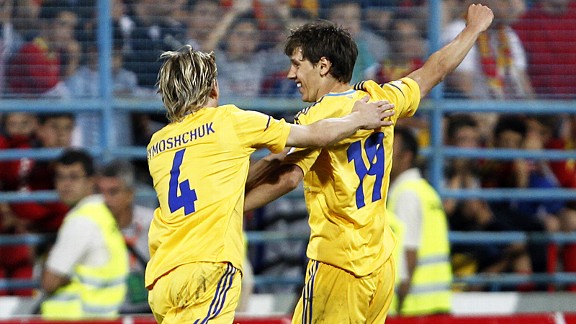 GettyImagesA rejuvenated Ukraine will ensure England have no easy path to the World Cup.
As the biting winter of 2012 set in around Kiev, the footballing festival of Euro 2012 had been swept under a carpet of leaves and snow. The advertisements had been taken down, the colour and noise of the fans had disappeared, and the international journalists that had fed, watered and held court in the city's many restaurants had returned to their bread and butter.

Ukrainian football, to match it's winter weather, was also in a state of depressing hibernation.

The unfulfilled hopes of Euro 2012, with manager Oleg Blokhin calling a journalist outside for a fist-fight, had resulted in soul-searching as well as a string of poor results. Blokhin had controversially left for Dynamo Kiev and the caretaker manager Andriy Bal had overseen a disturbing 0-0 draw with Moldova and a 1-0 defeat to Montenegro.

The winds of change were required to thaw that winter freeze. In came Mykhailo Fomenko, a well-journeyed manager in the former USSR and now, reaching the late summer of 2013, Ukraine have won their last four consecutive qualifiers. With competitiveness restored and results turned their way, his team now sit ready to face England on Tuesday night.

Fomenko, now 64 and a wizened tactician, as well as man-manager, has set about rehabilitating the self-pitying state of the Ukrainian national team. As a former Dynamo Kiev player and manager, Fomenko is a celebrated pupil of the Valeriy Lobanovskiy school of management, with tactical consistency and a unified group of players the key to his managerial appeal.

Also a footballing thinker, Fomenko offers a sort of post-tactical view of how to improve a team. "Now football is more stable than it was before," he has commented. "There are not significant changes in terms of tactics. Everything comes down to increasing the level of athleticism and speed of thought and movement."

With that approach of improving his players and teams through "athleticism and speed of thought," the dressing room spirit and morale around the Ukrainian national team forms the second key tenet of the way in which the boss has rejuvenated the previously ailing side. Tribuna.ua contributor Oleksandr Sereda echoes this, suggesting "Fomenko's biggest achievement is that he has succeeded in improving the team's morale," with Shakhtar 'keeper Pyatov full of praise as "the coach is doing everything right."

Part of this fulfillment of "doing everything right," has been finding a regular and effective tactical system. The formation of choice has been the 4-2-3-1 in the successful opening stages of Fomenko's tenure, coinciding with striker Roman Zozulya's breakthrough performances this season for Dnipro, including a majestic display in a 3-1 win over Shakhtar. Likened to Rooney, Zozulya missed the 9-0 drubbing of San Marino through suspension, with the dangerous Devic impressing in his stead.

Behind the striker, on each flank of the "three," though, is where Ukraine's two most dangerous players operate. The natural flair and dynamism of Dnipro's Konoplyanka, cutting in from the left, and Dynamo's Yarmolenko, cutting in from the right, has been harnessed well by Fomenko's tempering of their bristling ability.

The manager has added rigidity and discipline, commanding his flying wingers to increase their defensive work-rate, while trying to attain a level of consistency that the often-frustrating Yarmolenko sometimes misses. This added caution, though, works to a counter-attacking advantage, with the direct mobility of the wingers, as well as Zozulya, menacing any flat-footed defenders.

With discipline added at the front of the pitch, Fomenko has also infused a meanness at the back, both positionally and, as seen against San Marino, through dominance in the air. In that 9-0 win, centre-back Khacheridi scored two, with his defensive partner Rakitskiy also netting, in a performance that towered above their opponents.

A trip to Ukraine for Western European sides has often been seen as a chore, one of those "tough" away trips that tests the mettle of the more talented and can offer a stumbling block on the road to international tournaments. With Fomenko in charge and Ukraine resurgent, however, taking on England in Kiev's Olimpiskiy Stadium may offer a reverse of the prevailing stereotypes.

Here, it is Ukraine who are more likely to be assessing their level. England, though weakened both by injury and generation, still have a reserved seat at the top table of international football, if through reputation rather than quality. Ukraine and Fomenko, then, will want to use this match as a yardstick to determine the level at which they can compete, whilst setting the tone for the rest of their qualifying campaign.

There is, though, little chance of Ukraine purposefully settling for a point. Asked whether this would be the case, Fomenko retorted with qualification on his mind. "Will I settle for a draw with England? I will answer this question not earlier than 15 October." And with his insistence that his players treat every game as if it's their last, Ukraine should be motivated for the challenge.