Under-fire Uruguay rising to the challenge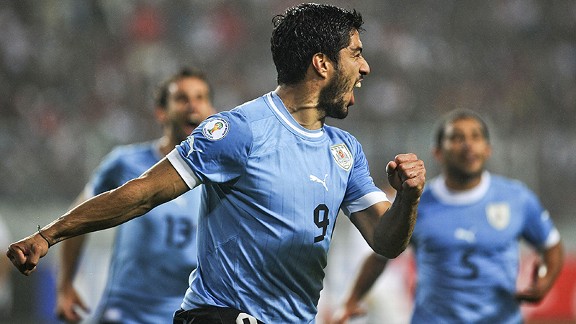 GettyImagesLuis Suarez and Uruguay may well have to settle for a playoff against Jordan.
South America's World Cup qualification campaign has featured 35 wins for the home side -- and just 11 for the away. It is a statistic that puts the value of Uruguay's last two results in stark context.

The Sky Blues had a disastrous 2012-13, suffering four consecutive heavy away defeats and making it difficult for them even to finish fifth and claim the playoff slot. But Uruguay are seldom more dangerous than when they have their backs to the wall. They have since won away from home against their two rivals for fifth place -- beating Venezuela 1-0 in June, and then winning 2-1 at Peru last Friday.

- Suarez inspires Uruguay against Peru

After months of wavering over different tactical approaches, coach Oscar Washington Tabarez wisely went back to basics. His side once more stayed deep, with the defensive and midfield lines close together, and looked to slip their dangerous strikers on the break. The key man, of course, is Luis Suarez, whose two goals and all-around threat were the difference between the two sides in the Peru game. But it is indicative of Uruguay's fighting spirit that they managed to win in Venezuela with Suarez suspended. Edinson Cavani came up with the crucial goal.

So well have Uruguay done in these past couple of games that they are now fighting a war on two fronts. They have hauled themselves into pole position in the fight for fifth place, three points ahead of Venezuela (who have played one more game), and five in front of Peru. There can be, however, no room for complacency. Venezuela and Peru meet each other on Tuesday. Whoever wins will still be able to put some pressure on the Uruguayans, who have three tricky games in front of them.

But battling for the playoff spot is no longer the limit of Uruguayan ambitions. Those two wins have now carried them within two points of Ecuador, the team lying fourth, the last of the automatic qualifying places. In October's penultimate round Uruguay will climb up the Andes to meet Ecuador in the mountain fortress of Quito. The altitude (2,800 metres above sea level) makes life very hard for unacclimatised visitors. But Uruguay have already pulled points out of the fire with away wins against two direct rivals. A third triumph cannot be discounted.

First, though, Uruguay host Colombia in the glamour tie of Tuesday's 16th round. It is a match with plenty of history. In each of the past three campaigns, Uruguayans and Colombians have been in fierce competition to claim fifth place. Every time Uruguay ended up winning the race. The margin of victory was always painfully small, and was always dependent on Uruguay managing to come out on top, or at least hold on for a draw, in this fixture in Montevideo.

This time around the scenario is a bit different. True, Uruguay are once more embroiled in the dogfight for the playoff slot. But Colombia are now almost certain of making it through to their first World Cup since 1998. A draw on Tuesday will be enough to carry them over the line with two rounds still to go.

This is a Colombia side, shrewdly led by former Argentina boss Jose Pekerman, who have rediscovered and redefined the identity of their great side of 20 years ago, who astonishingly won 5-0 away to Argentina. The 2013 Colombia model have clever midfield passing, quick and direct full backs and wingers, a creative wild card in James Rodriguez, and a fearsome battery of strikers. Radamel Falcao Garcia is one of the most feared centre forwards around -- and if he may not be fully fit, Pekerman can pick and choose from Teofilo Gutierrez, Jackson Martinez, Luis Muriel and Carlos Bacca.

And on Tuesday this firepower will be up against a makeshift defence. Uruguay paid a price for their victory over Peru. There were second yellow cards -- and consequently one-match suspensions -- for the well consolidated centre-back duo, captain Diego Lugano and the frequently impressive Diego Godin. The usual reserve, Sebastian Coates, is a long-term injury casualty. Oscar Washington Tabarez will have to patch together a defence and send it out against an attack so dangerous it ran up a 4-0 win when these sides met in Colombia a year ago.

Uruguay are going to have to do it the hard way -- but that seems to be the way they like it best.