If the World Cup started tomorrow: The favorites
With the World Cup a year away, it's as good a time as any to take the pulse of the field. Don't look to the FIFA rankings for help on this one, which ranks no fewer than 21 nations ahead of the Selecao though most right-thinking people include them among the favorites.

The fact of the matter is that you can pick holes in any team right now. And even if you couldn't, past World Cups show that it is as much about peaking at the right time and not having individual episodes go against you than simply being the best.

That's why this isn't a preview, more of a health check. With 12 months left, how are these five favorites doing? What looks good and where is there room for improvement? And if the World Cup began tomorrow, why would -- or wouldn't they -- win it all?

Brazil:
Why might they win? For a start, they're at home. And yes, history suggests it gives you something of an edge. Take the fact that every World Cup in South America has been won by a South American team. Plus credible host nations often win it (Uruguay in 1930, England in 1966 and West Germany in 1974 to name just three of the six) or at least come close (Brazil in 1950, South Korea in 2002 and Germany in 2006). Plus, Luiz Felipe Scolari has won a World Cup before and there's something to be said for experience.


---
World Cup 2014 Coverage
- Bennett: Shadow of '70s looms over Brazil
- Macintosh: Brazucas, Belgians, and Brazilians at Barca
- Gab Marcotti: World Cup favorites
- England: Hodgson faces a history of failure
- Is this a tournament too far for Spain?
- World Cup no-hopers
- How good are the U.S.?
- SPI: World Cup interactive map
- Top up-and-coming players
- The dark horses in Brazil
---
In many ways, this is a team that fits Scolari. There is plenty of depth, quality and experience at the back -- from goalkeeper Julio Cesar to defenders Thiago Silva, David Luiz and Dani Alves -- and a selection of midfielders that know how to shield and keep possession. The front men, especially Neymar, are the kind of players who can create out of nothing.

Yet there's also a strong case that the home advantage thing is a myth. In the past 35 years, only one host -- France, in 1998 -- has been crowned world champion. And some pretty impressive nations have hosted World Cups in that time frame, such as Spain, Italy and Germany. It may have been a factor for past generations but today, the differences between continents have shrunk, players are comfortable everywhere and, if anything, hosting means you face a lot more pressure.

As for Scolari, he may have won a World Cup but he has won just one of six games since taking over (and that was against Bolivia). Sure, like in 2002 he has a good defense and a blue-collar midfield. But he also had Ronaldo, Rivaldo and Ronaldinho up front and, frankly, none of his current front four comes close to any of those guys. (Maybe Neymar will one day … just not yet.) This is a team that still relies on individuals, he has not yet given it an identity or a style.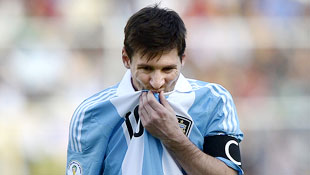 JUAN MABROMATA/AFP/Getty ImagesLionel Messi has proven of late that his form at the international level can match that of his club performances. But will it be enough for Argentina?
Argentina:
The strongest argument for their tournament hopes: Lionel Messi. If he's fit, he wins games almost single-handedly. Plus, he has a chip on his shoulder because folks say he does it for Barcelona and not for the Albiceleste (another myth that probably no longer holds true: he has 13 goals in his past 12 national team games). What's more, he has a stellar supporting cast up front: Gonzalo Higuain, Sergio Aguero, Erik Lamela, Angel Di Maria and Rodrigo Palacio. Nobody comes close to matching that.

Furthermore, only Brazil have managed to beat Argentina since Alejandro Sabella took over in 2011. He has a knack for minimizing weakness and maximizing strengths, which ultimately is top of a coach's job description. If the right players step up at the right time in midfield -- and the likes of Javier Mascherano and Ever Banega have the quality to do it -- it will take a lot to stop them.

But attack has never been Argentina's problem. Rather, the reliable pipeline of defensive superstars has dried up. Nobody has yet picked up the mantle of Daniel Passarella, Oscar Ruggeri, Javier Zanetti or Walter Samuel. As such, Sabella's back four will likely be made up of guys such as Ezequiel Garay, Hugo Campagnaro and Fabio Coloccini, who couldn't cut it at the highest level.

Sure there's unparalleled quality up front, but that can make it harder to find the right mix. Arguably, Sabella hasn't done that yet and over the past year or so has too often relied on Messi to bail him out. What's more, most of his forwards had a lackluster end to 2012-13, which doesn't bode well.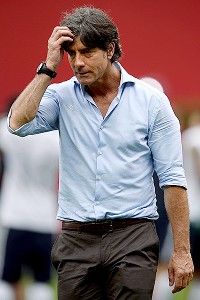 Dennis Grombkowski/Getty ImagesJoachim Loew has put Germany close to the summit of international football yet has not managed to win with his talented, deep squads.
Germany:
As usual, die Mannschaft are consistency personified, reaching the semifinal or final in each of the past four major tournaments. And in each of those Joachim Loew has been the brains of the operation. This is one of the most settled sides in the world game, which matters: In the past five years, they have lost just three times in 38 matches.

Manuel Neuer is a shutdown goalkeeper. Philipp Lahm is arguably the world's best fullback and the midfield is teeming with guys who combine quality and quantity: Bastian Schweinsteiger, Sami Khedira, Ilkay Guendogan. And there's a gaggle of attacking midfielders -- Mario Goetze, Marco Reus, Andre Schurrle, Toni Kroos, Thomas Mueller, Mesut Oezil -- to dazzle the senses.

But for whatever reason, German mothers no longer produce center forwards. Miroslav Klose turns 35 this month while Mario Gomez spent much of the year on the bench behind Mario Mandzukic at Bayern. Though it's true that you can win a World Cup with Stephane Guivarc'h leading the line and that others can score too, but the risk is they'll turn up with a dead spot up front.

Mats Hummels and Per Mertesacker can also be a bit clunky at the back. And for all his tactical nous, Loew occasionally gets things badly wrong, as he did in the Euro 2012 semifinal against Italy.

Italy:
Cesare Prandelli is the most popular national team coach going into a tournament in a long time and has turned the Azzurri into the creative possession-oriented team you need to win these days. He has loosened the shackles of the age-old "safety-first" mentality and Italy has realized it can win without relying on the old "defend-and-counter" method, which explains why the Azzurri have lost just once in 20 competitive matches (the Euro 2012 final) since he took over.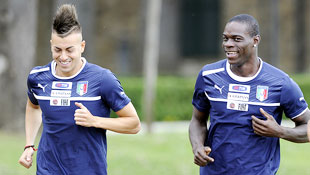 Claudio Villa/Getty ImagesStephane El-Shaarawy and Mario Balotelli are legitimate forces on a strong Italy squad, but is there enough depth up front to win?

Up front, Mario Balotelli seems to have turned the corner in terms of consistency and has a stellar supporting act in Stephan El Sharaawy. On paper, this is Italy's best midfield in years and Gigi Buffon is still capable of delivering regular miracles between the sticks.

All that said, the generation gap is of mild concern. Andrea Pirlo will be 35 when the tournament begins, while Marco Verratti will be 21 and possibly too young to be trusted with the keys to the engine room. Daniele De Rossi is coming off a horrible season. There's also very little width to this team and the fullbacks are fairly pedestrian.

While there is some talent up front, there really isn't that much depth, as evidenced by the fact that Sebastian Giovinco is still in the mix. And that can be a problem because it means putting all your offensive eggs in Balotelli's basket. Not exactly the safest pair of hands.

Spain:
It's easy to imagine them winning. They always do. At least since 2006. And the assembly line of talent shows no signs of slowing down. (They also happen to be the defending national champions at Under 21 and Under 19.) They're winners (there's no other way to describe them) and they've been together and won together -- at club and country level -- for a very long time.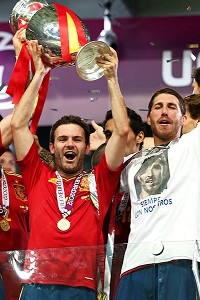 Photo by Alex Grimm/Getty ImagesNo team has managed four straight international tournament wins, but if anyone can do it, Spain can. After all, no-one had won three until they did from 2008-12.

At the last Euros they even tried doing it without a center forward, bullying the opposition through endless possession. What's more, this is a united and focused team, one mentally tough enough to put the Barcelona-Real Madrid rivalry and regional political divisions to one side. And in Vicente del Bosque, they have a coach whose list of career accomplishments is as long as your arm.

But to win in 2014 would mean making history. Nobody has ever won four major trophies in a row at the international level. (Though, that said, nobody had ever won three straight until Spain did it in 2012.) They got away without a settled top-drawer target man at the Euros, but at the World Cup it could be a different story. It's not that Spain don't have good strikers -- Fernando Torres, Fernando Llorente and David Villa may be on the wane for different reasons, but Alvaro Negredo and Roberto Soldado scored 49 between them in the league last year -- it's that none of them feel like a natural fit.

Iker Casillas, Gerard Pique and Sergio Ramos -- three defensive leaders and automatic choices -- all had difficult seasons for different reasons. And while the former has plenty of understudies, the latter two don't. Del Bosque could be faced with tough choices between the veterans who helped him win so much and the young guns looking to supplant them.