Oranje order restored with Van Gaal at helm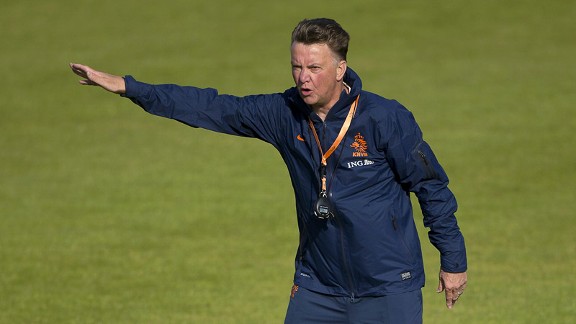 VI Images/Getty ImagesLouis van Gaal has Holland on the verge of clinching a berth at next summer's World Cup.
The consensus after the Dutch national team crashed out of Euro 2012 was that there was a need for new blood and direction. After much soul-searching, the KNVB (Dutch FA) reappointed Louis van Gaal -- his reputation as a team-builder reportedly swaying it for them. It proved to be a popular choice; many grew tired of the resultaatvoetbal -- winning at the expense of playing overly attractive -- under his predecessor Bert van Marwijk. Though that approach took the Netherlands to a World Cup final and top of the FIFA rankings, everything about it left a sour taste in people's mouths.

Johan Cruyff conceded that van Gaal would restore the Oranje's identity and a year into the job, things couldn't have gone any better.

Unbeaten in their qualification group: six wins from seven, 22 goals scored and four conceded. If results go their way on Tuesday -- win away to Andorra and Romania fail to beat Turkey at home -- they will secure progress to next summer's World Cup. At the second time of asking, van Gaal is on the verge of living out his dream by challenging for football's greatest prize.

Not only is there a hint of redemption, but a spot in Brazil would also bring closure. Thirteen years ago, van Gaal inherited a generation of players who had reached consecutive tournament semi-finals: France 1998 and Euro 2000, and many with delusions of grandeur who were entering their peaks. Reaching the World Cup in 2002 was expected to be straightforward. It wasn't. Ultimately two unfortunate and unforeseeable moments condemned the Dutch: throwing away a two-goal lead against Portugal in Porto and Jason McAteer's goal at Lansdowne Road.

Van Gaal was partly responsible, especially for his peculiar tactical decisions in those games, and for being stubborn. His dictatorial approach was outmoded, and he refused to learn from mistakes made at Barcelona where he was dubbed the "Iron Tulip." Unconventional methods, such as hiring security guards to make sure no one broke curfew, highlighted who really was in control. These weren't the humble players he had once known. Fame had inflated their egos and given them a sense of entitlement.

He naively underestimated the situation and showed to be out of touch. Van Gaal would leave with a stain on his impressive résumé, but he doesn't look back with regrets. "I resigned because some of the players refused to accept my methods," he reminisced in 2008. "I am who I am and I have my own ways. I'm not going to change and I have no desire to."

Things are different now; though he is still frosty with the fourth estate -- ironic given he was once the eloquent media savvy representative of the players' union during his unspectacular playing career, but everything changed once he became a manager as he toiled in verbal spats with media in both Holland and Spain.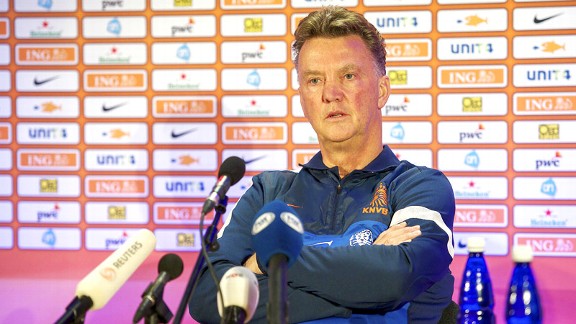 VI Images/Getty ImagesVan Gaal's relationship with the media throughout the years has been a testy one.
However, van Gaal's second tenure with the Oranje has been focused on restructuring -- basically, something he can control; the blooding of new talent and the implementation of a distinct style of play (in other words, the 'Dutch model') as well as restoring law and order (discipline central to his managerial ethos).

He knew that too much, too soon would be a hindrance and initially, many senior players were retained. Before his first game back, a 4-2 defeat versus Belgium, there was a breakthrough. Those involved in the Euro 2012 debacle -- including newly appointed skipper Wesley Sneijder -- had clear-the-air talks. It proved to be a success.

"There were many things put on the table," Van Gaal told the press. "The players were frank with each other but things ended on a positive note."

Afterwards, like Roman soldiers, the Oranje players swore an oath of allegiance to the Emperor Van Gaal. To ensure his message was understood, he appointed Patrick Kluivert and Danny Blind, two former star students, as his right-hand men.

There's now a tranquil atmosphere. Players enjoy being in each other's company as well as playing together, which is helping the Oranje navigate through another transitional period. Qualification is the first step, but van Gaal is looking at the bigger picture, laying the foundations for long-term prosperity -- first stop, Brazil.

"It might not be entirely realistic, but our goal is to make it to the semi-finals at the World Cup," he outlined. "That's definitely not impossible. We can be the best team at the World Cup if we stick together. We might not have the best players, but we can go far if we act as a unit."

"The KNVB gave me a clear mission to play 'Dutch School' football and with the quality of this squad that must be possible," Van Gaal told journalists last September. The approach he's chosen is essentially the 'Ajax model'; creativity and cleverness inside a proactive and fluid 4-3-3, classical wingers providing natural width -- as well as support in the middle -- and supplying a natural number nine, support from two advanced midfield playmakers and the entire midfield anchored by a 'single pivot'.

Van Gaal's lack of fear has also been an asset. Before the June international against Indonesia, he stripped Sneijder of the captaincy and gave it to Robin van Persie as a result of the lack of fitness suffered by the Galatasaray midfielder. It was also an indication that Sneijder was no longer first choice.

"Recently, the coach said something I'd never heard before in my football life, telling me I was one of the elders in the squad," Van Persie said earlier this year. "The basis of our work is giving young players chances as often as possible," he continued. "Appointing good coaches and training and educating young players -- that is something we do pretty well in the Netherlands."

Another renowned trait of van Gaal is his firm belief that age is but a number. No fewer than 19 players have made their debuts in his second spell in charge, 12 of whom are under the age of 24, but most importantly they are footballers who fit Van Gaal's philosophy and have shown signs of continual improvement.

Following van Gaal's blueprint, a future Oranje midfield triumvirate could include Feyenoord's Jordy Clasie as controller and PSV Eindhoven's Adam Maher as incisive playmaker. Another talent van Gaal has begun to assimilate is dynamic box-to-box midfielder Marco van Ginkel, who left Vitesse for Chelsea this summer; his impressive performances at the Euro Under-21s reinforced why van Gaal is a fan. He could be a valuable asset especially after Italian manager Cesare Prandelli said that next year in Brazil teams "will need not just 23 footballers in the squad, but 23 athletes."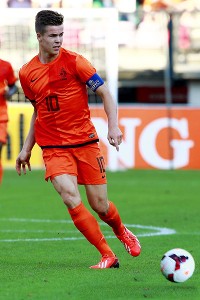 VI Images/Getty ImagesChelsea's Marco van Ginkel is one of many young Dutch players who stands to benefit from van Gaal's guidance.
All that said, his authoritarian model will eventually lead to conflict; it comes as no surprise given his domineering personality that he's best suited to working with those willing to follow his lead like a teacher. "His extreme honesty and openness can lead to friction, but he is an excellent football teacher and coach," Bayern Munich chairman Karl-Heinz Rummenigge told German magazine Sport Bild.

Rotation is also common. Some feature depending on opposition; for example Kenneth Vermeer played ahead of Maarten Stekelenburg against Estonia, a side that was going to concede possession, because he's an "attacking" goalkeeper. Kevin Strootman, who made his debut under van Marwijk, now plays a prominent role under van Gaal. He's even been named third captain with a view to the future. He's worn the armband in five of his last seven games. Strootman is one of three players guaranteed a starting place; the other two just so happen to be the captains: Van Persie and Arjen Robben.

Van Gaal makes no secret how he prefers football to be played. He takes great pride in his stratagem going as far to publish a book: Biografie and Visie. "I want my teams remembered for how they played," he wrote.

No wonder he's so smug given the quality of coaches who've tried to emulate him. His doctrine has been successfully adopted by Pep Guardiola: "My jaw dropped when I saw Van Gaal's Ajax play," Guardiola wrote in his autobiography My People, My Football. "They perfectly did everything a football team should do in my eyes."

Marcelo Bielsa is also a staunch admirer. His sobriquet 'El Loco' was given to him due to his insatiable fixation with Van Gaal. "I'm a big fan of his," Bielsa confessed. "His philosophy when executed properly, is winning football, and is great for the fans, which is what we should all aspire to accomplish." Jose Mourinho credits the Dutchmen in shaping his own philosophy. "He taught me the trade."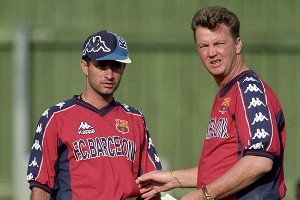 VI Images/Getty ImagesJose Mourinho credits van Gaal for teaching him the finer aspects of managing while the two were at Barcelona in the late 90s.
Van Gaal's knack of getting the best out of players regardless of ability places him above most of his contemporaries. He spotted the potential of Thomas Muller and handed professional debuts to teenagers Clarence Seedorf and Andres Iniesta, as well as successfully converting Bastian Schweinsteiger into a defensive midfielder.

"He's probably the most important and the best coach I ever had," Ajax manager Frank de Boer told L'Equipe on the eve of the Oranje's World Cup semi-final against Brazil in 1998.

Fifteen years on and the answer remains the same. Xavi, who was brought through from La Masia by van Gaal, once described him as a father figure. "I owe much to him. Sometimes he even preferred me over Guardiola, and I was only 18. That's quite a bit. Van Gaal is a formidable guy."

The disappointment last summer was a humbling experience for the Dutch but has been used by van Gaal as a moment of reflection. They're not the force they once were, but they can be again. Under him there's a clear message and path. You can see the work he is doing, moulding a new generation of 'Dutch masters.'

Van Gaal will step down after next summer's World Cup -- club football still greatly appeals -- a mistake according to his wife as she feels his successor (an early favourite is Ronald Koeman) will reap the rewards of his labour.

Time will tell if what he's begun is destined to succeed.