The trouble with Roy Hodgson
There is something about the England manager's job. It will turn a coach of sterling reputation into a figure of fun within months. Errors of judgement become crises. Quirks become magnified. If all political careers end in failure then, with the possible exception of Sir Bobby Robson, so must those of the men who take on the "Impossible Job".

Roy Hodgson has always wanted the England job, he says. If he has been considering it for so long, he must know that the end is always likely to be messy. Hodgson is a proverbial safe pair of hands, but in no way does that keep him personally safe.

Consider Fabio Capello. Very few coaches oozed success quite like he did. He had won a league title at every club he had coached. England cruised to the 2010 World Cup finals. Then came the 'Capello Index', where the autocratic Italian, for a small fee, would grade each player at the World Cup, including his own players. That was a silly idea. Feet of clay became visible, and then Fabio decided to treat his 23-man finals squad to a luxury version of Camp Colditz.

A discontented England subsequently played like a drain in South Africa. After that, Capello no longer wished to be kicked around anymore. He gave up the chance to lead England at Euro 2012 on a point of principle -- the John Terry affair -- but he could not have been happier to go. "It's not my problem," he glinted in February when asked about England.

Even Sir Alf Ramsey, England's World Cup-winning manager, departed in ridicule after failing to qualify for the 1974 renewal. Terry Venables left on the relative high point of a decent performance at Euro '96, but the reason for his departure was a series of business interests gone bad. He was eventually disqualified from becoming a company director.

Glenn Hoddle paid for expressing extremely dubious views on reincarnation and the disabled. "I never said them things," he protested. The dictaphone of Times journalist Matt Dickinson suggested otherwise. Sven-Goran Eriksson was actually pretty successful, reaching three quarter-finals in a row, but he left his post personified as a stack-heeled lothario with a love only for money.

There are those who marry farce with failure. Steve McClaren failed to qualify for Euro 2008, but ignominy was secured by sheltering his pate under an umbrella when watching the fatal blows being dealt by Croatia. Graham Taylor remains one of football's nice guys, and suffered a talent drain that followed the end of the cycle that got England to the semi-finals at Italia '90 but never made it easy on himself.

Route-one football, baffling press conferences and a decision to allow himself to be filmed for a fly-on-the-wall documentary did for Taylor's reputation. Two decades on and, in this knowing post-reality TV era, the last of these gets more amazing as the years fly by.

Robson lived the traditional England manager trajectory in reverse. He first failed to qualify for Euro '84, and spent his tenure being jibed by the press. "In the name of God, go," bawled The Sun in 1988. Then, after a 1989 draw with Saudi Arabia, they followed up with "In the name of Allah, go". Yet Robson departed the job in 1990 as a footballing saint. He and his team had revived the national game.

Emulating Robson is the best that Roy Hodgson can hope for. At 66, he probably will not be in the job when new FA chairman Greg Dyke achieves his target of winning the 2022 World Cup. At present, they both might be best crossing fingers that England actually qualify for 2014. If they do not, then Hodgson faces the Taylor/McClaren fate of public flogging after being placed in the stocks.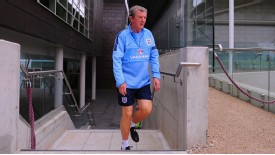 GettyImagesWorld Cup qualification would earn Roy Hodgson respectability, failure would to do so would see his reputation forever tarnished.
He has an unfortunate habit of finding trouble. There was the ill-considered tube journey where he revealed to a passenger with camera phone that Rio Ferdinand's England career was over. A tabloid splash resulted. Then, last week, came the Anfield affair, where Hodgson showed off his anger at not being let into the director's box while cuddly actor James Corden was allowed in to tuck into the boardroom buffet. A mix-up, said Liverpool, but this type of thing never happened to Capello or Eriksson.

Hodgson is an erudite man, an exceptionally deep thinker on the game, and speaks eight languages, five of them fluently. Those close to him say an evening meal is far more likely to include a discussion of the oeuvre of Philip Roth than the latest WAG gossip.

However, in the two-dimensional world of England's tabloids, where the caricature is low-hanging fruit, Hodgson cuts an unfortunate dash. The slight speech impediment was targeted from the off in typically blunt style by The Sun. It will be used again when all goes wrong.

And Hodgson's vernacular and manner seem almost from a bygone age. He departed English shores in 1976 to seek a footballing fortune, and perhaps as a result of his long exile, speaks like someone from that era, as if frozen in time. Very few of the gentlemen of the press are used to being addressed by someone who often resembles an incidental character from Steptoe & Son or Porridge. He also has a habit of saying he doesn't want to talk too much about something and then proceeding to go on at length about it.

After a muddled and middling campaign so far, three Group H wins from four are required, where Hodgson is a draw specialist. Previously pallid performances against Ukraine, Poland and Montenegro must be bettered at a time when Wayne Rooney's facial gash has disfigured the England team.

The English are resigned to football failure, and are now worried about fading from view altogether. But those responsible for failure are not readily forgiven. A summer 2014 trip to Brazil will stave off the mockery for the moment; the hall of shame will be made to wait. But it will beckon one day. It almost always does.